Friday, January 27, 2017 @ 2:28 PM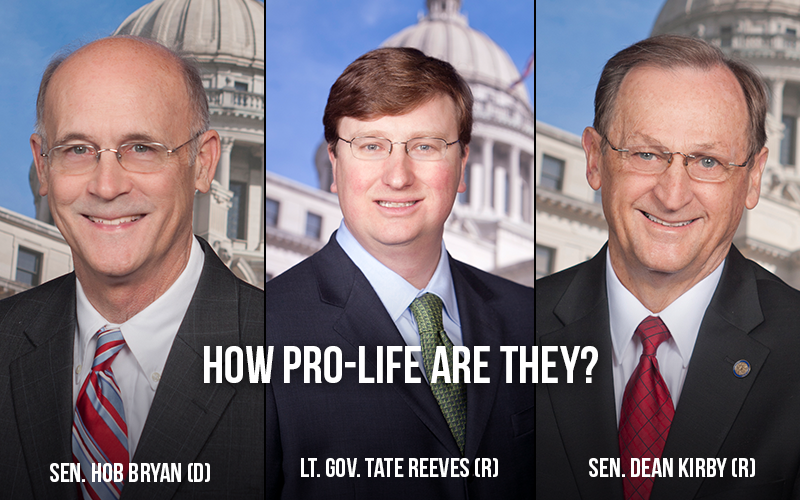 MS Pro-life legislation on death row
Why have pro-life bills died in the Mississippi Senate in years past? Pro-abortionists have had a powerful ally in State Senator Hob Bryan (D), who has repeatedly been appointed chairman of Senate Judiciary B Committee by Lt. Gov. Tate Reeves (R). Reeves has referred most pro-life bills to Sen. Bryan's committee in the past. As head of that committee, Sen. Bryan has been given the power to set the agenda of what bills are brought up and voted on in committee.
 
What's interesting is that the Mississippi Democratic Party Platform statement supporting abortion (in Roe v. Wade language) states: "We support a woman's right to privacy in making her own health care decisions." Pro-life bills have been killed by Lt. Gov. Reeves' chairman by refusing to bring them up in committee for a vote because of the high possibility they would pass in committee and later on the Senate floor. Sen. Hob Bryan stays true to the Democratic platform supporting abortion.
 
Although there are no abortion related, pro-life bills in Sen. Bryan's committee this year, the pro-abortion industry need not fear if the Mississippi House passes pro-life legislation. Most pro-life legislation in the House comes out of House Judiciary B committee. If a bill passes out of the House Judiciary B Committee and is passed by the House, it is routinely referred to the Senate companion committee, Senate Judiciary B, that Sen. Bryan chairs, where pro-life bills get the death sentence. See how that works?
 
Pro-life legislation has also had a similar fate under Sen. Dean Kirby (R), also appointed by Mr. Reeves, who chairs the Senate Health and Human Services committee. When considering pro-life legislation, this committee and its leadership have faced enormous pressure from the Mississippi State Medical Association and the American Congress of Obstetricians and Gynecologists, expressing their "concerns" about or "opposition" to pro-life legislation. Why does Lt. Gov. Tate Reeves keep appointing leaders who are either weak or opposed to pro-life legislation?
 
Send an email to your Mississippi representative and senator, encouraging them to help get pro-life legislation out of committee so they can be voted for on the floor.
 
Mr. Reeves has termed out in his current office as Mississippi Lt. Governor. Many have considered him to be a "shoo-in" for Mississippi governor. Mississippians are tired of establishment politicians who are weak on pro-life issues and who think the only meaningful legislation that should come out of committee are those related to business or government bond legislation.
 
The angst of Mississippi voters was made abundantly clear in the 2016 elections when they supported Mr. Donald Trump for president in the general election. Trump voiced an unapologetic, pro-life position, and garnered 58% of the vote in Mississippi. This is more than what establishment presidential candidates Mitt Romney (55%) and John McCain (56%) received in Mississippi's general election in 2012 and 2008, respectively.
 
The pro-life mandate is even more stark when considering that Mississippians also strongly supported Mr. Trump in the Mississippi presidential primary with 47% of the vote. Compare that to the dismal 8.8% of the vote that Gov. John Kasich, the preferred Mississippi establishment presidential candidate, received. Gov. Kasich also recently vetoed a pro-life, heartbeat bill in Ohio. Mississippi saw similar actions opposing heartbeat legislation in 2012. In 2012 a heartbeat bill passed the House, but when the bill went to the Senate it never had a chance to be voted on. Why? Because the anti-life, Democratic senator appointed by Lt. Gov. Reeves, Sen. Hob Bryan, killed the bill in committee. Read the story, here and here.

The Mississippi Republican Party Platform states, "We believe that life begins at conception and that all life, regardless of age, is a precious gift from God, and must be protected."
 
There are several pro-life bills in both the Mississippi Senate and House, such as heartbeat bills, a bill to end abortion, and a bill to restrict funding of abortion with public funds. These bills are authored by Rep. Chris Brown, Rep. Dan Eubanks, Sen. Michael Watson, and Sen. Angela Burks Hill. Links to these bills are listed below:
 
Mississippi House of Representatives
Prohibit Abortion When Heartbeat Detected Bill (Rep. Brown)
Unlawful Abortion Bill (Rep. Eubanks)
 
Mississippi Senate
Prohibit Public (taxpayer) Funds for Abortion Bill (Sen. Watson)
Prohibit Abortion When Heartbeat Detected Bill (Sen. Watson)
Prohibit Abortion When Heartbeat Detected Bill (Sen. Hill)

Deadline to bring these bills out of committee is Tuesday, January 31. Does Mississippi Republican leadership really believe what the Mississippi Republican platform claims? Soon it will be clearer to voters if the Republican, pro-life platform that Lt. Gov. Reeves, Sen. Kirby, and others want to run on is in "word and deed" or in "word only."
 
Send an email to your Mississippi representative and senator, encouraging them to help get pro-life legislation out of committee so they can be voted for on the floor.