Thursday, June 1, 2017 @ 8:15 AM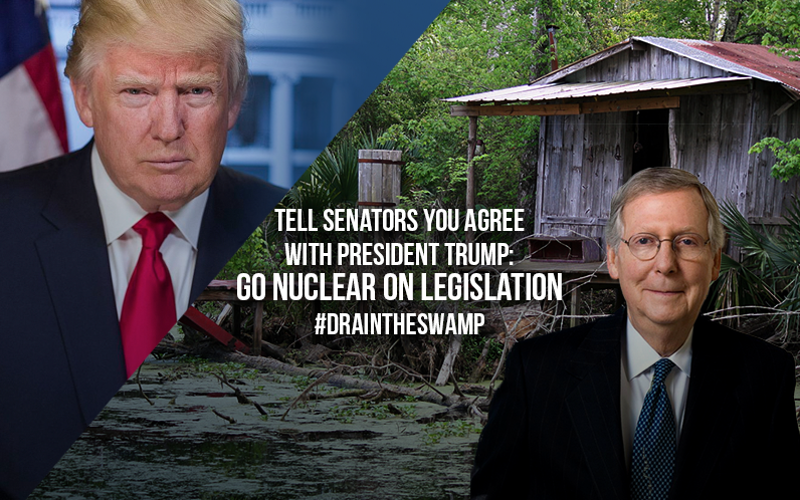 Tell Senators to end the filibuster and require a simple majority to pass legislation.
Early Tuesday morning President Trump sent a tweet stating, "The U.S. Senate should switch to 51 votes, immediately, and get Healthcare and TAX CUTS approved, fast and easy. Dems would do it, no doubt!" What President Trump is referring to is the decades old Senate rule requiring 60 votes to pass legislation.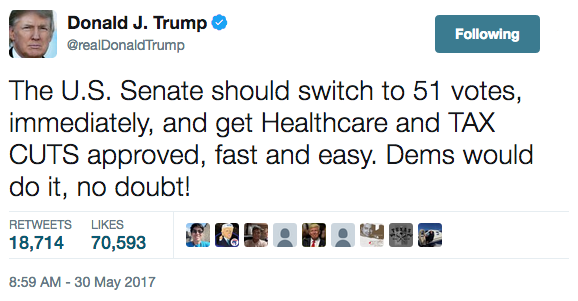 Since only 52 Republicans are in the Senate, Democrats have the power to kill legislation because Republicans don't have the necessary 60 votes. To make matters worse, 24 Republican Senators are publicly supporting Democrats' ability to continue their radical and obstructionist agenda, and 3 of the 24 are up for re-election: Sen. Dean Heller (R-NV), Sen. Luther Strange (R-AL), and  Sen. Roger Wicker (R-MS). These 24 Republican Senators are enabling Democrats to kill legislation protecting the national security of the United States by refusing to fund the boarder wall. In the same way, these 24 Republicans are also blocking legislation that would defund Planned Parenthood.
This 60-vote rule is the same rule that was in place before Judge Neal Gorsuch came up for a vote on the Senate floor. Because of Democrat obstruction and delays, the Senate used parliamentary procedures to "nuke" the 60-vote threshold in order to approve the nomination of Judge Gorsuch to the U.S. Supreme Court with a simple majority.
AFA agrees with President Trump that the Senate should switch to requiring only a simple majority of 51 votes to pass legislation.
This would mean that Republicans could pass legislation that has been promised for years. Such legislation includes the defunding of America's largest abortion provider, Planned Parenthood.
It is time for Congress to stop making excuses and deliver on what they've been promising for years.
Take Action
Tell Senators to end the filibuster and require a simple majority to pass legislation.