Tuesday, December 11, 2018 @ 04:16 PM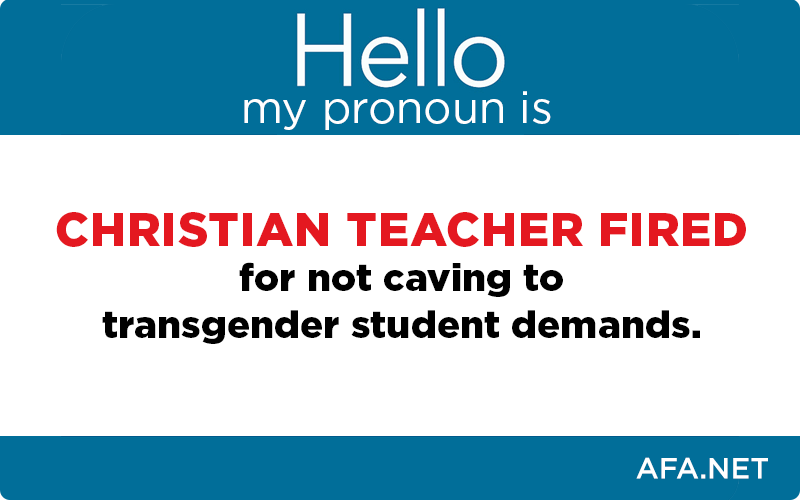 Christian teacher fired for not caving to transgender student demands
According to Townhall.com, a teacher at West Point High School in Virginia was fired just last Thursday over his religious objections to using male pronouns when referring to a student who is biologically female but identifies as male.
The West Point School Board unanimously voted 5-0 to dismiss 47-year-old French teacher Peter Vlaming following a four-hour hearing.
Vlaming cited his Christian faith and told his superiors that he was willing to use the student's name and simply avoid using feminine pronouns but he says the school rejected that compromise.
Showing aggression toward the religious rights and freedoms of Mr. Vlaming, school superintendent Laura Able and the school board accused Mr. Vlaming of creating a "hostile learning environment" by simply using the proper pronouns for the student based on her biological sex. The school clearly has a double standard since it has no policy regarding the use of gender pronouns for students, but its hiring policy specifically states it does not discriminate against teachers based on their religious beliefs.
Many parents and students support Vlaming, with over 100 students walking out of class the next day to protest the unfair actions of the board.
"I see this stuff on the news far away from here," said Forrest Rohde, a West Point High School junior who supports Mr. Vlaming, "but when it hits close to home and someone's free speech is being violated, I have to step in and say something about it."
Vlaming's lawyer, Shawn Voyles, argued that his client has constitutional rights. "One of those rights that is not curtailed is to be free from being compelled to speak something that violates your conscience," he said.
Vlaming said the school's demand that he accept transgenderism against his Christian faith is wrong. "That is not tolerance," he said. "That is coercion." He is consulting with his attorney about appropriate legal action.
Take Action
Sign our petition to West Point Public School Superintendent Laura Able and the school board members, urging them to reverse their decision to fire Peter Vlaming and reinstate him immediately.
After you sign the petition, we will provide you with a phone number and email addresses for the superintendent and board members for further action.