Friday, April 13, 2018 @ 3:53 PM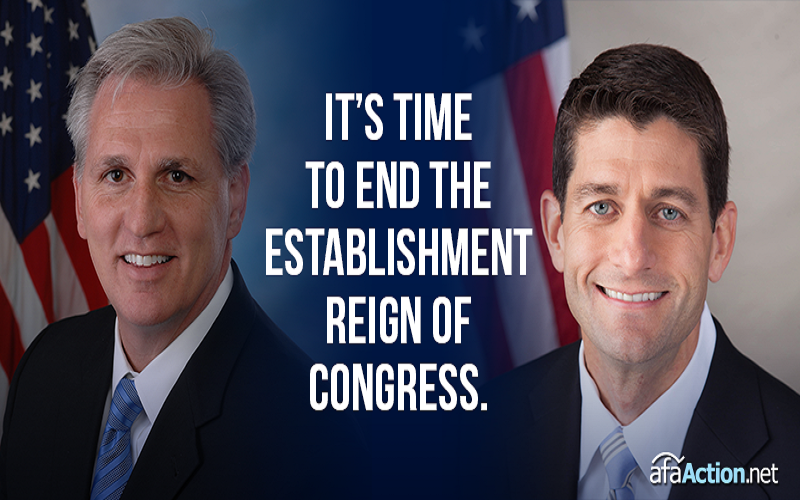 Congress doesn't need another Speaker like Paul Ryan
END THE RULE OF ESTABLISHMENT REPUBLICANS IN CONGRESS
It is a citizen's privilege to defend the Constitution.  And it is a citizen's great honor to defend those who put their lives at risk to defend the Constitution and our liberties.  Now is the time to do both.
Speaker Paul Ryan (R-WI) announced he will not seek reelection this November. This will open the highest leadership position in Congress.  It will be the rank-and-file members of Congress who will select Ryan's replacement as Speaker.
Several names have surfaced as Ryan's replacement: Kevin McCarthy (R-CA), Steve Scalise (R-LA), and Jim Jordan (R-OH).  McCarthy and Scalise are Ryan's top lieutenants. Speaker Ryan has given the swamp seal-of-approval for Rep. McCarthy as the next Speaker. Speaker Ryan hopes that Rep. McCarthy will continue the swamp's approach to governing.
Reps. Ryan and McCarthy are establishment Republicans who will continue business as usual, but Rep. Jim Jordan is a constitutionalist, a man of integrity, and a founder of the House Freedom Caucus—the band of members of Congress dedicated to fighting for liberty.
Rep. Jordan has a solid conservative voting record on social and fiscal issues. When comparing Rep. Jordan has a solid conservative voting record on social and fiscal issues. In the table below, Congressman Jordan's stellar conservative rating stands out in comparison to the scores of Rep. McCarthy and Rep. Scalise.
His 100% rating on AFA Action's score card indicates he voted against transgenders serving in the military and voted for the 20-week abortion ban. Rep. Jordan also voted against both the irresponsible spending bill in May 2017 that provided taxpayer dollars to Planned Parenthood and against the massive 2018 Omnibus funding bill that also continued taxpayer dollars to the nations largest abortion provider, Planned Parenthood.
Rep. McCarthy voted for both of these irresponsible bills, but this only scratches the surface of the problems with this establishment Republican. Congressman McCarthy has also been a strong financial supporter of members of the Tuesday Group—the liberal Republicans in the House.
The political action committee affiliated with Rep. McCarthy (Majority Committee PAC) has donated significant campaign funds to many Republican members who are also supported by the liberal Republican Tuesday Group.
Tuesday Group was established to counter the agenda of conservative Republicans. Reports indicate that its members work behind the scenes to kill conservative legislation "like strict restrictions on abortion." Many of these members are also soft on immigration, big on spending, and support transgenders serving in the military.
According to the Federal Election Commission (FEC) Rep. McCarthy's Majority Committee PAC donated $10,000 each to 25 Tuesday Group members in 2018. Yet 22 of the these congressmen have refused to co-sponsor current legislation to defund Planned Parenthood.  Also, last year 12 House members funded by both McCarthy's PAC and the Tuesday Group PAC helped kill an amendment that would have banned transgenders from serving in the military. The amendment failed by a vote of 209-214. These establishment, moderate/liberal Republicans voted to keep and recruit into the military men who think they are women.
Furthermore, in 2016 Rep. McCarthy's PAC made an alarming number of campaign contributions to over 45 Republican members who also received campaign contributions from the liberal Tuesday Group PAC. There is another disturbing fact in the connection between Rep. McCarthy's PAC and the Tuesday Group PAC. In 2016, the pro-LGBT group Human Rights Campaign (HRC) made significant financial contributions to the Tuesday Group PAC.
The connections are clear that Rep. McCarthy has deep ties to anti-conservative members of Congress who are now popularly called RINOs, Republicans in name only.
On the other hand, Freedom Caucus member Rep. Jim Jordan has consistently voted against huge spending bills and consistently voted for socially conservative legislation.
It is time to end the establishment Republican rule in Congress and for the House Republicans to elect a true conservative, like Rep. Jim Jordan.
The selection of the next Speaker is crucial because, in order for America to be great again, strong legislation must be passed to restore our military strength and to "drain the swamp" of the bureaucrats who curtail our liberties.  But over a year into the Trump administration, the necessary legislation is going nowhere in Congress – despite Republicans being in control.  The reason is simple:  establishment Republicans are in charge.
We must restore true conservative leadership in Congress. You can be part of the solution by sharing this via email and on social media. Also, your financial support will help us get this message out far and wide. I ask that you pray, and give as generously as the Lord would have you to give.
More information to come. Stay tuned.