Tuesday, October 23, 2018 @ 4:20 PM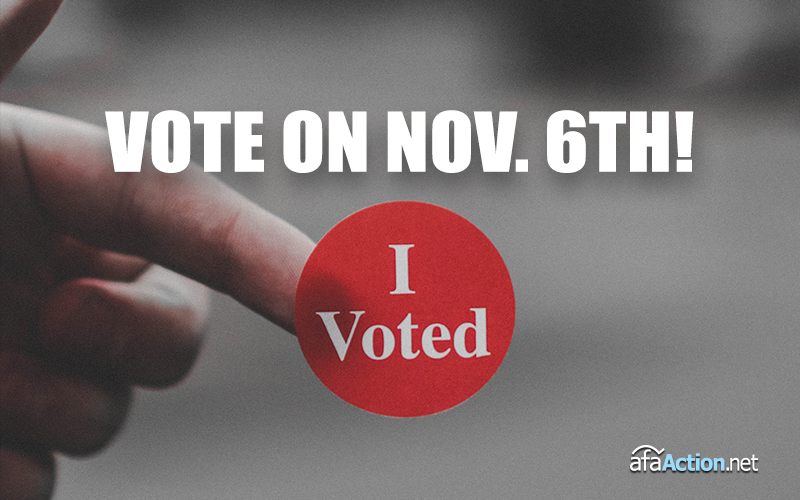 Get the AFA Action iVoterGuide for your state and vote on November 6.
In the midterm election, voters will determine which candidates will make decisions on their behalf. These decisions could include issues like religious liberty, limited government, free enterprise, national defense, traditional biblical values, the sanctity of life, and marriage.
And there are also the extremely important decisions of confirming federal judges (lifetime appointments), including Supreme Court justices and other federal judges, who are nominated and appointed by the president. If liberals gain control of the Senate, the likelihood of confirming conservative judges disappears.
Don't forget how just a few years ago liberals used the power of the state to advance their agenda. For example, liberals used:
U.S. Department of Education to advance a facility usage policy to allow boys who think they are girls to enter school restrooms and showers designated for girls only.
Federal court system to use rogue judges to violate the religious liberty of Christians by forcing them to choose between violating their deeply held religious beliefs or losing their businesses.
U.S. Department of Agriculture to force a meatpacking plant to be silent about beliefs in support of heterosexual marriage or have the business shut down, and
IRS to target conservative groups filing for tax-exempt status.
Let's not forget these things! If conservative voters become complacent, history could repeat itself. The historical trend is that the party of the president in the White House during the midterm election nearly always loses seats in the House of Representatives, or the majority flips to the other party.
Get the AFA Action iVoterGuide and vote on November 6. In many states voters can still register to vote and even vote early. Avoid the long lines at the polls and vote now if your state allows early voting and absentee voting. Identify and contact your local elections office here.