Thursday, September 27, 2018 @ 1:28 PM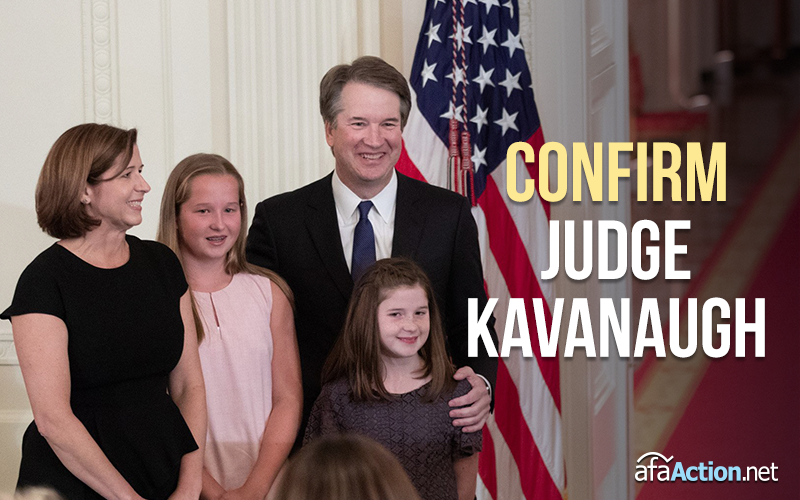 Enough delay - time to confirm Kavanaugh!
UPDATE: 9/28/18 9:22am
Reports here and here indicate 48 GOP senators have now pledged to vote for Kavanaugh including Sen. Corker (R-TN), Sen. Jeff Flake (R-AZ), and Sen. Moran (R-KS). Also indicated are Sens. Susan Collins (R-ME) and Lisa Murkowski (R-AK) committed to vote for Kavanaugh, but their vote is not reliable. Sen. Mike Enzi (R-WY) has said he will not announce his position till the actual vote.
Original Alert:
Democrats are not the only ones contributing to the political circus swarming around the nomination of Judge Brett Kavanaugh to the Supreme Court. The U.S. Senate consists of 51 Republicans and 49 members who vote with Democrats, but not all Republicans are in support of Judge Brett Kavanaugh.
According to news reports as many as 7 GOP senators are non-committal in their support for Judge Kavanaugh: Susan Collins (R-ME); Bob Corker (R-TN), Mike Enzi (R-WY), Jeff Flake (R-AZ), Jerry Moran (R-KA), and Lisa Murkowski (R-AK). Other news reports indicate some senators, including Sens. Marco Rubio (R-FL) and Jon Kyl (R-AZ), are issuing a wait and see approach to Kavanaugh following the hearing.
Contact your U.S. Senators now. Strongly urge them not to cave to radical leftist political pressure and vote to confirm Judge Kavanaugh to the Supreme Court.
If only a few of these Senate Republicans cave to Democratic liberals in their attempt to derail the nomination of Judge Kavanaugh, merely on the basis of unfounded allegations, then liberals will use this same method to destroy future conservative judicial nominees.
For example, liberals will immediately use this same slimy tactic to destroy the significant number of President Trump's district and appellate court judges yet to be confirmed. If the only judges that a GOP controlled Senate can confirm are the ones approved by radical liberals like Barack Obama, Hillary Clinton, Bernie Sanders, and Sen. Diane Feinstein (D-CA), then the judiciary will be stacked with rogue judges.
What's at risk? Liberals desperately want absolute control of the courts to continue their full-throttled attack to destroy America. Liberals, for example, want to use the courts to create open borders, to force your town to be a sanctuary city for illegal aliens, and to allow boys who think they are girls into public school restrooms designated for girls only.
What are the consequences? If the Republicans named above are swayed to vote against Judge Kavanaugh because of liberal intimidation and unsubstantiated allegations, then every conservative judicial nominee will likely be subject to the same type of attacks. Also, Republicans who cave under this pressure from liberals will in effect create a lame duck administration under President Donald J. Trump. Surely this is not what they desire, but if they do, it will be an unintended consequence.
Tell your senators to confirm Judge Kavanaugh. Now is not the time to sit idly by and watch unsubstantiated accusations destroy Judge Kavanaugh and his family, too.