Thursday, October 4, 2018 @ 4:01 PM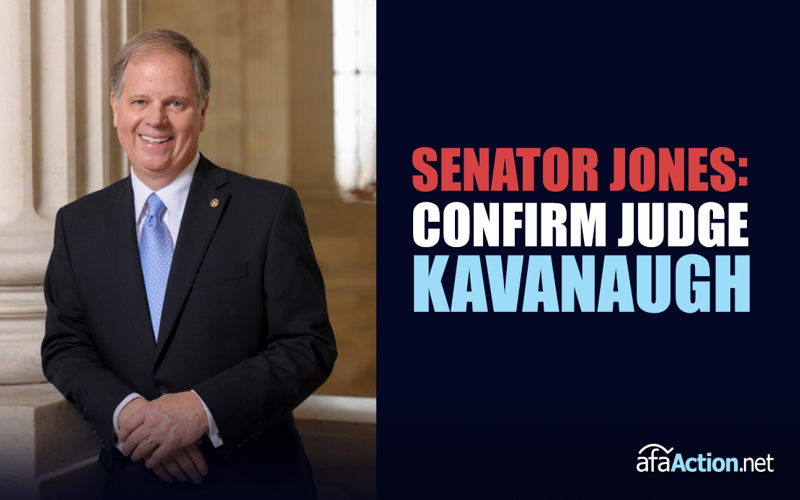 Take action and send your senator a message now.
Your state is among the states that kept Hillary Clinton from winning the presidency in 2016. A significant reason for the outcome of the 2016 presidential election was the prospective nomination of conservative judges. You know what kind of judges Hillary would have nominated!

Senator Doug Jones has refused to go on record in support of Judge Brett Kavanaugh for Supreme Court.

Take action and send Senator Jones a message now.

By clicking HERE you can easily send an email message to your senator and also get the office number to call and leave a message for your senator. Please be polite when communicating with your senator's office. Know that phone calls have a significant impact. If you can do both, that would be great. Tell your senator to confirm Judge Kavanaugh to the U.S. Supreme Court.

There's little doubt you have missed the outlandish attacks by liberals against those in support of Judge Kavanaugh. Senate Majority Leader Mitch McConnell correctly summarizes saying, "The national spectacle the professional left has created around Judge Brett Kavanaugh's confirmation process has now reached some kind of fever pitch...seventeen days of a feeding frenzy on Judge Kavanaugh and his family unlike anything we have seen in recent memory."

If your Democratic senator votes against Judge Kavanaugh, that senator is validating the visceral attacks liberals have launched, not only against Judge Kavanaugh, his wife, and his two young daughters, but also against members of Congress and citizens across the country.

If your senator does not vote for Judge Kavanaugh, liberals will immediately use this same slimy tactic to destroy the significant number of President Trump's district and appellate court judges yet to be confirmed.

Contact U.S. Senator Doug Jones now. Strongly urge him not to cave to radical leftist political pressure and vote to confirm Judge Kavanaugh to the Supreme Court.