Monday, July 30, 2018 @ 1:06 PM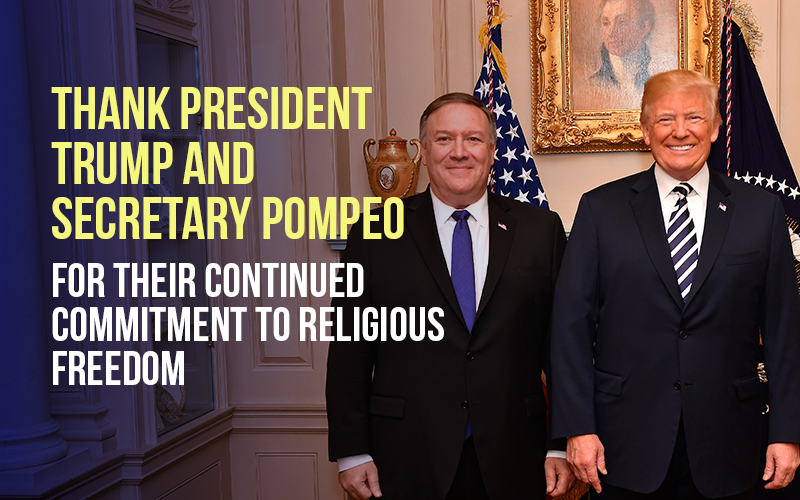 Thank Trump for his stand on religious freedom
Last week, President Donald Trump threatened sanctions against Turkey for jailing an American Christian pastor, Andrew Brunson, 50. After a year and a half behind bars, Turkey transferred him to house arrest.
Turkish law enforcement arrested Pastor Brunson in 2016 on the false accusation of "dividing and separating" Turkey as part of a large-scale crackdown of thousands after a failed coup. He faces up to 15 years detention.
In a message to Turkey, President Trump made his intentions clear. "If Turkey does not take immediate action to free this innocent man of faith and send him home to America, the United States will impose significant sanctions on Turkey until Pastor Andrew Brunson is free."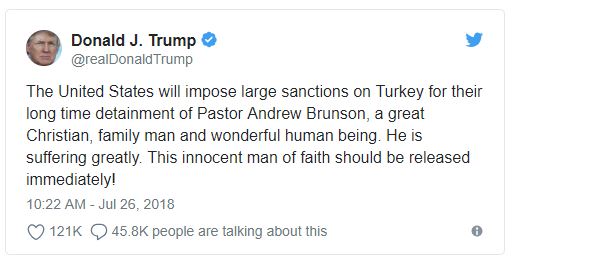 Secretary of State Mike Pompeo said in an interview with EWTN Nightly News that he is working extremely hard to secure Pastor Brunson's release. "It's a priority," Sec. Pompeo said. "We're in conversations every day in the state department with elements of the Turkish government. We remain hopeful and prayerful that Pastor Brunson will be able to return home before too terribly long."
In that same interview Secretary Pompeo announced the State Department has convened a ministerial convention of over 80 nations and religious organizations to insure religious freedom is a "human right and that every individual ought to have the right to practice their particular religion..."
If you remember, President Trump and Sec. Pompeo successfully secured the release of three American Christians from prison in North Korea back in May.
Thank President Trump and Secretary Pompeo for their continued commitment to religious freedom.