Thursday, December 13, 2018 @ 04:20 PM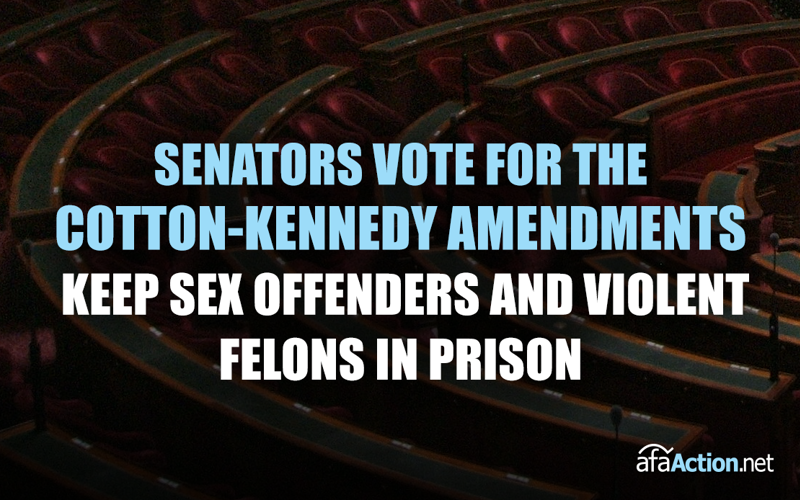 Violent criminals belong in prison, not on the street.
The U.S. Senate has been considering prison reform legislation called the First Step Act. If this bill becomes law, it would allow sex offenders and violent felons early release from prison.

Email and call your U.S. Senators NOW urging them to vote for the three (3) amendments of Sen. Tom Cotton (R-AR) and Sen. John Kennedy (R-LA).

AFA has been monitoring this legislation and has considered the current language of the bill to be significantly short-sighted and would create an alarming public safety concern in our communities.

For example, offenders convicted of coercing a child into illicit sexual activity or child pornography under 18 U.S.C. § 2422(b) are still eligible for prerelease custody or supervised release in this legislation.

Senators Cotton and Kennedy have offered three amendments to address the glaring omissions and problems of the First Step Act.

Email and call your U.S. Senators NOW. These amendments could be considered very soon, and your senators need to hear from you now.

Below is a description of the amendments and list of law enforcement organizations in support of the amendments:
Informing Victims, Tracking Effectiveness, and Excluding Sex Offenders and Violent Felons from Early Release
Amendment 1: Exclusion of serious felons from prerelease custody and supervised release
The First Step Act already excludes some classes of felons from using credits to transfer into prerelease custody or supervised release for up to one-third of their sentence--but it is still inadequate. For example, according to career sex-crimes prosecutors, 18 U.S.C. § 2422(b) is a commonly used statute to prosecute attempted child molesters. Prisoners convicted of this statute are still eligible for early release under the revised bill.

This amendment adds nine (9) serious , violent, or sex-related criminal statutes to the "ineligible prisoners" list, excluding them from early release. These offenders will still receive anti-recidivism programming and are eligible to earn other incentives, but will not be granted early release compared with current law.

Additional exclusions
| | |
| --- | --- |
| 1. Coercing a child to engage in prostitution or any sexual activity | 18 U.S.C. § 2422(b) |
| 2. Carjacking with intent to cause death or serious bodily harm | 18 U.S.C. § 2119(1) |
| 3. Assaulting a law enforcement officer | 18 U.S.C. § 111(a) |
| 4. Bank robbery by force or violence that puts the life of a person in jeopardy | 18 U.S.C. § 2113(d) |
| 5. Assisting federal prisoners with jailbreak | 18 U.S.C. 752 |
| 6. Hate crimes | 18 U.S.C. § 249 |
| 7. Assault, including a child | 18 U.S.C. § 113(a)(5) |
| 8. Other felony sex crimes under federal law |   |
| 9. Other felony crimes of violence under federal law |   |
Amendment 2: Notifying victims before a offender is allowed to transfer out of prison early
This amendment would require the warden to notify each victim, when applicable, before an offender is transferred early into prerelease custody or supervised release. It would also give the victim an opportunity to make a statement to the warden before the offender is released.

Amendment 3: Tracking effectiveness of the program
This amendment would require the Bureau of Prisons to track the rearrest data for each prisoner who is transferred out of prison early into supervised release or prerelease custody. This will provide valuable data to measure the effectiveness of the evidence-based anti-recidivism programs in the bill.

Reports indicate the bill is supported by:
The Federal Law Enforcement Officers Association, the National Association of Police Organizations, and the National Association of Assistant United States Attorneys.