Tuesday, April 3, 2018 @ 11:19 AM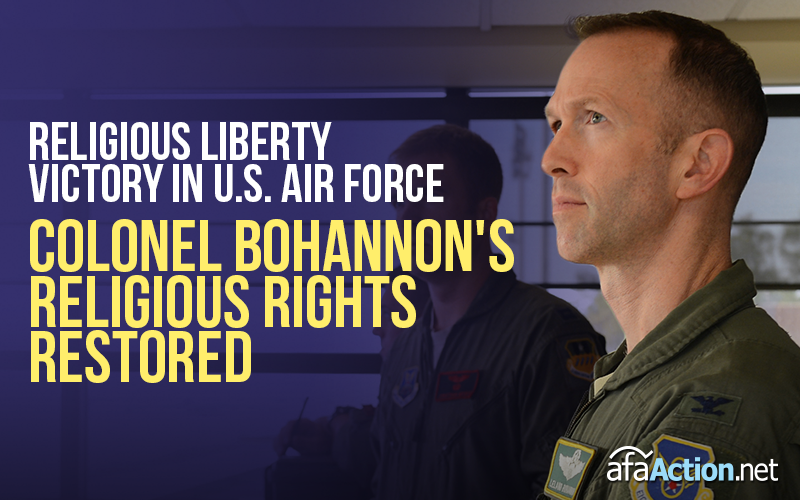 Victory for Religious Liberty in the U.S. Air Force!
AFA urged supporters to sign a petition to reverse Obama's hostility toward Christians in the Air Force, and the voice of AFA supporters made a difference.
Over 50,000 supporters signed the AFA petition urging Air Force Secretary Heather Wilson to restore the religious liberty of U.S. Air Force Col. Leland Bohannon.
Col. Leland Bohannon was asked in May 2017 to sign a "certificate of spouse appreciation" for a retiring master sergeant in a same-sex "marriage."
As a devout Christian, Bohannon refused to sign the document stating it would violate his religious belief of marriage being between one man and one woman. As a result, the Air Force suspended the colonel and effectively ended his career.
As a result, "Bohannon was relieved of command. Additionally, a letter sent by a superior officer recommended against Bohannon's promotion to brigadier general, effectively ending his career."
But Col. Bohannon's religious liberty was restored after an appeal to the Air Force Review Boards Agency. Secretary Wilson announced Monday that the Agency ruled in favor of the religious liberty of the colonel saying:
The director [of the Agency] concluded that Colonel Bohannon had the right to exercise his sincerely held religious beliefs and did not unlawfully discriminate when he declined to sign the certificate of appreciation for the same sex spouse of an Airman in his command. (Emphasis added.)
This is a tremendous victory for religious liberty in President Donald Trump's administration and in the armed services. The glory for the success belongs to God alone.
Christians who work together and stand for righteousness can make a difference.