Tuesday, November 19, 2019 @ 10:53 AM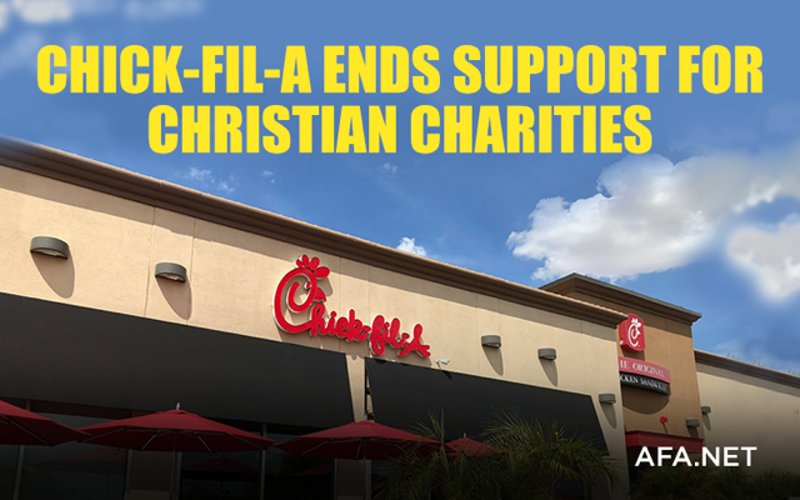 Sign our petition to Chick-fil-A
Chick-fil-A was founded on Christian principles. I heard that from the founder of Chick-fil-A himself, Truett Cathy, when I heard him speak at a prayer breakfast in Tupelo, Mississippi, 20 years ago. Mr. Cathy passed away in 2014.
I was so impressed with Mr. Cathy's public expression of faith and his devotion to God. That's why it saddens me greatly to find out that Chick-fil-A seems to be wavering on those Christian principles. 
As you probably know, Chick-fil-A has been hounded by LGBTQ activists since 2012 when then CEO Dan Cathy, son of Truett Cathy, made a public statement in support of the biblical definition of marriage as being between a man and a woman. Since that time, these LGBTQ stormtroopers and their cohorts in the media have been after Chick-fil-A.
For the last couple of years, they have been pounding Chick-fil-A over the company's donations to The Salvation Army, Fellowship of Christian Athletes, and Paul Anderson Youth Home in Georgia. Because these ministries believe what the Bible teaches about human sexuality and marriage, these ministries have been labeled "hate" groups. Therefore, according to LGBTQ groups, Chick-fil-A donates to hate groups.
Now Chick-fil-A has announced it will no longer make donations to these groups. The company says its contracts with the ministries have simply expired, and they're moving on. Frankly, I don't buy it. For all practical purposes, it looks like they have caved to the LGBTQ activists and their illegitimate complaints. I hope I'm wrong.
Some very fine Christians have spoken out forcefully against what Chick-fil-A has done. Here is what my friend Gov. Mike Huckabee had to say about this turn of events:
"I'm sure you've heard that Chick-fil-A has fully surrendered to the very leftist anti-Christian hate groups. In August 2012, I asked to help promote Chick-fil-A Appreciation Day. It was an incredible display of quiet, loving support and record sales. I now regret that I did it and that I invited your participation. Sad day. I wonder how long before they go ahead and open on Sundays?"
TAKE ACTION
Sign our petition to Chick-fil-A urging the company to return to its founding principles of standing beside and supporting those ministries that hold firm to God's view of marriage as between one man and one woman.