Wednesday, November 20, 2019 @ 3:45 PM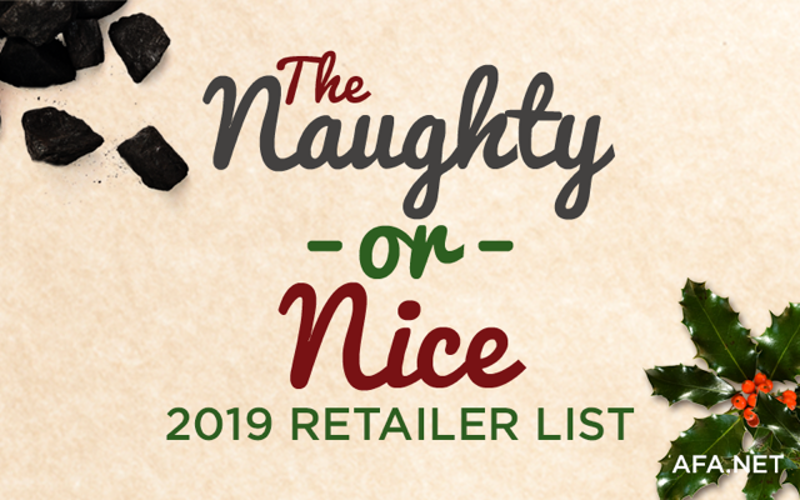 You can help us fight the war on Christmas!
We want you to stand with us and other Christians in proclaiming that Christmas is special, not just any other winter holiday. And the gift buying that Americans do for one another is because of Christmas.
Just a few years ago, roughly 80 percent of the nation's retailers ignored the use of "Christmas" in their stores and in advertising, choosing instead to use the politically correct terms "Happy Holidays" or "Holiday Sales."
Which stores recognize Christmas in their advertising and which ones are a Scrooge?
With the 2019 Christmas shopping season in full swing, AFA has prepared its annual Naughty or Nice retailer list. We took the top national retailers and reviewed their websites, media advertising, and in-store signage in an effort to help you know which companies are Christmas-friendly.
AFA reviewed up to nine areas to determine if a company is Christmas-friendly. Print media (newspaper inserts), broadcast media (radio/television), websites, and/or personal visits to the store helped determine a retailer's rating. If a company's ads had references to items associated with Christmas (trees, wreaths, lights, etc.), it was considered an attempt to reach Christmas shoppers.
You can help us fight the war on Christmas!
AFA's Naughty or Nice list has been extremely successful. Lowe's, Walmart, and Big Lots are just three national retail chains that completely changed their marketing programs as a result of the list. Now, these companies not only recognize Christmas in their advertising, they have also designated a Christmas area inside their stores!

We believe this change is the direct result of your efforts in conjunction with AFA's efforts.