Friday, October 11, 2019 @ 10:00 AM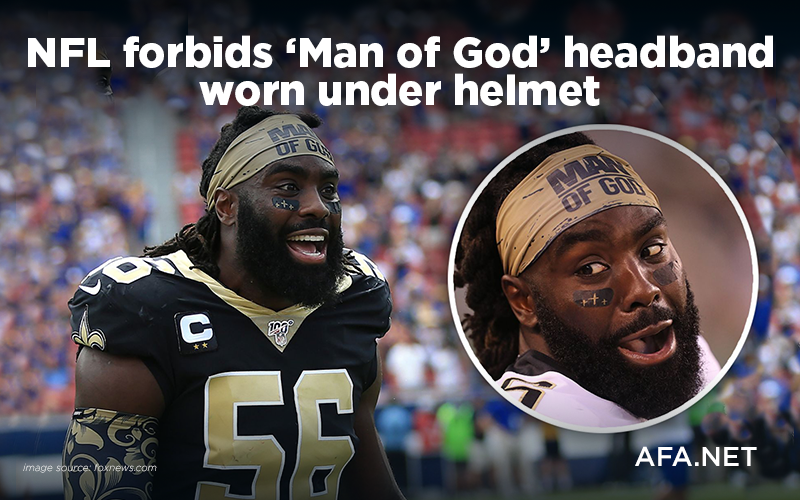 "But as for you, ye thought evil against me; but God meant it unto good, to bring to pass, as it is this day, to save much people alive." - Genesis 50:20
In the third week of the current NFL season, New Orleans Saints linebacker Demario Davis did as he has done for weeks. Underneath his helmet, he wore a headband with the phrase "Man of God" on it. Davis is not shy about his faith and is glad to share it with everyone around him.
The NFL didn't take kindly to his outspoken faith and threw a $7,017 penalty flag on the Christian husband and father. Faced with a fine for what the NFL labeled a "uniform violation," Davis used the media coverage as an opportunity to do even more to share Christ. Immediately, he began selling and promoting "Man of God" and "Woman of God" headbands.
As news of the NFL's crackdown on Davis spread, students at St. Louis King of France Catholic School in New Orleans' Metairie community made their own headbands with the words "Child of God" written across them in order to "show our community that we, just like Demario Davis, are proud and happy to mark ourselves as a 'Man/Woman/Child of God' and support our New Orleans Saints."
Davis appealed the fine, and upon review, the NFL announced it would rescind the fine but not drop the rule.
Since he no longer has to pay a fine for wearing the headband, Davis decided to donate the $7,000 he almost had to pay, plus the $30,000 raised in headband sales, to St. Dominic Hospital in Jackson - a hospital near his hometown of Brandon, MS.
Davis told the Times-Picayune newspaper, "Nobody wants to lose money, but I think any time that the conversation about God is brought up, especially in these times, I think it's always a positive or silver lining. If He can get glory from it, I think He can get glory from it whether I personally wear the headband or don't wear the headband."
To avoid violating the rules, Davis says he won't wear the headband during game time in the future. However, this incident raised over $37,000 dollars to help others in need.
TAKE ACTION
Sign our petition letting Demario Davis know that you are encouraged by his Christian walk and his example of Christ's love toward others. Thank him for boldly proclaiming that he is not ashamed to be a "Man of God."