Thursday, November 7, 2019 @ 1:43 PM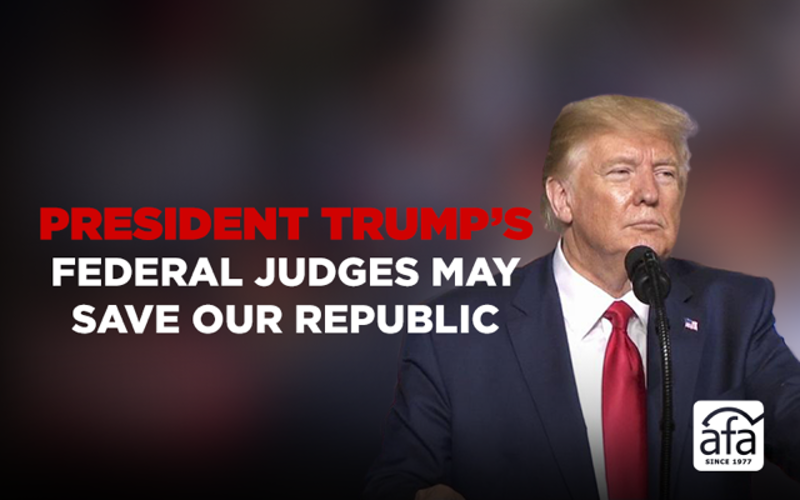 Sign our petition to President Trump!
On Wednesday, President Donald Trump highlighted one of his most important accomplishments of his first administration: the confirmation of more than 150 federal judges.
The president addressed an audience of supporters and Republican members of the Senate Judiciary Committee at a special ceremony held in the East Room of the White House.
He said that these federal judges "will uphold our Constitution as written." Then he added, "I will do everything in my power to halt judicial activism."
For decades, "our system has been under relentless attack by the left-wing activists who want to take the powers of the elected branches and give that power to unelected federal judges. They want to impose a judicial decree what they fail to win at the ballot box," Trump explained.
The president said he had high hopes that the 159 federal judges already confirmed would increase to as many as 182 within the next couple of months.
Applauding the efforts of Republicans on the Senate Judiciary Committee, Trump said future generations will know who "helped save the constitutional rule of law in America."
This is an extraordinary accomplishment. By November 1 of his third year in office, President Trump had seen more federal judges confirmed than each of the past five presidents –– Barack Obama, George W. Bush, Bill Clinton, George H.W. Bush, and Ronald Reagan –– at the same point in their own presidencies.
It is also a promise fulfilled. An important part of Trump's campaign for the White House was his promise to nominate judges who would adhere to the Constitution.
"From the beginning of my campaign I promised to appoint judges who will adhere to the true and original meaning of our Constitution," he said. "This afternoon, that promise was made, and that promise was kept, and I think many times over."
As Trump noted during his remarks, what he and the Republican members of the Senate accomplished was "a profoundly historic milestone and a truly momentous achievement."
We here at American Family Association agree. Our nation is in serious moral trouble because ideologies alien to our nation's guiding principles keep eating away at the foundations of our republic. The assaults on religious liberty, God's plan for human sexuality, marriage and family, and the sanctity of human life continue.
We salute the efforts of a president who has kept his promise regarding the federal judiciary, and we applaud the courage of the conservative senators who helped him keep it.
Sign our petition thanking President Trump for keeping his promise to the American people.