Tuesday, April 30, 2019 @ 2:30 PM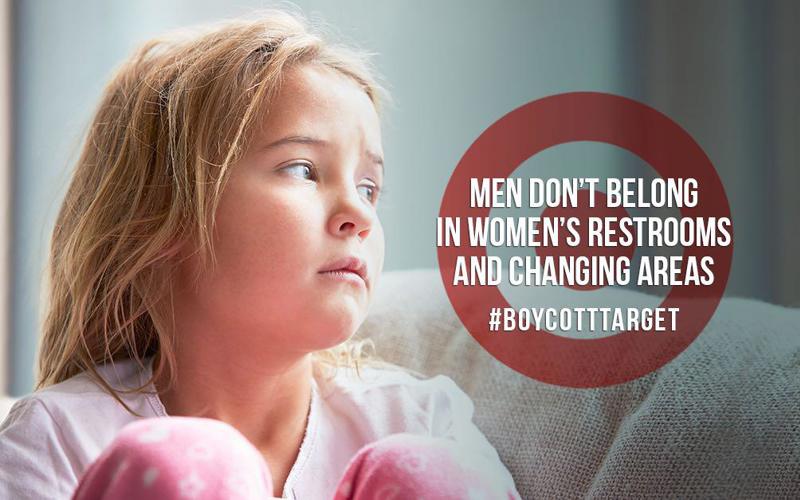 Target endorses dangerous bill before Congress
Over 1.5 million families have pledged to stop shopping at Target since it announced it would allow men to enter women's dressing rooms and bathrooms, putting women and children in danger of sexual assault.
AFA has made it clear since the boycott began that our worries do not stem from fear of the transgender community, but rather from the very real threat that predators and voyeurs, or anyone with evil intentions, would take advantage of the Target bathroom policy to harm women and children. And they have.
Now Target has gone on public record stating they fully and wholeheartedly support the passage of the Equality Act now before Congress, meaning it supports government-sanctioned discrimination against churches and Christian business owners.
The so-called "Equality Act" is nothing more than a repackaged version of the Employment Non Discrimination Act (ENDA). This legislation has been driven for years by rabid homosexual activist groups like Human Rights Campaign and is specifically designed to place sexual liberty above religious liberty and the First Amendment.
For example, under the Equality Act, a Christian business owner or even a church that refuses to hire a homosexual or transgender individual would immediately be exposed to potential lawsuits by LGBT activists. Another example would be a baker or florist who refuses to cater a homosexual "wedding." This business owner would face crippling fines for refusing to forfeit his or her religious beliefs. In short, this dangerous legislation punishes the belief that sexual activity should be limited to one man and one woman within the confines of marriage.
Not only is this bill a threat to religious liberty, it would also nationalize Target's dangerous policy that allows men who say they're "women" to access women's restrooms and changing areas. The legislation has a special provision that says that all public facilities must allow customers to use the restroom that corresponds to their "gender identity." 
There are still people you know who are unfamiliar with Target's dangerous policy. Will you help spread the warning and let your family and friends know about the Target boycott?
Forward this information to friends and family. Invite them to sign the boycott pledge at www.afa.net/target.
Call Target headquarters at 612-304-6073 and personally let them know you are boycotting their stores.
Voice your concerns on Target's Facebook page.
Support our ongoing efforts to promote the Target boycott. Make your tax-deductible donation today!