Tuesday, January 15, 2019 @ 9:37 AM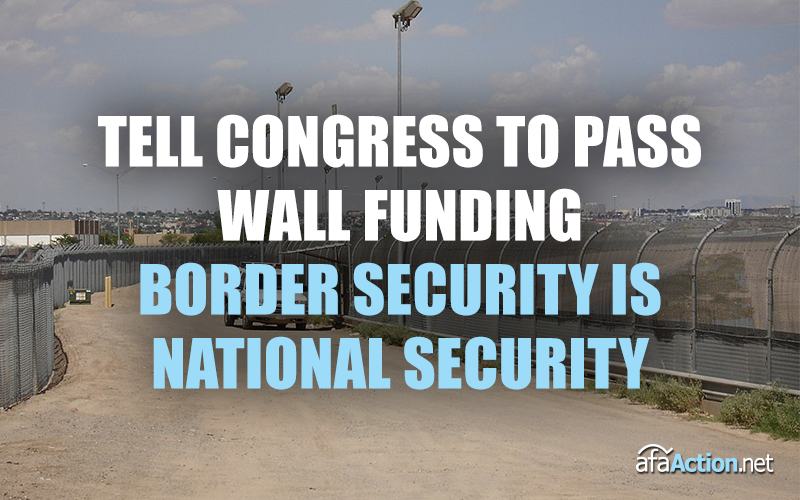 Contact Your Members of Congress Now!
Border security is a matter of national security. When the security of American families is threatened by outside forces, the security of our nation is at risk. Hardly anyone will dispute the decades-long invasion of those who have entered the country illegally. As a result, American families have been victimized and terrorized by sex traffickers, drug dealers, and other violent criminals. Securing the border is a moral issue. It's time to set aside partisan politics.
 
American Family Association (AFA) strongly urges you to tell your members of Congress to pass President Donald Trump's plan for border security. Take action now.
 
A new survey by AFA finds nearly all supporters (98%) view border security as an important issue. An overwhelming number of supporters (96%) agree with President Trump's plan to secure the southern border with a wall. The most startling statistic is the overwhelming majority (90%) of AFA supporters who want President Trump to continue the partial government shutdown to force Congress to fund construction for the border wall.
 
The U.S. Constitution, Article Four, Section Four, states the "United States shall guarantee to every State a republican form of government and shall protect each of them against invasion." Providing this security is a mandatory function of the national government, but federal lawmakers, Democrats and Republicans alike, have refused to seize the moment.
 
Now, President Trump is demanding that Congress perform its constitutional duty and protect its citizens. AFA agrees and urges you to contact Congress now.
 
Every person who illegally enters the United States of America breaks the law, but not all law breakers are equal. Illegal migrant entry into the country for illegal employment may seem benign, but such an allowance also paves the way for the entry of illegal aliens involved in sex trafficking and drug trafficking. Also among these illegals are violent criminals and suspected terrorists.
 
In Fiscal Year 2018, U.S. Customs and Border Protection (CBP) reported the arrest of 17,000 individuals with criminal records. The CBP apprehends about 21 wanted criminals every day at the southern border. For those illegal aliens already in the country, ICE officers arrested 266,000 aliens with criminal records over the past two years. These arrests included those charged or convicted of 100,000 assaults and nearly 30,000 sex crimes.
 
The Laredo Sector of the United States Border in Laredo, TX has over 150 miles without a constructed barrier between the U.S. and Mexico. Border security reports related to this sector indicate the Mexican drug cartel, Los Zetas, targets this weak spot in the Laredo Sector to transport illegal drugs. The Laredo Sector is also reported to be a target for illegal entry of Syrian and Bangladeshi nationals.
 
President Trump has made it clear that the Democratic controlled House must perform its constitutionally mandated responsibility by passing a bill funding the construction of a border wall.

Contact Congress now.