Thursday, April 4, 2019 @ 10:49 AM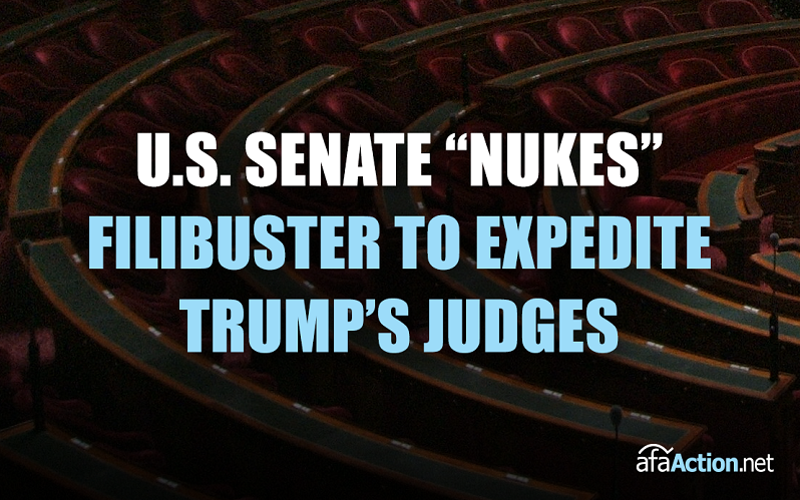 Two Republican Senators defected and voted with Democrats
As you know, the Senate has been at a slow crawl when it comes to confirming President Trump's judicial nominees. The main reason for this logjam is Democratic obstruction. Democrats have been using every tool possible to block the Trump agenda, including their demand of 30 hours for Senate floor "debate" on the President's nominees.
On Wednesday, Senate Republicans led the charge to reduce the 30 hours of debate for lower court and executive branch nominees to 2 hours. The Senate used the "nuclear option" to establish a simple majority vote on the motion to proceed. This motion previously required 60 votes, but the "nuclear option" changed that requirement and lowered it to 51 votes. Two Republican Senators defected and voted with Democrats in opposition to the nuclear option: Senators Susan Collins (R-ME) and Mike Lee (R-UT).
Historically, this debate time was only invoked on rare occasion and when there was a highly controversial nominee pending confirmation. After the 2016 election, Democrats resorted to using this tactic on nearly every Trump nominee.
In May of 2018 we notified our grass roots supporters of this problem urging them to ask their Senators to end this obstruction and lower debate time on judicial nominees. This rule change will expedite President Trump's nominees and allow the Senate to continue putting conservative judges on federal courts across the country.
This might not have happened without your action. I want to thank you for remaining diligent in this battle for the soul of our country.