Monday, August 05, 2019 @ 04:29 PM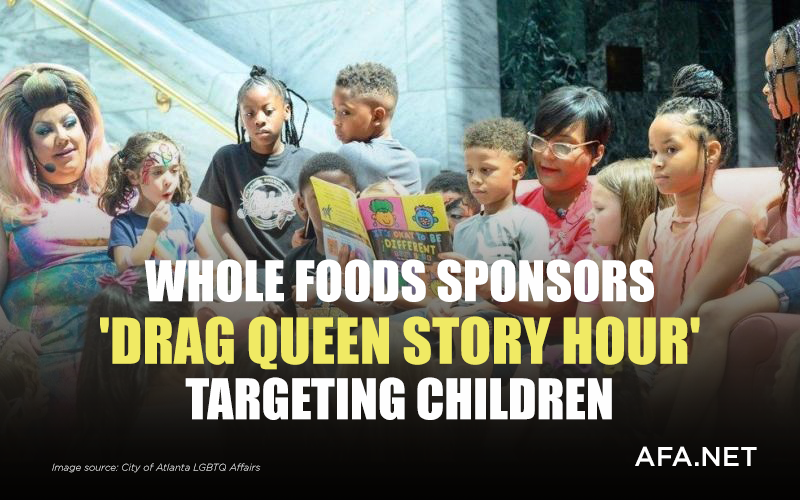 Sign our petition to the executives at Whole Foods Market
Whole Foods Market is a sponsor of Drag Queen Story Hour events designed to indoctrinate children into transgenderism and homosexuality. Their goal is to normalize the LGBTQ lifestyle.
Whole Foods Market was a primary sponsor of two Drag Queen Story Hour book readings recently held in Atlanta, GA.
Atlanta Mayor Keisha Bottoms invited "Miss Terra Cotta Sugarbaker," a.k.a. Steven Igarashi-Ball, to perform a Drag Queen Story Hour at city hall. There was an additional event held at a Fulton County Library branch.
A danger to our children
At these events, men dressed in woman's clothing read books that teach kids that boys might actually be girls – and vice versa. Drag Queen Story Hours pose a dark threat to the moral and spiritual lives of America's children.
In Los Angeles, a drag queen named Xochi Mochi read to children at the Long Beach public library. At a Lansdale, Pennsylvania, library event, a drag queen used the name "Annie Christ" to mock Christianity.
These are not isolated events, but represent a real trend. According to one news source, Drag Queen Story Hours are a "global phenomenon" with more than 35 chapters in the U.S. alone. The events often draw hundreds of participants.
In Houston, earlier this year, two drag queens who participated in the story hours were later revealed to be convicted child molesters and transgender prostitutes.
Whole Foods Market has more than 476 stores in 42 U.S. states. If they'll sponsor Drag Queen Story Hours in Atlanta, they may be preparing to sponsor similar events in other cities.
TAKE ACTION
Sign our petition to the executives at Whole Foods Market, urging them to no longer sponsor Drag Queen Story Hour events. Then, use the number provided to call Whole Foods corporate office and let them know sponsoring sexual deviancy to children is bad for business.