Tuesday, February 25, 2020 @ 4:15 PM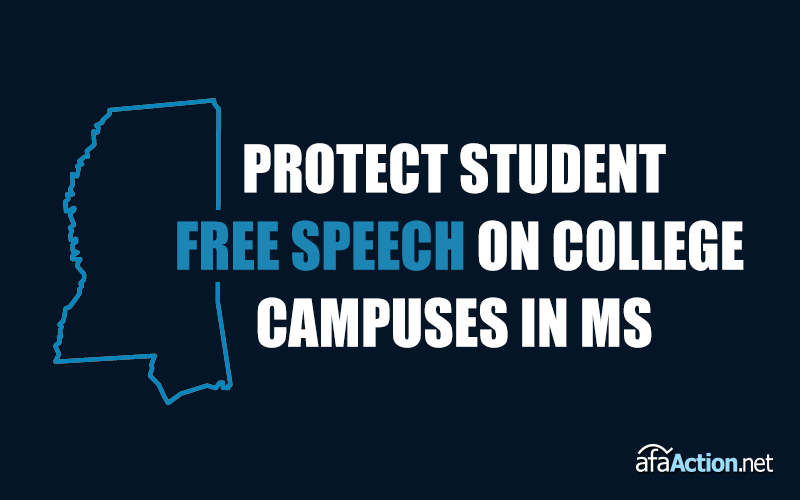 The MS House of Representatives needs to hear from you.
The MS House of Representatives needs to hear from you. Let them know you support the bill (HB1200) to protect a student's constitutional right to free speech. This free speech includes Christian students' right to free speech at MS public university and college campuses. Their freedom is under attack because they are restricted as to where they can exercise their religious free speech. For example, to share the gospel of Jesus Christ is limited to areas that public universities call "free speech zones." Restricting constitutionally protected free speech is NOT free speech.
Contact your representative now urging him or her to support campus free speech legislation.
This bill is necessary because public universities, such as Delta State University, have implemented policies restricting free speech to specific areas on campus or "free speech zones." A constitutional right to free speech is protected within these zones, but if a student speaks outside this zone, her rights are violated. This policy has negative and unintended consequences for a student of faith.
Consider a student sharing the gospel of Jesus Christ outside the zone. She could be in violation of the university's policy if the person hearing the gospel finds the message offensive. She could also be subject to discipline, even dismissal, for sharing the gospel.
Consider, too, a student organization hosting a pro-life event at a MS university. This bill would provide legal protection from harassment by abortion advocates.
The bill introduced by Representative Stacey Wilkes (R-Picayune) will restore a constitutional right to free speech by eliminating these restrictive zones. The bill also requires administrators, campus police, etc., to understand their duties regarding free expression on campus. It also empowers the MS legislature to hold universities accountable by requiring each institution to report on free speech issues prior to the legislature's appropriations process.
Recent polling of 625 registered Mississippi voters on campus free speech finds that 83 percent of Mississippi voters support a law that "would protect speech for all college students, even if others disagree with their point of view." The poll also shows strong support for campus free speech across political parties: 78% Democrat, 88% Republican, 80% Independent.
MS universities and colleges should support this legislation because it helps them track, report, and respond to issues in a way that protects university resources while, at the same time, protecting the free speech rights of students.
Contact and urge your representative to support campus free speech legislation.