Tuesday, April 20, 2021 @ 9:49 AM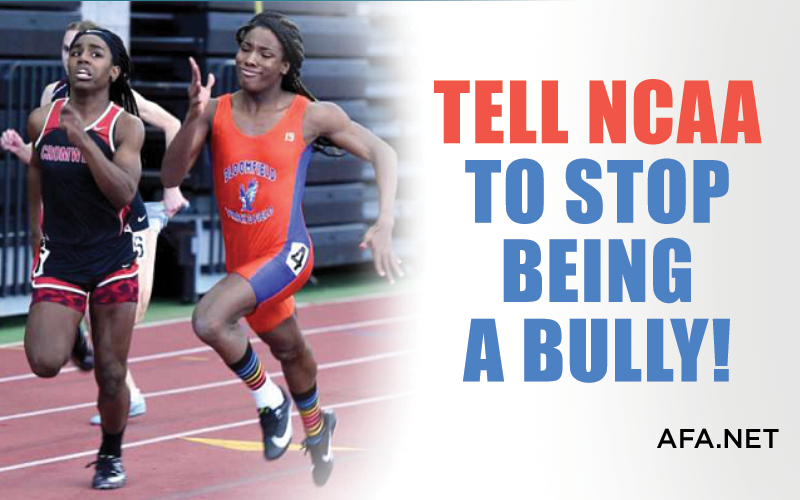 In sports, biology matters; it is why we have women's sports in the first place.
In order to promote transgender ideology, the National Collegiate Athletic Association (NCAA) is discriminating against girls who play college sports.
By policy, the NCAA says schools must fully embrace the desire of any boy who claims to be a female to play on a girls' team in college competition. It's irresponsible enough to allow a boy to play on a girls' basketball or softball team, but the edict goes way beyond acceptable.
For example, according to the NCAA's policy handbook:
Boys "should be able to use the locker room, shower, and toilet facilities" with girls.
When traveling, boys "should be assigned to share hotels rooms" with girls.
"In all cases, teammates, coaches and all others in the school should refer to transgender student-athletes (boys) by the student's preferred (girl's) name." (Emphasis added.)
And if colleges and universities don't comply with these anti-girls' sports mandates, their states could be banned from hosting championships. Thus, the NCAA is acting the role of a threatening playground bully.
As Duke law professor and All-American track athlete Doriane Coleman, tennis champion Martina Navratilova, and Olympic track gold medalist Sanya Richards-Ross recently wrote: "The evidence is unequivocal that starting in puberty, in every sport except sailing, shooting, and riding, there will always be significant numbers of boys and men who would beat the best girls and women in head-to-head competition."
The NCAA has chosen to ignore pure logic and simple science when it comes to the differences between male and female strength, agility, and natural skills.
In short, the NCAA is systematically destroying women's sports by allowing natural-born males to compete against females. When the game is fixed, there is no incentive to compete. And this is exactly what the NCAA is doing … fixing the game.
TAKE ACTION
In sports, biology matters; it is why we have women's sports in the first place. When we ignore biological reality, women get hurt. Allowing males to compete in women's sports will mean the end of women's sports.
Sign our Petition to the NCAA, urging it to reverse course and use common sense and proven science to keep biological males out of women's sports.