Tuesday, June 22, 2021 @ 11:06 AM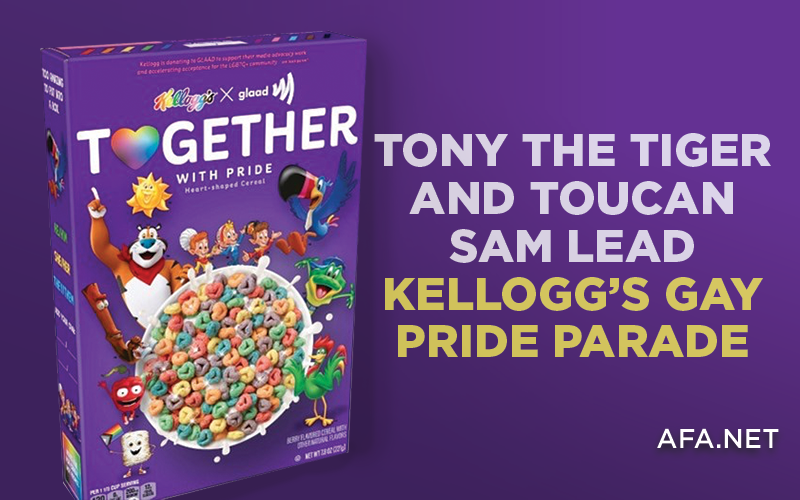 Each box of Kellogg's sold affirms to the company Kellogg's support for homosexuality
As part of its effort to push homosexuality to children, Kellogg's is going "all out" by partnering with the Gay & Lesbian Alliance Against Defamation (GLAAD) by making its cereal characters a main focus of promotion.
Kellogg's is marketing Together With Pride cereal, an exclusive, limited-time offer in which the cereal brand's famous mascots are celebrating the gay rainbow.
The cereal, which "features berry-flavored, rainbow hearts dusted with edible glitter," was previously only available online but is now being sold in select stores nationwide.
To attract children, the Together With Pride limited-edition box features beloved characters including Mini (from Frosted Mini Wheats), Toucan Sam, Tony the Tiger, Sunny (from Raisin Bran), Honey Smacks Dig'em Frog, Snap, Crackle & Pop, and Cornelius (from Corn Flakes)––all supporting "gay pride."
But the most disturbing feature is the box top that has a special spot for children to add their own pronouns of choice which encourages children to pick their pronouns.
"Now your kids can write their pronouns on their cereal box! So fun! Affirm their gender, with Kellogg's!" one user on Twitter captioned it.
For every "gay-branded" box sold, Kellogg is donating $3 in support of GLAAD's dangerous agenda to promote the unhealthy LGBTQ+ lifestyle among our youth.
TAKE ACTION
Each box of Kellogg's sold (gay branded or not) affirms to the company that Kellogg's support for homosexuality is an acceptable part of their business. We urge you to consider an alternative product to Kellogg's.
Sign our petition to Kellogg's now! Urge them to consider the negative influence their decision has on America's children.