Tuesday, February 8, 2022 @ 10:56 AM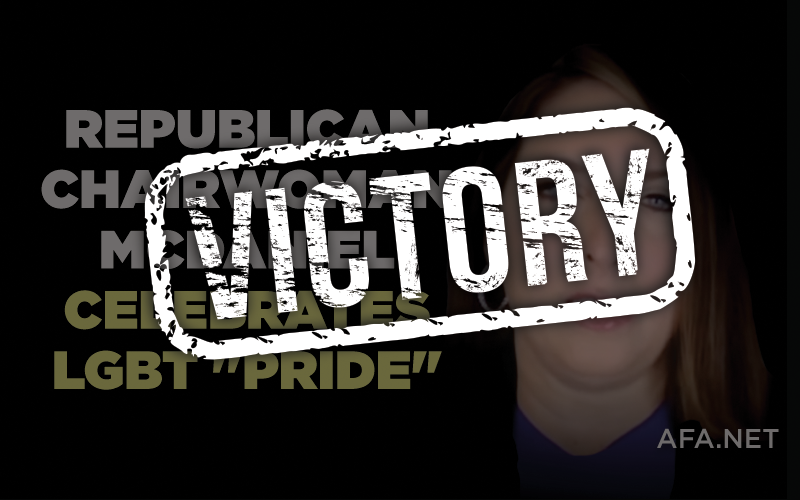 GOP affirms Religious Liberty Platform for midterm elections
The Republican National Committee (GOP) emerged from its winter meeting last week in Salt Lake City, Utah, making it clear that Republicans remain firmly in support of traditional, family values.
The GOP committee passed a resolution supporting the most recent and strongest party platform to date on religious liberty and moral/social issues. The Resolution to Reaffirm Our Commitment to the Current Republican Party Platform stated:
the RNC reaffirms its unwavering commitment to the Republican Party Platform and pledges to continue to structure all initiatives in a manner that furthers the policies reflected therein.
The RNC resolution was in response to significant backlash from grassroots conservatives against GOP Chairwoman Ronna McDaniel's social media post celebrating homosexual "Pride" month and in favor of the GOP election initiative with the Log Cabin Republicans, an LGBTQ group.
McDaniel, celebrating LGBTQ "Pride Month" in June 2021, said the Republican party "will continue to grow our big tent by supporting measures that promote fairness and balance protections for LGBTQ Americans and those with deeply held religious beliefs." This tweet was considered veiled support for the Fairness for All Act, which is similar to House Speaker Nancy Pelosi's anti-religious liberty Equality Act.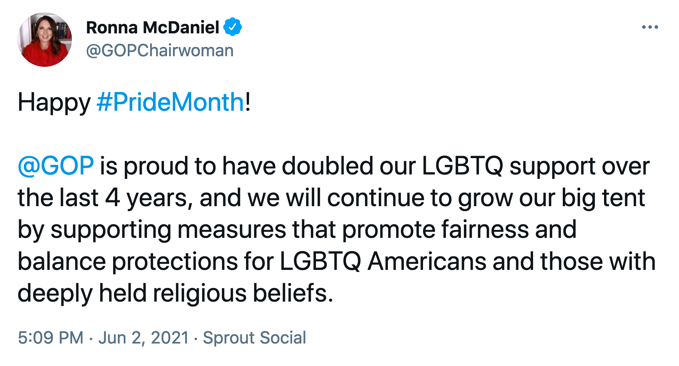 Months later, also under the leadership of Chairwoman McDaniel, it was reported that the Republican party "announced its first ever 'RNC Pride Coalition' over the weekend, partnering with the Log Cabin Republicans to invest and mobilize LGBTQ communities ahead of the 2022 midterm elections."
Log Cabin Republicans is an anti-religious, pro-LGBTQ group which states that its agenda includes:
Fighting for "legal protections ensuring that LGBT (lesbian, gay/homosexual, bisexual, transgender) couples may adopt or provide foster care in any program sponsored by federal, state, and local governments."
Advancing "a nationwide ban on conversion therapy for anyone under the age of 18," meaning the GOP is partnering with a group opposing the parental right to secure Christian counseling for a child struggling with same-sex attraction or sexual identity.
Supporting the radical Fairness for All Act that would destroy Christian business owners' religious liberty protections because it offers no legal religious liberty protections for business owners.
In response to the GOP LGBTQ "Pride" tweet and Log Cabin partnership, GOP leadership from every state in the nation experienced backlash. AFA issued an alert and petition resulting in significant numbers of AFA supporters from nearly every state flooding the email account of GOP committee members with messages urging them to declare their support for religious liberty and the GOP platform.
Due to the initiative of AFA supporters, coupled with AFA leadership engaging in discussions with GOP leaders and other like-minded organizations, the GOP admitted their "outreach initiative [with Log Cabin Republicans] created the impression … it was undermining essential aspects of our platform, including our planks on marriage and religious liberty."
The recent GOP resolution also stated it "reaffirms its unwavering commitment to the Republican Party Platform and pledges to continue to structure all initiatives in a manner that furthers the policies reflected therein."
AFA considers it a significant win that the GOP has issued a course correction and solidified its support for religious liberty, traditional family values, and human sexuality rooted in biology. We are grateful for all AFA supporters who contacted their National GOP committee members and who have financially supported the ministry of AFA.

We are dedicated to transforming culture in ways that reflect biblical values. This is just one result of being the "salt" and "light" God calls us to be. Will you consider making a one-time or recurring donation to AFA to help us continue this battle for biblical family values?