Thursday, February 24, 2022 @ 08:33 AM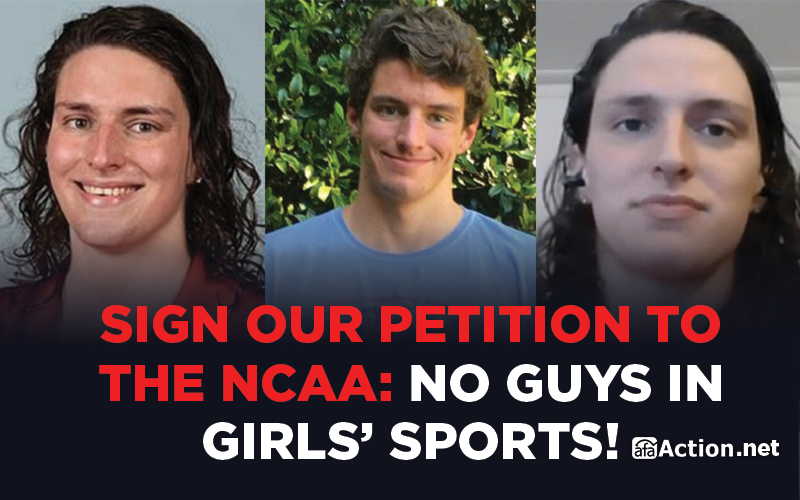 NCAA: The biology is fake. The gender is fake. The science is fake. The competition is fake.
By His biological and perfect design, God created men and women to be different, giving men a distinct advantage when it comes to bodily strength, agility, and natural skills.
In sports, God's design matters; it is why we have women's sports in the first place.
Until January, the National Collegiate Athletic Association (NCAA) promoted transgender ideology regardless of human biology. However, as pressure grew on the NCAA to reinstate protections for women's sports, the organization punted, allowing individual collegiate sports to draft their own policies.
Rather than return women's sports to biological females, the NCAA chose the path of cowardice. In doing so, biological males will continue the process of increasingly dominating those sports in the name of transgender equity.
The most egregious example of this can be found in Will Thomas, a biological male who decided to identify as a female, change his name to Lia, and compete as a woman. In the past week, Thomas won Ivy League championships in three different women's events, breaking multiple NCAA records in the process.
I believe the NCAA is in complete approval of what Thomas is doing –– a man who previously competed on the University of Pennsylvania's men's swim team. By doing nothing, the NCAA is recognizing and sanctioning his unfair shattering of women's collegiate swimming records as a member of the women's swim team.
In realistic terms, true equality within the sport of NCAA women's swimming no longer exists. By its cowardice, the NCAA is systematically destroying women's sports by allowing natural-born males to compete in women's sports.
The NCAA should stop this farce by returning women's sports to biological females.
TAKE ACTION
The NCAA has chosen to ignore pure logic and simple science when it comes to the physical differences between male and female.
Sign our Petition to the NCAA, urging it to act now and keep biological males out of women's sports.