Wednesday, July 20, 2022 @ 02:24 PM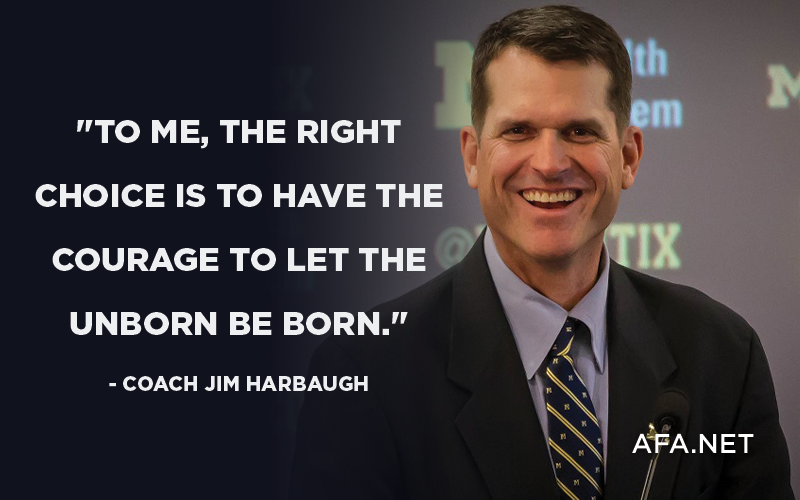 Sign our petition in support of Coach Jim Harbaugh.
Any sports fan will recognize the name Jim Harbaugh, a 14-year veteran quarterback in the National Football League during the 1990s. But since 2015, he has been the head coach of the Michigan Wolverines.
Coach Harbaugh has also been an outspoken, long-time, pro-life advocate. Just last weekend, Coach Harbaugh was a guest speaker at a right-to-life even in Plymouth, Michigan.
During his speech, he explained his support for life by telling the crowd, "I believe in having the courage to let the unborn be born. I love life. I believe in having a loving care and respect for life and death. My faith and my science are what drives these beliefs in me. Quoting from Jeremiah, 'Before I formed you in the womb, I knew you. Before you were born, I set you apart. I appointed you as a prophet to the nations.'"
He went on to say, "In God's plan, each unborn human truly has a future filled with potential, talent, dreams and love. I have living proof in my family, my children, and the many thousands that I've coached that the unborn are amazing gifts from God to make this world a better place.
"To me, the right choice is to have the courage to let the unborn be born."
As you can guess, Coach Harbaugh is already coming under fire from those who live in darkness and support the sin of abortion. Twitter has erupted with hatred toward Coach Harbaugh and his biblical stand for the life of the unborn.
STAND WITH COACH HARBAUGH
Sign our petition in support of Coach Jim Harbaugh. Let him know you are grateful for his courage in defending the life of unborn children and for speaking the truth in love.  Let Coach Harbaugh know you are praying for him as he continues to stand strong.