Wednesday, January 04, 2023 @ 12:02 PM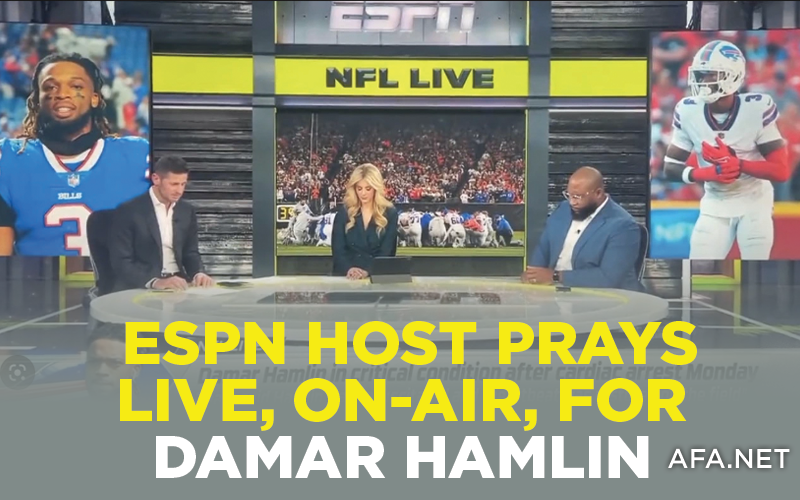 Join me in praying for Damar Hamlin, just as Dan Orlovsky did.
Even if you don't keep up with professional football, I'm sure you've heard about NFL Buffalo Bills player Damar Hamlin.
During last Monday night's game, Damar suffered a cardiac arrest on the football field in front of a national television audience. Like millions of Americans, I watched as players from both teams and fans in the stands fell to their knees, concerned that a fellow human was near death. Some prayed, some just watched.
As of this writing, he remains in critical condition.
As you can expect, social media immediately exploded with soundbites and Twitter messages of "good feelings," "prayers," and "best wishes."
But on Tuesday, ESPN football analyst and former football pro Dan Orlovsky openly put his faith into practice by leading a prayer for Damar Hamlin on live television.
During ESPN's NFL Live, Orlovsky said, "I heard the Buffalo Bills organization say that we believe in prayer, and maybe this is not the right thing to do, but it's just on my heart and I want to pray for Damar Hamlin right now. I'm going to do it out loud, I'm going to close my eyes and bow my head, and I'm just going to pray for him."
In the video, Orlovsky prayed:
"God, we come to you in these moments that we don't understand, that are hard because we believe that you're God and coming to you and praying to you has impact. We're sad. We're angry. We want answers, but some things are unanswerable. We just want to pray, truly come to you and pray for strength for Damar, for healing for Damar, for comfort for Damar. Be with his family to give him the peace.
"If we didn't believe that prayer didn't work, we wouldn't ask this of you, God. I believe in prayer. We believe in prayer. We lift up Damar Hamlin's name in Your name. Amen."
It is very rare for anyone on national television to pray, but Orlovsky's prayer was a refreshing reminder to all Americans that our nation is still a nation of prayer. I know God will use this example of open faith to reach unbelievers.
TAKE ACTION
Join me in praying for Damar Hamlin, just as Dan Orlovsky did. Pray that God will bring healing, peace and comfort to Damar and his family and friends.
Just as important, sign our petition to Dan Orlovsky, thanking him for his bold example of true faith by leading a sincere and heartfelt prayer before millions of Americans on national television.