Dear AFA Friends and Supporters,
It's going to be a long, hot summer, and I'm not talking about the weather.
I'm talking about the battle between the emboldened Left—which is flat out pushing the nation toward godless Marxism—and those of us who are standing firm in the conviction that America's only hope is a return to our Christian foundations.
It's hard to understand why our nation's dominant institutions—business, education, the arts, media, government, entertainment, even some in the church—have aligned against life, biblical morality, free speech, marriage and family, and even love.
Specifically, I'm thinking about how Amazon Prime recently censored AFA.
I'm still shaking my head over the streaming service's refusal to offer our new documentary, In His Image: Delighting in God's Plan for Gender and Sexuality.
No, I'm not surprised, but I am disgusted at the hypocrisy and callousness. Amazon Prime offers every kind of degrading material imaginable—including hardcore pornography and an entire LGBTQ movie collection—but refuses a fair-minded film that is well-researched, has world-class production values, and whose touchstones are truth and compassion for hurting people.
The company is not even willing to discuss the matter. In its notice to AFA, the corporate giant wrote:
"All review decisions are final, and this title may not be resubmitted or appealed."
I know it's not easy to oppose the anti-God forces that are massing within the dominant institutions I cited above. You risk being ridiculed and made a laughingstock. At AFA, we've felt the sting of that many times over the past 44 years.
Yet your continued prayers, financial support, and encouragement galvanize our commitment to promote the truths of Scripture in our nation, no matter how many "Goliaths" like Amazon Prime stand in defiance of Almighty God.
As a member of our AFA family, you are among the heroic resistance fighters of the culture war.
I can never repay you except to encourage your faithfulness and offer godly guidance and trustworthy resources to equip you in the fight.
One such resource is a new AFA Cultural Institute DVD presentation that reveals how the influence of LGBTQ ideology has slowly eroded a biblical perspective within evangelical Christianity. It has actually changed the way many Christians think and talk about homosexuality. This unbiblical ideology is convincing many within the church to "be accepting and inclusive" while bullying into silence those who remain faithful to Scripture.
That's why it is critically important that you get a copy of Understanding the Dangers of 'Gay Christianity' produced by American Family Studios.
READ MORE
The presenter is M.D. Perkins, AFA's research fellow of church and culture. M.D. also produced the documentaries In His Image and The God who Speaks (2018). His first book on the subject of "gay Christianity" is scheduled to release later this year.
In Understanding the Dangers of 'Gay Christianity' M.D. gives a detailed explanation of what "gay Christianity" is and why it poses a serious threat to otherwise faithful churches.
In appreciation for your support for AFA, I want you to have Understanding the Dangers of 'Gay Christianity.'
As I mentioned earlier, the promotion of homosexuality and gender madness is proceeding nonstop among the major influencers of our culture. Consider these four recent examples:
Marvel Comics announced in March that, for the first time in the company's history, Captain America will be portrayed as a "new LGBTQ+ hero."
In California, a judge ruled that a "throuple"—not a couple, but three homosexual men—are to be listed on the birth certificates of two children.
The city council of Cambridge, Massachusetts, became the second in the state to legally recognize polyamory with a domestic partnership ordinance. In case you're wondering, polyamory is when a person has simultaneous, romantic relationships with multiple partners, and polygamy is when multiple people are legally married to each other.
By the way, AFA predicted years ago that if homosexual "marriage" was ever legalized, polyamory and polygamy would be next.
When Oral Roberts University basketball team upset Ohio State and Florida in the NCAA championship tournament, USA Today former columnist Hemal Jhaveri complained that the evangelical university's "deeply bigoted anti-LGBTQ+ polices can't and shouldn't be ignored." She insisted that the beliefs and practices of ORU were so bad that the NCAA "should ban them from NCAA competition."
No doubt, America is trending backward to pagan sexuality, and if we speak out against that downward slide, we can expect to pay a price.
But hasn't that always been true? After all, Jesus told his disciples:
If anyone would come after me, let him deny himself and take up his cross and follow me. For whoever would save his life will lose it, but whoever loses his life for my sake will find it (Matthew 16:24-25 ESV).
Now, are you wondering what you can do? Here are four suggestions:
Prayerfully consider a generous financial gift to AFA.
Request the original resources that we offer in this letter each month. Educate yourself, and be prepared to respectfully share with others what you've learned.
Give the resources away. When you pass on a DVD or other AFA resource, you're helping equip another soldier for the battle as well as introducing a friend or family member to AFA.
Use the donation form below and make an ongoing monthly gift to AFA to be charged to your credit or debit card. It's a consistent and convenient way to underwrite the work of AFA.
Finally, let me underscore the last wonderful words of the verse above: "… whoever loses his life for my sake will find it." Yes, it may seem counterintuitive, but dying to ourselves is the path to a joyous life now and forever.
That's why, without hesitation, I ask you to stand alongside AFA as we continue to uphold God's truth here in our great nation.
Read More
About Tim Wildmon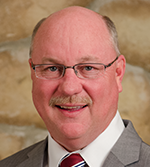 Tim Wildmon is President of American Family Association and American Family Radio. AFA is a national organization that advocates for the biblical teaching on morality and values. Tim host a daily program on AFR's 180+ stations. He has appeared many times on all the major television networks including the Fox News Channel and CNN. He has written for USA Today, Focus on the Family and several other national publications.
Tim joined AFA in 1986. He has been married to his wife Alison since 1984, lives in Tupelo, Mississippi, and has three children and seven grandchildren. He is a graduate of Mississippi State University with a degree in journalism.