Is it too late for America?
Dear Faithful AFA Friend and Partner,
If you're looking for bad news that reflects the dismal spiritual state of our nation, there's plenty out there. Anger, despair, division, immorality, and discontentment – it seems to be everywhere. 
Regarding politics, some conservatives are saying that the constitutional limits on government are so far gone already – that there is little hope America will ever resemble the experiment in liberty the Founders envisioned.
But I disagree because our sovereign God is not surprised by this sad state of affairs. He has seen it before. I am reminded of the words of the prophet Isaiah as God addressed Judah and Jerusalem:
Where will you be stricken again, as you continue in your rebellion? The whole head is sick and the whole heart is faint. From the sole of the foot even to the head there is nothing sound in it, only bruises, welts and raw wounds, not pressed out or bandaged, nor softened with oil (Isaiah 1:5-6, NASB).
Yet, our God has moved in such situations many, many times. That's what I want to discuss with you in this letter and then make available to you a resource that will encourage all of us to be prepared to be an active part of God's redemptive work in our nation.
I was stunned when The Christian Post reported that the Southern Baptist Convention – the nation's largest Protestant denomination – had lost more than 400,000 members in 2020. Undoubtedly, some of that was due to the pandemic last year, but the SBC profile report issued this year noted that the loss was part of a 14-year trend of membership decline.
If you've been following U.S. church trends more broadly, of course you know the SBC losses are not unique. For example: 
▶ Pew Research found that the percentage of Americans who describe themselves as Christian dropped 12 percentage points between 2009 and 2019, from 77% to 65%. Religious attendance also declined over the decade.
▶ Those designated by pollsters as "nones," who say they are either atheist, agnostic, or religiously unaffiliated, grew as a category over that time frame from 17% to 26%.
Some of the worst news has to do with the group nicknamed millennials (currently ages 18-36). Dr. George Barna, director of research for the Cultural Research Center, said his group's survey released in May showed what he called a "seismic generational shift in worldview" among millennials. Many in that age group, he said, are seeking "a nation without God, Bible, and churches."
Barna said the survey showed that millennials are far more likely than any other age group to say that they "either do not know if God exists, do not believe that He exists, or do not care if He exists."
While 40% of Americans age 55 or older could be classified as born-again Christians (based on their beliefs about personal salvation), Barna said only 16% of millennials meet the criterion.
Believe me, I'm not trying to pick on millennials. Right here at AFA, we have a group of godly men and women in that age group. They are deeply concerned about their walk with Jesus, about their marriages and relationships, about teaching the gospel to the next generation, and about the spiritual decline of America.
And that's precisely my point! What makes these young people – and many of the millennials that you know – different from the ones tragically going astray? 
It all comes down to knowing, believing, and living the gospel of Christ, doesn't it? And isn't this true about all age groups in America?
READ MORE
So when despair begins to creep in, here are two foundational things to remember:
1. God is never surprised by the events of our world, but ultimately uses them for the good of His people and His own glory.
2. It is NOT by chance that we are here in America at this time. 
God has a purpose for us. As His purpose is fulfilled, He will be glorified and the nation will be blessed. That's why it is a privilege to serve Him at this critical juncture!
The cure for our deplorable condition is the same as it has always been throughout history – including the history of America.
The church must humble itself in prayer and repentance and return to God in true faith.
That same holy people of God must then proclaim to their families, friends, and neighbors the free gift of eternal life that comes through saving faith in Jesus. 
What I'm trying to say is that a national revival is the only way America will once again be the shining light of liberty among the nations of the world that it has been in the past. 
And part of that process is to be prepared to boldly give a defense of our faith.
That's why, in appreciation for your support of AFA, I want you to have the new Cultural Institute DVD from American Family Studios titled I Don't Have Enough Faith to Be an Atheist. The presentation is by Frank Turek, longtime AFA friend and host of CrossExamined that airs Saturdays at 9 a.m. (CT) on American Family Radio. 
Frank is a apologist and author who has debated several prominent atheists including Christopher Hitchens and David Silverman, president of American Atheists. In this powerful and entertaining presentation, Frank demonstrates why Christianity is not only more reasonable than all other belief systems but makes more sense than unbelief itself. 
I Don't Have Enough Faith to Be an Atheist is great preparation for being ready to respectfully answer objections that can arise as you proclaim the good news of salvation in Jesus Christ. 
AFA has been producing these types of resources for the church for more than 40 years. I can remember my dad, Rev. Don Wildmon, the founder of AFA, providing in-depth reports on things such as the threat of humanism on our nation and the normalization of homosexuality in our society. 
After all, informing, equipping, and activating the church is AFA's unique mission.
----------------
We desperately need a move of God in America.
Our great God Almighty has done it before. Samuel Davies, the great Presbyterian preacher of the 1700s, spoke of the time of the Great Awakening in America. He described the spiritual condition of the nation in terms that sound very much like our own condition today. He said the people had no concern at all about religious matters, and the majority "lay in a dead sleep in sin." 
Then, quite suddenly and for no apparent man-centered reason, everything changed. God moved!
"Then the gospel seemed almighty, and carried all before it," Davies said. "It pierced the very hearts of men with an irresistible power." He said he personally saw thousands of people "at once melted down under" the power of the gospel.
Let us pray together that God move mightily again, and that we will be prepared to be used in the process.
Davies said that the power of the Holy Spirit bringing revival "is the great and only remedy for a ruined country" and the only way to prevent "national calamities and desolation."
By God's grace, the efforts of AFA through faithful friends like you will give the church the time it needs to awaken to its heaven-sent role in America.
Read More
About Tim Wildmon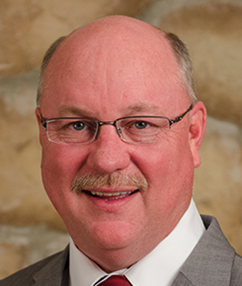 Tim Wildmon is President of American Family Association and American Family Radio. AFA is a national organization that advocates for the biblical teaching on morality and values. Tim host a daily program on AFR's 180+ stations. He has appeared many times on all the major television networks including the Fox News Channel and CNN. He has written for USA Today, Focus on the Family and several other national publications.
Tim joined AFA in 1986. He has been married to his wife Alison since 1984, lives in Tupelo, Mississippi, and has three children and seven grandchildren. He is a graduate of Mississippi State University with a degree in journalism.