Wednesday, April 8, 2015 @ 7:45 AM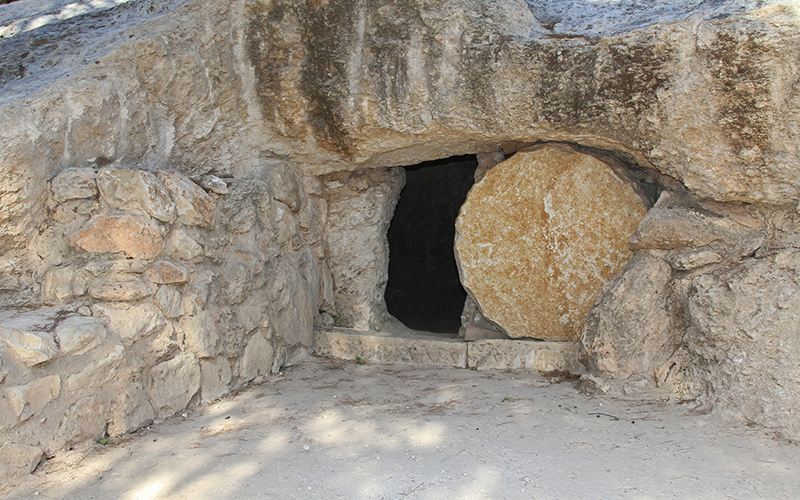 ATTENTION: Major social media outlets are finding ways to block the conservative/evangelical viewpoint. Click here for daily electronic delivery of The Stand's Daily Digest - the day's top blogs from AFA.
Jim Shempert
One Million Dads
MORE
Early on the first day of the week, while it was still dark, Mary Magdalene went to the tomb and saw that the stone had been removed from the entrance.  So she came running to Simon Peter and the other disciple, the one Jesus loved, and said, "They have taken the Lord out of the tomb, and we don't know where they have put him!"   So Peter and the other disciple started for the tomb.  Both were running, but the other disciple outran Peter and reached the tomb first.  He bent over and looked in at the strips of linen lying there but did not go in.  Then Simon Peter came along behind him and went straight into the tomb. He saw the strips of linen lying there, as well as the cloth that had been wrapped around Jesus' head. The cloth was still lying in its place, separate from the linen.  Finally the other disciple, who had reached the tomb first, also went inside. He saw and believed. (John 20:1-8)
All the Gospels describe that first Easter morning the same way, from mourning and sadness to confusion and then utter joy!  The same ones who helped take Jesus' body from Calvary to Joseph of Arimathea's tomb are there in some order. 
It is fitting in my mind that Mary Magdalene was the first.  After all, since Jesus had healed her of demon possession, she had totally devoted herself to following Him.  So much so that she and others supported the ministry of Jesus out of their own pockets. (Luke 8:3) Traveling is not cheap, even in 30ish A.D.  Mary Magdalene was at the foot of the cross, literally, on that great and terrible day.  She had a front row view of Christ being murdered.  She watched Him as He cried out, "IT IS FINISHED!"  She saw Him die, and then be speared by the Romans.  She would have been one of the ones to take possession of His body, and prepare it for the tomb. 
To say that she was probably a ball of emotions on that first Easter, is an understatement.  She goes to the tomb to reflect, pray, and grieve.  She finds nothing!  Nothing!  Isn't it enough that they beat Him?  Enough that they crucified and innocent man!?  Enough that He is dead!  Doesn't He, even in death, deserve the respect to have His body left undisturbed?  Shock, anger, rage, fear, and sorrow wash over her.  She runs to Peter and John!  When I picture her running, I think of Jackie Joyner-Kersee.  Running so hard that your feet are almost touching your hind end. 
She gets to Peter and John and says, "They have taken the Lord out of the tomb, and we don't know where they have put Him!"  Peter and John?  They do their best Michael Johnson impression and take off running.  Now John likes to thump his chest a bit and say that he beat Peter to the tomb.  For some reason, I've always pictured Peter as a bigger guy.  As a big guy myself, I can tell you, speed isn't our thing.  Strength is. 
Even though John beats Peter to the tomb, he doesn't go in.  Why?  I've heard many ideas, but nothing conclusive.  I hope to get to ask him one day.  Peter, being the bulldozer that he was, runs right into the tomb.  He saw the cloths that had covered the body of his King. 
As modern Christians, 2000 years after the events happened, we can look back and say, 'Come on guys, you know this wasn't the end.'  I believe that these early saints were living in the moment.  They weren't looking at this moment as historical context.  They were living it!  They saw Christ crucified.  They watched Him die!  They carried His body down from Cavalry.  This wasn't a Sunday school lesson that they were taught.  This was a vivid and scarring image in their mind. 
John and Peter leave.  Did they think that the grave had been robbed?  Or did they finally understand?  Scripture tells me that they didn't understand at that moment.  All they knew was that the grave was empty.  So they went back home. 
Mary Magdalene though stayed at the grave.  She looks inside again and see's two angels sitting at either end of where Christ's body had been.  They ask her, "Why are you crying?"  My question is, how did she not see that they were angels?  The answer must be that she was so overcome with the loss of her King that she was unable to see the evidence of something eternal in her face.  She tells them that His body is missing.  She turns around to see another person, but mistakes Him for the gardener.  Again, this gives rise to my belief that she was in the throes of gut-wrenching grief.  Jesus merely speaks her name, and all the sorrow and grief are gone.  She immediately knows it is Him.  You see, the sheep know their Shepherd.
When is the last time you ran to the tomb?  When is the last time that you saw for yourself that Christ is not in His tomb?  When is the last time that you saw the angels that guarded even the holy ground where His body once laid?  When was the last time that you turned and heard the voice of your King call your name?  When was the last time that you ran to your friends and shouted, "I have seen the King!"?
So many of us, go to church on Easter Sunday.  We are decked out in our finest, but we have missed the entire message.  We sing our hymns, smile at each other, and comment on how good everyone looks.  Some of us even say the call and response, "He is risen.  He is risen indeed!" 
What many of us miss is the amazing message that the tomb is EMPTY!  Muslims can go to Medina to see the Tomb of Mohammed.  Buddhists have relics that are said to be filled with the cremated ashes of the original Buddha.  Christians only have an empty tomb.  
We have an empty tomb because our Savior is alive.  Not because His body had been removed, but because He is alive!  Paul said in 1st Corinthians 15:12-19:
 But if it is preached that Christ has been raised from the dead, how can some of you say that there is no resurrection of the dead? If there is no resurrection of the dead, then not even Christ has been raised.  And if Christ has not been raised, our preaching is useless and so is your faith.   More than that, we are then found to be false witnesses about God, for we have testified about God that he raised Christ from the dead. But he did not raise him if, in fact, the dead are not raised.  For if the dead are not raised, then Christ has not been raised either. And if Christ has not been raised, your faith is futile; you are still in your sins.  Then those also who have fallen asleep in Christ are lost.  If only for this life we have hope in Christ, we are of all people most to be pitied.
The question always comes up, "But how do you know Christ was raised from the dead?"  Man tries to put himself in the place of knowledge and has since the days of Eden.  Man feels that he knows more than the One who created him.  My answer is simply this:  I know who I was before I came to Christ.  I know that I lived an empty, meaningless, sinful life.  I lived for me and only me.  I was beyond lost.  I was as far from God as one could be.  Then Christ stepped into my life in a Damascus Road type experience, mostly because He knew that it was it would take to turn me around.  My life since hasn't been the same.  The same is true for you. 
Run to the Tomb.  See that it is empty.  Turn and face your Savior and hear Him call your name.  Know that because He is alive, so you can be.  That was His plan all along.  Through Gethsemane, Cavalry, the Tomb, and Resurrection Day, He planned to come back for you. 
What have you done for Him today?
Please Note: We moderate all reader comments, usually within 24 hours of posting (longer on weekends). Please limit your comment to 300 words or less and ensure it addresses the content. Comments that contain a link (URL), an inordinate number of words in ALL CAPS, rude remarks directed at the author or other readers, or profanity/vulgarity will not be approved.