Monday, May 25, 2015 @ 7:02 PM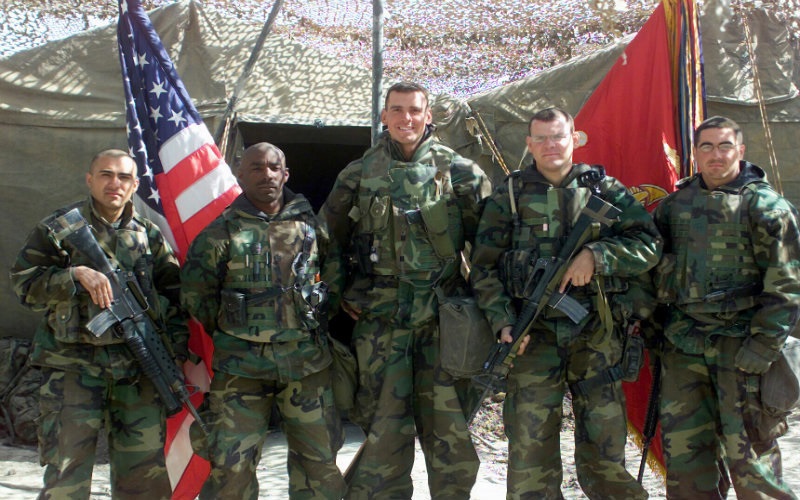 ATTENTION: Major social media outlets are finding ways to block the conservative/evangelical viewpoint. Click here for daily electronic delivery of The Stand's Daily Digest - the day's top blogs from AFA.
Jim Shempert
One Million Dads
MORE
"Greater love has no one than this that he lay down his life for his friends."  John 15:13 
I saw a man pumping gas at the station next to me.  Full army garb, down to the boots.  The name on the nametag read Williams.  I've had several friends who went to either Iraq or Afghanistan, so I recognized the constant vigilance in his mannerisms.  He had been trained to be constantly on the lookout.  Not in the way that training lends itself to, the way that being threatened with death tends to.  He scanned the whole parking lot continuously.  As our eyes met each other, I nodded.  He smiled and nodded back.  I walked over and said "Thank you for your service."  He responded, "It was my pleasure." 
America seems to have forgotten Memorial Day.  Don't get me wrong, we still celebrate being off from work.  We still love to go to the beach.  We still light thousands of grills around the states, with our choice of protein cooked to perfection.  We seem to celebrate the day, but not the meaning.  The meaning of Memorial Day can be best demonstrated in a speech of President Reagan's about the men of Pointe Du Hoc, Normandy: 
"Why? Why did you do it? What impelled you to put aside the instinct for self-preservation and risk your lives to take these cliffs? What inspired all the men of the armies that met here? We look at you, and somehow we know the answer. It was faith and belief; it was loyalty and love." 
Love.  Love for Country, Family, Home, but most importantly love for the man next to him.  Every war veteran I have ever talked to doesn't talk much about the battles that they were involved in.  What they do talk about, is the man to the left and to the right of him.  Separate the armed forces from the government in your mind.  The military is not a political function.  Sure, it could be used for that, but the American military is not.  The military does not fight for this president or that one.  The military serves for the protection of the United States of America.  
One of worst shames coming out of the Vietnam era, is the treatment that returning soldiers received.  The Vietnam war was not particularly popular stateside and became increasingly unpopular as more and more coffins draped in Old Glory came home.  Then, one segment of American society, to make cheap political points, started attacking soldiers who returned from war.  Here is a newsflash, making cheap political points at the expense of soldiers should be outlawed.  Or better yet, the soldiers being attacked should have been given a free pass to respond to those who attacked them.  That though is not the way of the American military.  They closed ranks around their own, dealt with the horrors that they had seen and continued serving their country.  
This is not a blind nationalist statement.  I in no way think that America is perfect.  In fact, if you have read any of my blogs, you know that I think America, from a moral standpoint, has totally lost her way.  I do believe though, that America once was, and can be again, great.  I believe that America must return to the God who has watched over her from conception.  I believe that we must stop calling evil good and good evil.  I think instead of two political parties that are ABSOLUTELY USELESS, we should seek to live by the words of John F. Kennedy: 
Let us not seek the Republican answer or the Democratic answer, but the right answer. Let us not seek to fix the blame for the past. Let us accept our own responsibility for the future. 
America is in dire straits today.  No matter my feelings on the current president, or the previous one, we are in trouble.  Our political system is broken and useless.  Courts overrule the people.  Government interferes with our daily lives more and more each day.  Since this is a dad's blog, I wonder if one day they are going to have governmental guidelines on the eternal question, boxers or briefs?  
America once was the land of the free and the home of the brave.  No longer can that be said.  Especially if you are a Christian.  Your rights are being removed more and more each day.  The overarching statement, "You can be a Christian, but you can't be one at work, in any social setting, or any place outside your home and the walls of your church.  Unfortunately, the world doesn't realize that to be a Christian, transcends where you physical are.  Being a Christian is a part of your everyday life, and if it's not, then you may not be a Christian.  
A recent example of this is Air Force Major General Craig Olson.  On the National Day of Prayer, he described himself as a "redeemed believer in Christ."  Most people with any sense, even non-Christians would say, "Oh, He's a Christian," and move on.  Unfortunately, a fringe leftist group called for his court martial.  If it was just a fringe group, that would be fine. Unfortunately, the fringe group is run by a man who President Obama appointed to be over the military tolerance division.  Apparently, in today's time, tolerance means accepting everything except Christianity.  
America desperately needs to return, both politically and socially, to the One who has guided her to being the greatest nation in the world.  To quote Ronald Reagan/John Winthrop again, America was once "a shining city on the hill."  She can be again if her people would return to God. 
The way that military servicemen and women love their brothers/sisters at arms is the way that God loves those who call to Him.  "For even the Son of Man did not come to be served, but to serve, and to give His life a ransom for many."  Mark 10:45 
Service men and women, thank you for your service.  May we always honor your sacrifice with our gratitude and thanks.  And may we return to an America that we can be proud of again. 
Please Note: We moderate all reader comments, usually within 24 hours of posting (longer on weekends). Please limit your comment to 300 words or less and ensure it addresses the content. Comments that contain a link (URL), an inordinate number of words in ALL CAPS, rude remarks directed at the author or other readers, or profanity/vulgarity will not be approved.