Friday, September 25, 2015 @ 10:10 AM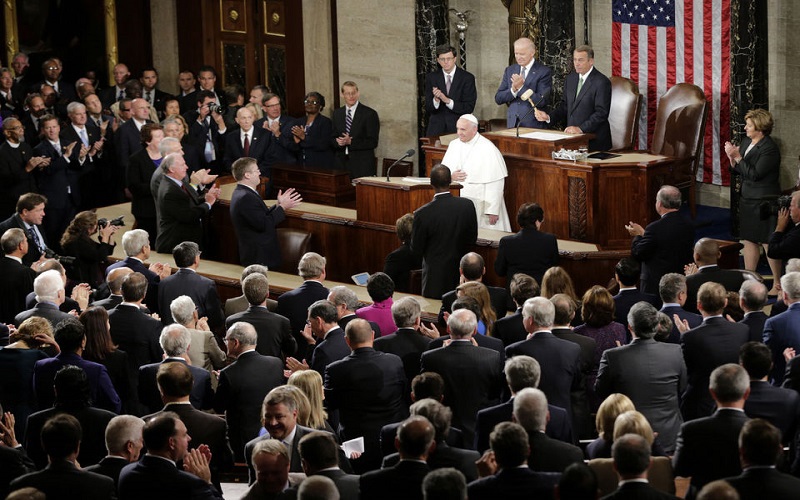 ATTENTION: Major social media outlets are finding ways to block the conservative/evangelical viewpoint. Click here for daily electronic delivery of The Stand's Daily Digest - the day's top blogs from AFA.
Jeremy Wiggins
Producer/Talk Radio
MORE
The news networks have been giving wall-to-wall coverage of Pope Francis' visit to the United States. So far, at the time of this writing, the Pope has spoken both to the American people and their government representatives. 
If I had to summarize his visit, it would be with two words: wasted opportunities. 
What would have been a great opportunity to admonish Americans for allowing the murder of babies in the womb, marriage to be redefined, and allowing religious liberties to be eroded, has instead become only a platform to discuss such topics as: social injustice, global warming, poverty, and illegal immigration. 
It sounds like the Pope and the President are pretty much on the same page. This isn't the first time we have heard about the Pope's liberal tendencies either.  Rolling Stone magazine put out a glowing story in 2014 about Pope Francis: 
By eschewing the papal palace for a modest two-room apartment, by publicly scolding church leaders for being "obsessed" with divisive social issues like gay marriage, birth control and abortion ("Who am I to judge?" Francis famously replied when asked his views on homosexual priests) and – perhaps most astonishingly of all – by devoting much of his first major written teaching to a scathing critique of unchecked free-market capitalism, the pope revealed his own obsessions to be more in line with the boss' son. 
After watching his address to Congress, I found myself wondering when he would get to the above issues plaguing America. When he spoke of life, I was sure that decrying American abortion practices was coming. When he spoke of Moses, I was waiting to hear about how God's Law has been violated in America. 
I was really waiting for some papal correctives and guidance on the moral malaise and downward spiral in this country. 
But I am still waiting. 
Here is a list of some of the subjects the Pope addressed during his almost sixty-minute speech before Congress: he talked about social injustice, and about how Moses rallied the people in unity around "just legislation." He spoke about the value of the elderly, and talked about the struggle of hard working people. He wanted us to "focus on righting wrongs," and to have "respect for our differences and differences of conscience." He stated that faith tries to bring out the best in each person and each society, that we need new policy and new forms of social consensus, and for us to not be fearful of foreigners because most of us were foreigners. He did say we needed to protect human life at every stage of development, but I believe what he was really talking about is abolishing the death penalty, because he again says every life is sacred, in the context of talking about the rehabilitation of criminals, but he never mentioned the horror of abortion. 
He definitely spoke about the proper use of resources as they relate to the redistribution of wealth. 
He made sure to discuss global warming and protecting "nature." He talked about stopping the arms trade and a future for our young who are trapped in a hopeless maze of violence, abuse, and despair. 
It seems to me that when you have an opportunity as a religious leader who is privileged enough to not only speak in front of the President but in front of the rest of the Federal government as well, you should make the most of talking about moral issues, not policy issues. 
What I mean is, I wish he would have discussed ending abortion, or religious freedom, not only here in America but the world as well. It would have been incredibly powerful to hear a worldwide respected religious leader direct some comments concerning why the Iranian deal was bad since it is based on lies and that Iran represses the religious freedom of its own people. 
When I hear a religious leader speak, I want to hear about moral and social issues, not social justice and redistribution of wealth.  I was disappointed and think that the Pope wasted an opportunity to address these important religious and moral issues which are the core concerns for Christians in America. 
We can't talk about building a better future for our children when there are over 3,000 children killed by abortion every single day. 
We can't focus on the redistribution of wealth as a way to end poverty as history has shown us that this never works; that it always ends up with the subjection of the masses to brutal regimes and that those who get out of the country with their money intact will leave on the first plane. 
Why are kids trapped in a maze of violence, abuse, and despair? Maybe it's because of the trivialization and degradation of families. Maybe it's because the fathers aren't being fathers and the mothers aren't being mothers and it is being left on the grandparents to raise their grandchildren as their own. Maybe it's because the government won't allow parents to choose where to send their children to school. Maybe it's because we incentivize the masses to live on government aide for as long as they can. 
The policies attached to the ideals spoken of before Congress will not change any of that. 
The final wasted opportunity was that this was a moment to share the life changing power of the Gospel to the nation. You can't use the argument against mixing religion and politics when you invite the Pope to speak to Congress. We are way past that exit by this point.  He mentioned living by the golden rule, which was a teaching of Jesus, but he didn't mention where the quote came from. He mentioned Moses, but not Jesus. 
I believe the time has come for us all to stand up on these issues, because if we don't, we won't like where the other issues take us. 
(Jeremy Wiggins is the host of In The Trenches heard Saturday mornings from 6-7am CST on AFR TALK. Email him at inthetrenches@afr.net) 
Please Note: We moderate all reader comments, usually within 24 hours of posting (longer on weekends). Please limit your comment to 300 words or less and ensure it addresses the content. Comments that contain a link (URL), an inordinate number of words in ALL CAPS, rude remarks directed at the author or other readers, or profanity/vulgarity will not be approved.