Friday, October 2, 2015 @ 9:15 AM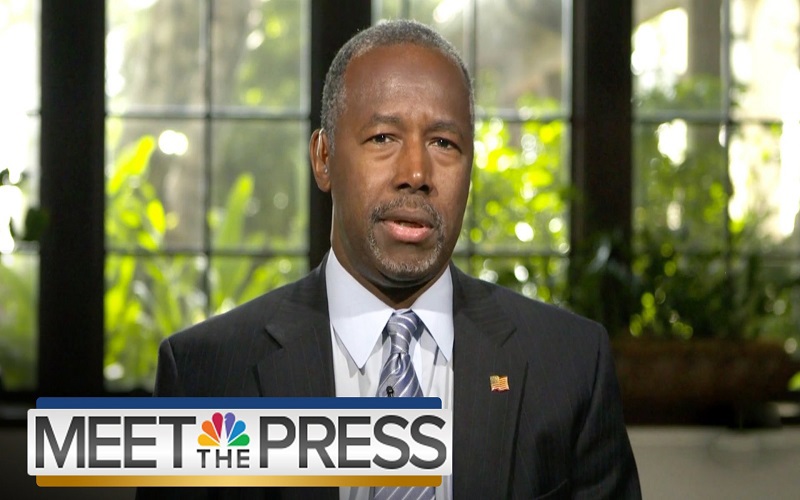 ATTENTION: Major social media outlets are finding ways to block the conservative/evangelical viewpoint. Click here for daily electronic delivery of The Stand's Daily Digest - the day's top blogs from AFA.
Jeremy Wiggins
Producer/Talk Radio
MORE
Ben Carson has been taking a lot of heat in the media lately due to his comments that he doesn't believe that a Sharia compliant Muslim should be President of the United States. Carson has doubled down on these statements several times, most recently in an interview with Jake Tapper stating: 
I'm assuming that if you accept all the tenets of Islam that you would have a very difficult time abiding under the Constitution of the United States. 
This all goes back to an interview that was conducted by Chuck Todd on NBC's "Meet the Press." 
When asked if faith matters, concerning running for public office, Carson responded: 
Well, I guess it depends on what that faith is. If it is inconsistent with the values and principles of America, then of course it should matter. But if it fits within the realm of America and is consistent with the Constitution, I've no problem. 
So far there is nothing I can disagree with. 
There has been something that has been bothering me ever since that interview, however, that has me wondering whether there was something more to his statements than what the Main Stream Media has been focusing on. They are interested in only painting Ben Carson as anti-Muslim, so that is where their focus has been. It's these remarks made during a follow up press conference that sent warning bells off in my brain (emphasis mine): 
The context is, as I said before that question was asked, anybody of any religious faith whatsoever, if they embrace American values and they place our Constitution at the top level, above their religious beliefs, I have no problem with them... 
I said that. It's on the record. On NBC. On "Meet the Press." Did anybody pickup on that? Of course not. Because that wasn't a juicy story. But that's exactly what I said. That's exactly what I meant. I don't care what a person's religious beliefs are or what their religious heritage is if they embrace American culture, if they embrace our Constitution and are willing to place that above their religious beliefs, I have no problem with them. I said that. Why is it impossible for people to hear that? 
This is where I have to stop and wonder out loud if these words are cause for concern.  I am wondering if Ben Carson is advocating that we must put our religious faith on the backburner concerning the Constitution of the United States. 
This is where it gets tricky, and I know I am wading in to deep waters, but we are seeing this played out on the national stage with the situations like the one involving Kim Davis. 
Where do we as Christians draw the line? 
Romans 13 tells us that we are to obey the laws of the land, but Acts 5 tells us we are to obey God rather than man. 
Before going down that road and rehashing debates that have been going on for centuries, let us try and stay focused here. 
Concerning the Kim Davis situation, Ben Carson has come out in support for her. But this was not always his position, however, and that should be noted. 
According to an article by the Christian Post: 
Previously, one representative said that Carson believed the SCOTUS ruling had to be respected because it is the law of the land. The frontrunner's friend and confidante, Armstrong Williams, was adamant about the campaign's position as well.
"Dr. Carson has said since the Supreme Court ruling that it is the law of the land and that's what he respects," he told Talking Points Memo Sept. 1. "There's no agenda here unless you create one." 
Dr. Carson has since reversed that decision, but it did go hand in hand with remarks made by other GOP frontrunners Donald Trump who believes that Davis should have obeyed the law and Carly Fiorina, who thinks Davis should have quit her position as a county clerk. 
I again go back to the premise I made earlier: Are these remarks something we should be concerned about? 
This conversation on law and religion is echoed in a tweet by CNN host Chris Cuomo this week, which stated "the law is the national religion, not your faith." 
On the surface, there might not appear to be any issue with a Christian following the Constitution, or the law of the land. However, we are seeing more and more that this is simply not the case. Just ask Kim Davis, or the Klein family, or Baronelle Stutzman. 
Stating that Christians should put their faith beneath the law is to fundamentally misunderstand Christianity. Christians realize they are subject to the law of the land, unless those laws strictly violate God's Law, and then we are called to follow God and not man. By stating that he would not support any person who puts their religion above the Constitution, Dr. Carson may be treading into dangerous waters, as I believe the time may come when the Constitution will come into direct conflict with Christianity, as we are seeing more and more. 
This of course could lead to a discussion of "unlawful laws," who makes law, judicial authority, and so on and so forth, but that is not what this discussion is about. I believe that Dr. Carson, as he has been willing to do with clarifying his statements concerning Muslims, should be given an opportunity to clarify his statements regarding faith in general. 
Some might accuse me of looking too deep into someone's words, and some might even accuse me of trying to stir up trouble or dissension. I believe though, we are at a time in our country when we must take a hard look at what every candidate says, and sometimes at what they are not saying. 
(Jeremy Wiggins is the host of In The Trenches heard Saturday mornings from 6-7am CST on AFR TALK. Email him at inthetrenches@afr.net)
Please Note: We moderate all reader comments, usually within 24 hours of posting (longer on weekends). Please limit your comment to 300 words or less and ensure it addresses the content. Comments that contain a link (URL), an inordinate number of words in ALL CAPS, rude remarks directed at the author or other readers, or profanity/vulgarity will not be approved.