Friday, November 20, 2015 @ 3:56 PM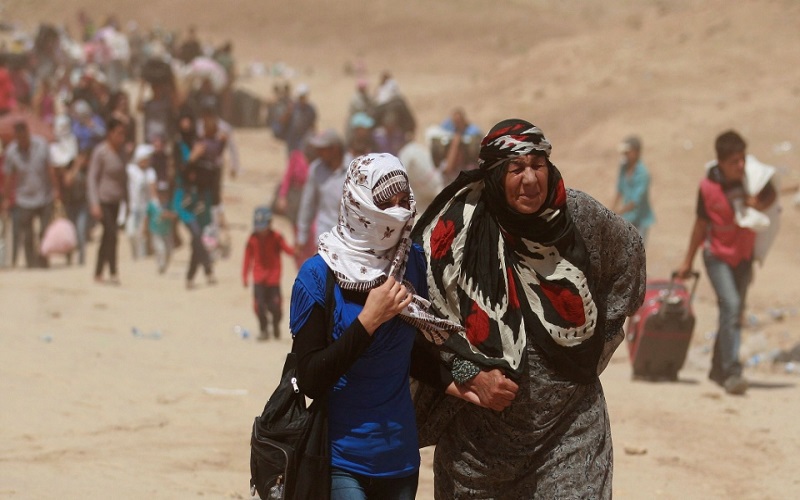 ATTENTION: Major social media outlets are finding ways to block the conservative/evangelical viewpoint. Click here for daily electronic delivery of The Stand's Daily Digest - the day's top blogs from AFA.
Jeremy Wiggins
Producer/Talk Radio
MORE
There is a divide in the line of thinking among Christians concerning refugees. The recent events in Paris have brought the conversation back into the spotlight. With many Americans watching the carnage on the streets of Paris, it has left them wondering just what the United States is supposed to do with the hundreds of thousands of people fleeing the war-torn countries of the Middle East. 
Frustrated by what they see as a blatant disregard for the safety and concerns of the American people, almost half of America's governors have stated that they will not accept Syrian refugees into their states, while the federal government believes they have no legal right to refuse to do so. 
Michigan Governor Rick Snyder and several other governors, including Greg Abbott from Texas, Asa Hutchinson from Arkansas, and Robert Bentley from Alabama, have made decisions to suspend the Syrian refugee efforts in their respective states. Louisiana Governor Bobby Jindahl has also stated that he will be doing everything in his power to prevent the influx of Syrian refugees into his home state. 
Religious leaders such as Franklin Graham have also weighed in on the potential influx of refugees into the US: 
We must reform our immigration policies in the United States. We cannot allow Muslim immigrants to come across our borders unchecked while we are fighting this war on terror. If we continue to allow Muslim immigration, we'll see much more of what happened in Paris—it's on our doorstep. 
The controversy has come about since media reports first revealed that several of the terrorists involved in the Paris attack appeared to have come from Syria, although in the same Washington Post article Ishaan Tharoor states that the "identified assailants are, so far, citizens of European Union countries." 
Consequently, this is a necessary conversation and it boils down to two main positions: national security versus Christian compassion. 
How do we balance the two? The answer to that is not an easy one though it has been discussed for a lot longer period of time than the present argument over Syrian refugees. 
There are several dimensions we must consider when looking at this topic. 
1) The best way to approach this subject is that we must first remember that these are human beings with souls, and not all of them are terrorists. When we get upset as ISIS chants death to the infidels, are we calling for indiscriminate killing? Do we hate those who hate us? Or were we called to love our neighbor? Also, remember that apart from Christ, these people are going the Hell. You can say what you like about ISIS, because there is such a thing as a just war, but to lump in every Muslim with ISIS and call for their deaths is atrocious, and as Christians we should not be engaging in this type of dialogue. 
2) The role of government in regards to the people – Romans 13 says that the governing authorities are instituted by God for the upholding of good conduct. As verse 4 tells us, the governing authorities bear the sword of punishment against those who do wrong. We may not agree with everything the government does, nor should we stand idly by when the government subjugates the people, but there does come a point where we have to let the government do its thing. Under very close scrutiny mind you. Solving this problem, and all the other problems that face our country involves just WHO bears the sword, and for that we turn to God. Romans 13 warns about undermining the authorities, but says nothing about being active in politics, electing Christ-following politicians, or running for office ourselves. That's one way to start fixing these problems, including the refugee crisis. Granted, it doesn't provide an answer, but at least we know who is thinking over the solution. 
3) Being the best stewards of the blessings God has given us – Is it cost effective for us to bring tens of thousands of refugees here to America, pay for them to live, educate them, and prop them up as American citizens, when for the same amount of money we could help more people? The Center for Immigration Studies found that for what it would cost to bring one Middle Eastern refugee into the US for five years, about 12 refugees could be helped right where they are for five years, or 61 refugees could be helped for one year. They also found that each refugee brought to the US costs about $257,000.  We need to be faithful stewards of the resources God has given us, and if building up and supporting free zones in foreign lands is more cost effective than bringing in refugees here, then we should be looking into that option more seriously. 
4) Freedom of religion as it relates to Muslim refugees  - Instead of having to travel to countries where Christian proselytizing is outlawed, we have an opportunity to share the Gospel with these people in our own homeland, as well as an opportunity to be their neighbors and show the love of Christ to them. I understand that people are worried about terror attacks on our soil, and rightly so, but we also have to remember that without Christ all of these people are condemned to an eternity of separation from God. We should be relating the advancement of the Gospel and the Kingdom of God to every issue that we face. 
5) Balancing fear and faith – This is really the crux of this issue. It isn't to say that the prospect of inviting terrorists to this country and paying for them to live here isn't a scary thing, but do we allow this fear to cripple us into ignoring the plight of people whose lives have been upended because of terrorists? 
Of course, that doesn't mean that faith supplants common sense either. God has given us our brains for the use of bringing Him glory, and that means we need to put them to good use. A good example of this balance, I believe can be found in Nehemiah 4:17: Those who carried burdens were loaded in such a way that each labored on the work with one hand and held his weapon with the other. The men working had to believe that God would take care of them, but they also knew that God's enemies could strike at any time to try to prevent the work of the Lord from being completed. We must be bold in our faith, and wise in our actions. Matthew 10:16 tells us that we are to act as wise as serpents, yet as innocent as doves. 
Rarely in our history have we seen people standing together on an issue that impacts all of America in the way that this does. Think about the fact that we have never had half of the governors in the United States clamoring to end abortion, and demanding that the federal government do something about the deaths of babies in the United States. When has there been bipartisan support to end abortion? And when has social media lit up with people demanding that abortion ends? We as a nation need to ensure that we have our priorities straight, and first ask God to forgive our sins, so that we can be ready to receive those we perceive might sin against us. 
Taking all of these issues into consideration we are still left with the question of just what to do with all of these people fleeing the Middle East.
My first suggestion is that instead of looking to increase the number of refugees we are taking in, maybe we should leave it the way it is and better serve the people who are already here. Instead of giving them welfare and benefits, we equip them to be better productive members of society, whether that means they stay here or eventually go back to their native country.
My next suggestion would be to more closely screen those coming in to this country. What about the fact that Christian refugees are being denied entrance on a larger basis than Muslim refugees? Of the refugees allowed in from Syria so far, there have been 2,098 Muslims and 53 Christians, according to a report from CNS NEWS. Shouldn't the acceptance be greater consisting of those facing persecution under penalty of death than those who are facing economic hardships? Isn't that truly what asylum is? Merriam-Webster actually defines asylum as "protection given by a government to someone who has left another country in order to escapes being harmed." Muslims in Muslim countries do not experience the same level of persecution that Christians do, as they are not actively targeted based on their faith. So when you hear the President talk about a "religious litmus test" and how there shouldn't be one when considering refugees, that is a willfully ignorant statement coming from someone turning a blind eye to the real crisis that is going on in the Middle East. 
By engaging in a dialogue with each other, we can come to some common sense solutions to this problem, especially considering that it is not going away any time soon. It is the job of our government to provide for the common defense, according to the preamble of our Constitution, and to ensure domestic tranquility. It is the job of the Church to share the love of Christ with others, in both word and deed.
(Jeremy Wiggins is the host of "In the Trenches" heard on American Family Radio Saturday mornings from 6-7 a.m. CST. Podcasts for the program are available at AFR.net)
Please Note: We moderate all reader comments, usually within 24 hours of posting (longer on weekends). Please limit your comment to 300 words or less and ensure it addresses the content. Comments that contain a link (URL), an inordinate number of words in ALL CAPS, rude remarks directed at the author or other readers, or profanity/vulgarity will not be approved.