Wednesday, January 13, 2016 @ 4:27 PM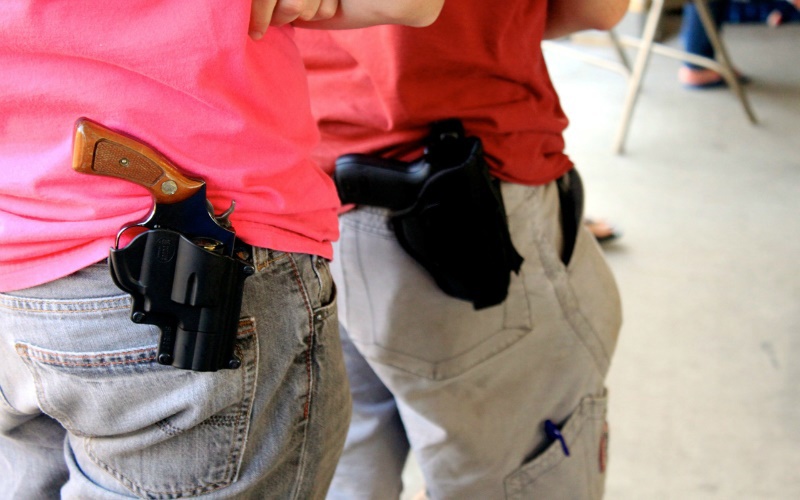 ATTENTION: Major social media outlets are finding ways to block the conservative/evangelical viewpoint. Click here for daily electronic delivery of The Stand's Daily Digest - the day's top blogs from AFA.
Jim Shempert
One Million Dads
MORE
If your Facebook feed is like mine, wars are fought daily between competing ideologies.  I usually try to save my personal page for pictures of my child, favorite Bible verses, and occasional posts related to my collegiate sports team.  I don't use my personal page for politics much because a) anyone who I am "friends" with already knows where I stand and b) there are plenty of people who use their Facebook page for a bully pulpit. 
I made an exception last week after a visit from our hometown sheriff.  He came to our devotion at work to speak about security.  After San Bernardino, security at the workplace is on the minds of a lot of businesses.  Our sheriff had a simple comment: "We don't live in Mayberry anymore.  If you have a gun, carry it.  If you carry it, know how to use it."  I posted that as my Facebook status one morning.  After my last blog on gun control, it is pretty clear where I stand.
As in all things social media related, once you put something out there, anyone you are friends with can comment away.  Many of my friends liked it, a couple shared it, and then there were the ones who didn't like it.  A friend from church commented:  "What are you scared of?  I have lived here over 6 years and have never been in a situation where I thought I wanted or needed a gun."  I'm a Christian and an adult, so I have no problem with people disagreeing with me.  Part of what is wrong with our society today is we can't disagree with each other without vilifying the "other side." 
I pondered how to respond to my friend.  I sing with her husband in the choir, take every chance to speak to their son, and value their friendship.  I could go down the Molon Labe gun nut route, and further turn her against guns.  Or, I could explain my rationale for the way I think.  You know, the adult thing to do.
The scenario I presented her with was of car batteries and jumper cables.  In the back of my Toyota, I have a set of jumper cables in a bag.  Personally, I have had to use them one time, and that was on my riding lawnmower after the winter.  I have used them for others on a couple of occasions.  I don't keep jumper cables in my truck because I am paranoid.  I don't think my truck battery is going to die at any moment.  I don't randomly go around jumping off vehicles while laughing maniacally.  I have them because I want to be prepared should I ever need them.   The same applies for the Glock that I carry on a daily basis.  I want to be prepared should the need ever arise.
"Then Jesus asked them, "When I sent you without purse, bag or sandals, did you lack anything?" "Nothing," they answered. He said to them, "But now if you have a purse, take it, and also a bag; and if you don't have a sword, sell your cloak and buy one. It is written: 'And he was numbered with the transgressors'; and I tell you that this must be fulfilled in me. Yes, what is written about me is reaching its fulfillment." The disciples said, "See, Lord, here are two swords." "That's enough!" he replied. (Luke 22:35-38)"
I think we create an faulty image of Jesus in our minds when we think Jesus was completely impotent and weak.  This is  the same Christ who formed a whip of cords, flipped tables, and drove the money changers out of the temple.   As much as some try to imagine him as Mr. Rogers, I can't make that square with scripture. 
A follow-up comment from another member of my church read, "The world doesn't need a lot of cowboys running around waving guns."  To that, I couldn't agree more.  I think that anyone who makes the decision to carry should go through training courses, get their license, etc. 
I also believe you have to make the decision and square yourself with it.  If you choose not to carry, that is entirely your choice.  However, it's not your choice to restrict someone else from doing so. 
As a Christian, I have a responsibility to Christ, my family, and my community.  Jesus was all about community.  In my little small corner of the world, in December of 2013, a bank robber shot two police officers.  One died and one survived but has yet to return to work.  After the event, investigators in our community found that in the immediate vicinity of the shooting, 17 citizens had a concealed weapon but either refused to wield it or were unable to use it due to lack of ammo.
In a world given over to evil the only thing that can change it is Christians standing up and leading.  I don't carry to feel like Wyatt Earp.  I carry because I refuse to allow darkness to overcome the light.  It is my job to stand against evil. Even if it costs me everything. 
My faith is placed in Jesus Christ.  It is my duty first to tell others about His love for them, and the life that awaits them in Him.  As a follower of Christ, I am called to shepherd the lost of the world back to Him.  I also have to fight off the wolves.
That should scare the wolves. 
Please Note: We moderate all reader comments, usually within 24 hours of posting (longer on weekends). Please limit your comment to 300 words or less and ensure it addresses the content. Comments that contain a link (URL), an inordinate number of words in ALL CAPS, rude remarks directed at the author or other readers, or profanity/vulgarity will not be approved.