Thursday, February 25, 2016 @ 2:41 PM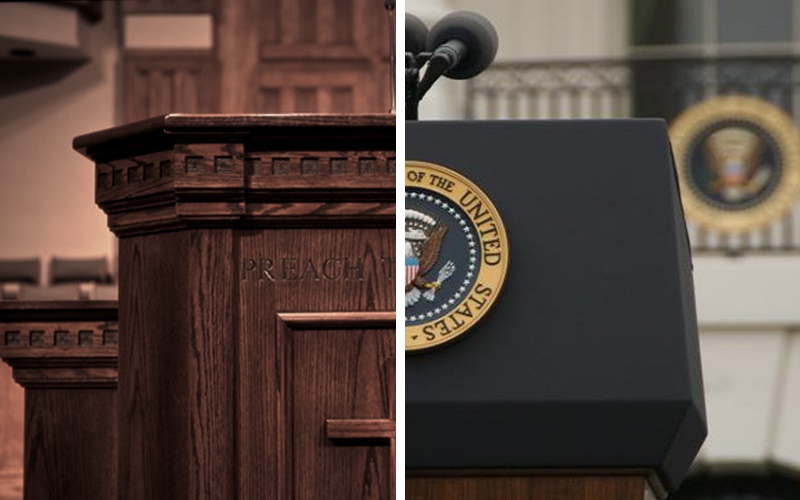 ATTENTION: Major social media outlets are finding ways to block the conservative/evangelical viewpoint. Click here for daily electronic delivery of The Stand's Daily Digest - the day's top blogs from AFA.
Jim Shempert
One Million Dads
MORE
One of the main things that Barack Obama has done in his time in the White House is to crackdown on dissent.  Anytime you disagree or criticize Obama, you are immediately decried as a racist.  That is the fallback of Obama supporters when you question him.  They can't defend his decisions so they seek to silence you.  The "canary in a coal mine" mark of a dictator is the rush to end dissent.  Anyone who disagrees with dear leader must be silenced.  What better way to silence dissent than to call them a racist, a bigot, a homophobe, or a "religious nut." 
Look, I get it, folks are mad.  Our economy is in the tank.  We are looking at a deficit that has doubled under Obama's watch.  Bible believing Christians are under full-scale assault from the secular left.  Government overreach has become the norm instead of the exception. All that I understand.  What I have yet to understand is how supporting someone who believes the same things that Obama believes will change things for the better. 
I read through a few of the hundreds of comments about my last blog and there were 3 general groups.  The first were the evangelical Christians who agreed with my position.  They expressed the same anger with Obama, but also did not trust Trump based on his inconsistent record.  They felt their Christianity to be far more important than putting someone in office who is no better than the one we have now.
The second group were hardcore Trump folks. They questioned everything from my patriotism, my intelligence, and my age (For the record, I'm older than I look, I've just lost 60 pounds which makes me look younger).  These folks, I was never going to win over.  They remind me of Obama's sheeple.  It is concerning to me, that we are following the same path as 2008.  Simply because someone puts an R after their name instead of a D, does not make them righteous.  Winston Churchill once said, "A fanatic is one who can't change his mind and won't change the subject." 
The third group, though, is the one that distresses me the most.  They were self-confessed evangelicals.  Their position was "I get what you are saying, but we are not electing a pastor."  Somewhere, the Apostle Paul screams!  "So in Christ Jesus, you are all children of God through faith, for all of you who were baptized into Christ have clothed yourselves with Christ. There is neither Jew nor Gentile, neither slave nor free, nor is there male and female, for you are all one in Christ Jesus. If you belong to Christ, then you are Abraham's seed, and heirs according to the promise. (Galatians 3:26-29)" How can an evangelical make such a statement? Can you disrobe yourself from Christ?  Can a follower of Christ separate themselves from Him?
Many accused me of "judging" Trump.  Americans have become so weak, you can't mention spiritual discernment without being accused of judging.  The same Jesus who said "judge not" also said "by their fruit you will recognize them."  While it is absolutely true that I am not the ultimate judge of Trump's faith, I have been charged to discern what is good and right and true.
Far too often, Christians forgo eternity for the present.  We've been doing that since the Fall.  Christians are quick to quote Matthew 19:26, but fail to recognize and focus on the word "all." 
No presidential candidate, not Hillary Clinton, Bernie Sanders, Donald Trump, Marco Rubio, or Ted Cruz is a Savior.  We have to stop limiting our scope to one presidential election.  Is this an important election?  Absolutely.  Do I want to turn this country back from the path of hell that it is cascading towards?  Most definitely. Am I willing to give up my Christ to win an election?  No. 
That's why, during this primary season, evangelicals especially have to cast an informed vote of conscience rather than a vote of anger.  
Voting for someone who doesn't represent Christ undermines our witness.  Listen to what the candidates are saying (especially about other people).  Is the language reflective of the Spirit of Christ? 
What our nation needs most at a time of such great division is someone who can rise above the cesspool that our current government has become.  Someone who can lead.  The last thing we need is more division.  We have enough of that already. 
Your vote is just that…it's yours and who you give it to is totally up to you.  But remember this:  for whomever we cast our vote we are endorsing them, their words, their decisions, and their faults with our name. 
"Whoever acknowledges Me before others, I will also acknowledge before my Father in heaven.  But whoever disowns Me before others, I will disown before my Father in heaven. (Matthew 10:32-33)"
Vote.  Just remember, your vote cannot be disconnected from Christ.
Please Note: We moderate all reader comments, usually within 24 hours of posting (longer on weekends). Please limit your comment to 300 words or less and ensure it addresses the content. Comments that contain a link (URL), an inordinate number of words in ALL CAPS, rude remarks directed at the author or other readers, or profanity/vulgarity will not be approved.