Friday, March 4, 2016 @ 2:48 PM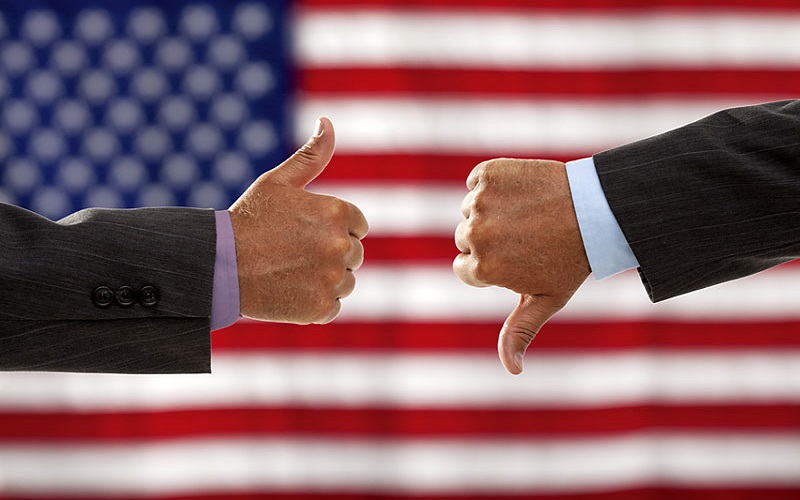 ATTENTION: Major social media outlets are finding ways to block the conservative/evangelical viewpoint. Click here for daily electronic delivery of The Stand's Daily Digest - the day's top blogs from AFA.
Jeremy Wiggins
Producer/Talk Radio
MORE
Donald Trump has been under fire recently for the apparent endorsement of David Duke, a former grand wizard (whatever that means) of the KKK.  Politico even reports Duke stated: "Voting for these people, voting against Donald Trump at this point, is really treason to your heritage." 
Now the KKK are some really nasty people, and nobody should ever want their endorsement, and to be fair, Donald Trump did denounce Duke's endorsement several times before the big stink was raised over this ordeal. The media, however, decided to keep running with it, and it even caught on with some of Trump's detractors, like Mitt Romney. 
What the media failed to do, however, is to dive in to see just who is endorsing some of the other candidates out there, something that should be headlines no matter what party a potential nominee happens to belong to. I decided to delve a little deeper in to those running on the democrat ticket, since the mainstream media won't do their jobs. Sometimes endorsements are a good thing, and other times a candidate probably would do anything to make it go away. But the question remains: Is it fair to the candidate just because a whacko decides they are their guy/girl? 
The first candidate we will look at is Hillary Clinton. Here are some of her endorsements: List Here 
-Brady Campaign to Prevent Gun Violence
-Hookers for Hillary
-LPAC – Lesbian Political Action Committee
-Moonlite Bunny Ranch – a brothel outside of Las Vegas
-NARAL Pro-Choice America
-Planned Parenthood Federation of America 
The list of individuals embracing Hillary reads like a veritable who's who of lesbian and gay celebrities, global warming alarmists, foul mouthed comedians, marijuana smoking rappers (self-admitted I should add), some of your favorite directors and producers in the film and music industry, and a host of labor unions in every occupation imaginable. 
It should also be pointed out that there are women in active prostitution who support Hillary Clinton, an industry that makes its living off the imprisonment and slavery of women. But are we supposed to say that Hillary supports sex trafficking because of her endorsements? It's an interesting question. 
Other interesting endorsements include Cyma Zarghami, president of Nickelodeon, which some of your children may watch, and Jeffrey Katzenberg, president of DreamWorks Animation, which has mostly likely made movies your children have watched also. I wonder if we should be worried that the people in charge of children's programming for some of the biggest companies in America have radical leftist tendencies? 
The Norwegian Labour Party also backs her with over 30 members of the Norwegian parliament. Their motto is "everyone shall take part." 
So if we were to take Mrs. Clinton entirely by her list of endorsements, we would see that she is most likely a socialist, with a strong interest in taking guns away, ensuring abortion never ends in America, and using education and entertainment to brain wash our children. Hmm…maybe there is something to endorsements. 
Bernie Sanders -  List Here
-Jodie Evans – cofounder of CODEPINK
- Shaun King – Black Lives Matter (that calls for the deaths of police officers)
-Noam Chomsky – socialist, economist, accused by many of being heavily anti-American.
- Cenk Uygur – media personality, associate of the Freedom from Religion Foundation and the American Humanist Association.
- A veritable slew of extreme leftist actors, musicians and comedians, including: Roseanne Barr (who ran for president herself), Lewis Black, Tommy Chong, Danny Devito (who recently discussed just how racist we as Americans are), Danny Glover (who thinks that the Castro brothers are the greatest thing since sliced bread), Susan Sarandon (another actress who used her platform and fame to fight for leftist ideology), and Harry Belafonte (another radical leftist who loves the Castro family.) 
Some of the socialist groups that advocate for Bernie Sanders include:
-The Socialist Alternative, who wants: $15/hr minimum wages; a minimum guaranteed weekly income of $600/week for the unemployed, disabled, stay-at-home parents, the elderly, and others unable to work; an end to home foreclosures and evictions and public ownership and democratic control of the major banks; no more layoffs and making bankrupt and failing companies into publicly owned entities; the repeal of all anti-union laws; and to shorten the workweek with no loss in pay and benefits. 
While all of this may sound like Disneyland, my guess is they have the blinders over their eyes when it comes to who exactly is going to pay for all of these pipedreams.
-The Democratic Socialists of America, whose founder once stated: The Democratic Socialists envision a humane social order based on popular control of resources and production, economic planning, equitable distribution, feminism and racial equality.
-Social Democrats – a socialist group that happens to be a bit further to the right that the Democratic Socialists of America, whatever that means. 
Looking at Mr. Sanders' list of endorsements I would assume that he is anti-war, anti-capitalism, pro-drug reform, anti-Christian, and has no concept of the irreversible damage that his economic policies would do to America.
The major difference between those endorsing Mrs. Clinton and Mr. Sanders, and David Duke endorsing Donald Trump, is that Donald Trump has come out and denounced the Duke endorsement. On the other side of the aisle, we see no such statements coming out the Sanders and Clinton campaigns. I guess the issue then changes from who is endorsing whom to who is accepting whose endorsement.
Please Note: We moderate all reader comments, usually within 24 hours of posting (longer on weekends). Please limit your comment to 300 words or less and ensure it addresses the content. Comments that contain a link (URL), an inordinate number of words in ALL CAPS, rude remarks directed at the author or other readers, or profanity/vulgarity will not be approved.