Tuesday, March 15, 2016 @ 3:25 PM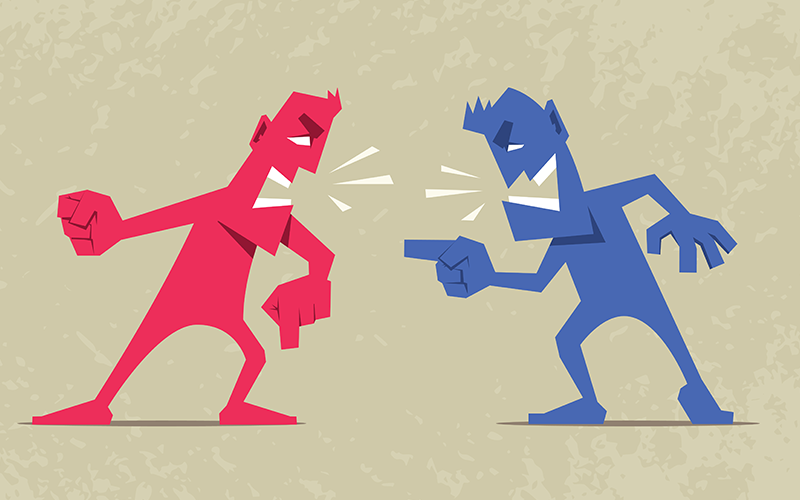 ATTENTION: Major social media outlets are finding ways to block the conservative/evangelical viewpoint. Click here for daily electronic delivery of The Stand's Daily Digest - the day's top blogs from AFA.
Jim Shempert
One Million Dads
MORE
Election season is in full swing.  Overnight, everyone has, at least, a doctorate in political science.  Of course, the only way we communicate with each other now is via Facebook, so the wars are constant.  Friends are at each other's throats.  Meme bursts are constant.  And worst of all, everyone seems to know and claim which candidate Jesus would support.  As if Jesus were a Republican or a Democrat. 
I sense nothing Christ-like in either of the leading candidates.  Both are narcissists.  Both are people who will say whatever it takes to get elected.  Both have tremendous amounts of baggage as they head towards leading the country that once was a beacon of freedom to the world.  Out of 330 million people, are these two really the best that America can do?
I am glad that my child is not to an age of understanding during this election season.  As a father, my first duty is to protect her body and soul from the evils of this world.  I am thankful that this time around, I will not have to answer questions that she has about politics.  Honestly, I am faced with several questions myself, that I just don't have the answer to right now. 
So as a Christian father, what is my responsibility as it pertains to teaching about politics to my child?  First, the most important thing that any of us can teach our children is the absolute necessity of voting.  Admittedly, I have lived in America my whole life.  I don't know what it is like to not have a voice in my government.  I fire off an email to my Senator on a regular basis when I want him to know where I stand.  America is blessed with a representative democracy.  There is absolutely no reason for those who can legally vote not to do it.  During my state's presidential primary, a friend of mine who I disagree with politically, posted on his Facebook feed "I don't care who you vote for, just go vote."  It is a freedom that a majority of Americans take for granted.  It's one thing to hate the government.  It's another thing to take steps to improve it.  Of course, part of that takes effort, something we are truly lacking in America today.
The second thing that I want to teach my child about politics is that just because someone votes for a different person than I do does not make them evil.  Sure there are things that I believe in strongly.  I will have a long debate with anyone who wishes on abortion.  However, the one thing that Americans have lost, is the ability to disagree without hating the other person.  I have friends and family that are rabid liberals.  I have friends that are gun toting conservatives.  I disagree more with the liberal friends than the conservative friends, but they are still my friends.  Abraham Lincoln famously quoted Mark 3:25 before the start of the Civil War, "A house divided against itself cannot stand."  If America is ever to be truly great again, in addition to turning back to Christ, we must learn to mend fences as opposed to tearing them down.
The last thing that I want to teach my child is threefold.  The first: be knowledgeable as to why you are voting for who you are.  Nothing irks me more than to see an interview with someone who is voting for a particular candidate that has absolutely no idea why.  Blind sheep get led to the slaughter.  The second:  vote according to your faith in Christ.  This will take work from her mom and dad, her grandparents, and her church family.  Fear and admonition of the Lord are paramount in all things of life, even voting.  So it is my job to raise her that way, and her voting should surely follow.  Third:  be resolute in your choice.  You are accountable to no one outside of Almighty God for the decision you make.  Too often, voting gets turned into a high school popularity contest where if you aren't voting for the popular person, you are shamed.  I have always been one who sought to stand on my own two feet.  I care little for following the crowd.  My favorite high school teacher had a chalkboard in his office that read, "What's popular isn't always right, and what's right isn't always popular."  I learned later in life that quote came from Howard Cosell.
Choosing a leader for a nation is an important task. Be absolutely sure that you pray for guidance before making your selection.  Remember Israel in 1st Samuel 10 when voting.  All of Israel demanded a king, yet Saul was not who God had planned.  The people, though, demanded a king. 
"Now Samuel called the people together to the LORD at Mizpah. And he said to the people of Israel, "Thus says the LORD, the God of Israel, 'I brought up Israel out of Egypt, and I delivered you from the hand of the Egyptians and from the hand of all the kingdoms that were oppressing you.' But today you have rejected your God, who saves you from all your calamities and your distresses, and you have said to him, 'Set a king over us.' Now therefore present yourselves before the LORD by your tribes and by your thousands. (1st Samuel 10:17-19)"
To quote President Obama, "Elections have consequences."
Please Note: We moderate all reader comments, usually within 24 hours of posting (longer on weekends). Please limit your comment to 300 words or less and ensure it addresses the content. Comments that contain a link (URL), an inordinate number of words in ALL CAPS, rude remarks directed at the author or other readers, or profanity/vulgarity will not be approved.