Thursday, August 4, 2016 @ 9:21 AM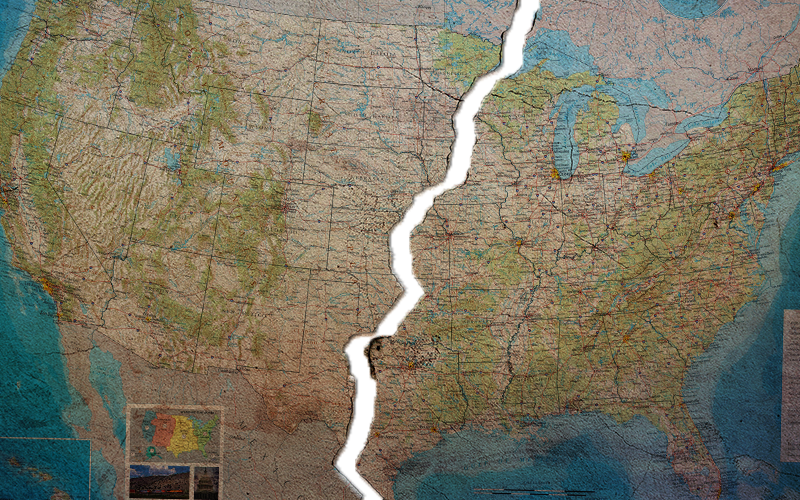 ATTENTION: Major social media outlets are finding ways to block the conservative/evangelical viewpoint. Click here for daily electronic delivery of The Stand's Daily Digest - the day's top blogs from AFA.
Jim Shempert
One Million Dads
MORE
A house divided against itself cannot stand. I believe this government cannot endure, permanently, half slave and half free. I do not expect the Union to be dissolved — I do not expect the house to fall — but I do expect it will cease to be divided. It will become all one thing or all the other. Either the opponents of slavery will arrest the further spread of it, and place it where the public mind shall rest in the belief that it is in the course of ultimate extinction; or its advocates will push it forward, till it shall become lawful in all the States, old as well as new — North as well as South.
Abraham Lincoln's speech based on Matthew 12:25/Mark 3:25 became one of the most remembered of his life.  It became a rallying cry to both the North and South during the pre-Civil War period.  It foretold of a reckoning that America would have to face.  Growing up in the south, I was predisposed to not care much for Mr. Lincoln.  As maturity gradually crept in, I recognized how vitally important he was to the United States.  Lincoln is certainly in the top five of the presidents of this country.  Without his influence, there would have been no "United States of America." 
Yet once again, America finds herself again at a place of extreme turmoil.  Most seem to agree that we have never been at a period when our country was more divided.  Since it is an election year, many have championed "their side" as the saviors of America.  However my Christian faith decries such arrogance so that I am comfortable with saying that neither Donald Trump nor Hillary Clinton is going to save America. 
Whoever the next president is one thing is certain: he or she will govern without the support of nearly half the population in America. If I had the opportunity to ask both nominees a question, it would be: "What is your plan to win over the people who did not vote for you?" 
We have come to a point in American politics where we are as much voting against the other person as for our person.  President Obama's arrogance has driven him to trivialize and deride his political opponents both in the electorate as well as in Congress.  The problem with that is, we don't live in a one party system.  So with his leadership style we have reached a point where both sides have become so polarized that they refuse to acknowledge each other's right to govern.  
I did not have Donald Trump in my top five for presidential choices.  Yet, I would never vote for Hillary due to her stance on life.   However, what is absolutely certain is that one of those two is going to be President in January.  The next president is going to face the daunting task of leading a country where half of the people and half of the government hates the other half.  Many on the west and east coasts see the heartland as a flyover section filled with religious nuts, guns, and Republicans.  Many in the heartland see the liberals on the coasts and major cities as baby-murdering, Christian hating, values destroying narcissists. 
America sits at a fork in the road. Mr. Lincoln was correct in pointing out that a house so divided won't stand for long.  Given the success of Brexit, several states have introduced legislation to secede from the union.  Most, are political grandstanding ploys that will never succeed.  At some point, though, without a coming together of the country, the unimaginable might become imaginable.  Texas, always a hotbed of liberty, would be the 15th largest economy in the world if it were to pull out of the union.  It only seems logical that other states, those given to conservative principles and limited government would follow suit.  Unlike the last time secession occurred, this time, a group of states could form around political ideological principles.
That may seem a bit dramatic, but it is on the horizon.  Pride in America is no longer what it was.  Many no longer see the good in America which begs the question, "Would we be better off apart?"
I dare say as long as we have been a union of many states, we have had differences from each other, but were united by a common goal.  If that goal no longer exists, is it possible to remain in that union?
No political solution is going to fix the rift that our country is currently experiencing.  In fact, political solutions will probably only amplify the discord between the two sides.  To be great again, America is going to have to undergo a serious soul-cleansing.  We have confused anarchy with freedom.  We have given over what was good and true to whatever we feel like at the moment. We have rejected the truth for a lie. 
Whoever "wins" in November still has the chance to lose mightily in where they decide to take the country.  As Acts 17 clearly states:
"The God who made the world and everything in it is the Lord of heaven and earth and does not live in temples built by human hands. And He is not served by human hands, as if he needed anything. Rather, He himself gives everyone life and breath and everything else.  From one man He made all the nations, that they should inhabit the whole earth; and He marked out their appointed times in history and the boundaries of their lands.  God did this so that they would seek Him and perhaps reach out for Him and find Him, though he is not far from any one of us."
The best advice someone gave me about evangelism, is before you try to clean up the world maybe you should start with your own home.  What all Christians must do, is take a long look in the mirror. 
If the world has descended into chaos, whose watch was it on?
Please Note: We moderate all reader comments, usually within 24 hours of posting (longer on weekends). Please limit your comment to 300 words or less and ensure it addresses the content. Comments that contain a link (URL), an inordinate number of words in ALL CAPS, rude remarks directed at the author or other readers, or profanity/vulgarity will not be approved.