Wednesday, December 7, 2016 @ 8:22 AM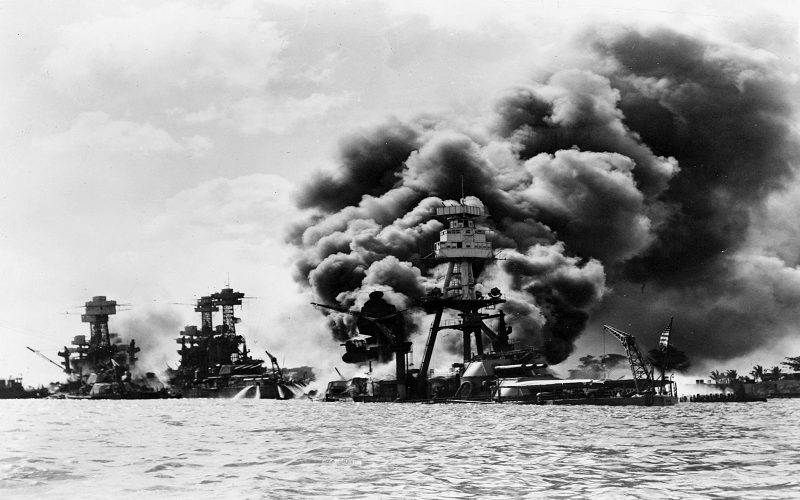 ATTENTION: Major social media outlets are finding ways to block the conservative/evangelical viewpoint. Click here for daily electronic delivery of The Stand's Daily Digest - the day's top blogs from AFA.
Jeremy Wiggins
Producer/Talk Radio
MORE
The date was December 7, 1941, and American naval personnel were busy about their day at their duty station near Honolulu, Hawaii. Some sailors were coming off of watch, others reporting to their duty station for the day, and others carrying on about their business as usual, totally unsuspecting of what was about to happen. At the same time hundreds of Japanese fighter planes were on their way to wreak havoc on their base. Just before 8 a.m. the Japanese surprise attack began, and ended with more than 20 vessels and 200 airplanes destroyed, and more than 2,000 Americans dead, with another 1,000 wounded. 
That day would begin a major change for my family, as it did for so many other American families, and December 07, 1941 would be the rallying cry for the Greatest Generation to march off to war. The coming of World War II meant that my grandfather, great uncle, and even my grandmother would fight in what was thought to be the war to end all wars. They each participated in a different way: my grandfather was a truck driver and involved in one of the landings at Normandy. My grandmother was a nurse in the Army Nurses Corp, which leaves my great uncle Private Leonard Wood of the 59th CA A. He was captured in the Philippines, and transported on the Maru Ship Tottori, taken eventually to the Hoten POW camp in Mukden, or Manchuria. He would survive the ordeal, but after his release in 1945, his life would never be the same. 
December 7 also marks a personal anniversary for my more immediate family, as it is the day that I joined the military, although much later than 1941. My military career only spanned four years, but in those four years I made friends, my family expanded, and my appreciation for military life grew. Having the opportunity to serve my country and work on what I consider the coolest fighter jet in existence, the F-15, was something that I will always be grateful for. But to be honest, it wasn't until after I joined that I realized that December 7 held far more importance than just my service anniversary, for I had been guilty of forgetting as well. 
To gain an understanding of what took place on December 7, 1941, a trip ahead only one day in time is necessary. Here is a portion of the text of President Franklin D. Roosevelt's speech before congress on December 8, 1941: 
As Commander in Chief of the Army and Navy I have directed that all measures be taken for our defense. 
But always will our whole Nation remember the character of the onslaught against us. 
No matter how long it may take us to overcome this premeditated invasion, the American people in their righteous might will win through to absolute victory. I believe that I interpret the will of the Congress and of the people when I assert that we will not only defend ourselves to the uttermost but will make it very certain that this form of treachery shall never again endanger us. 
Hostilities exist. There is no blinking at the fact that our people, our territory, and our interests are in grave danger. 
With confidence in our armed forces—with the unbounding determination of our people—we will gain the inevitable triumph- so help us God. 
I ask that the Congress declare that since the unprovoked and dastardly attack by Japan on Sunday, December 7, 1941, a state of war has existed between the United States and the Japanese Empire. 
Has that date lived in infamy? Do most Americans even remember or observe the attack at Pearl Harbor? Sure it's marked on our calendar, but do Americans remember the sacrifice that was made on that day? 
When was the last time you heard an American president speak in such bold terms? We don't talk about winning anymore. Instead we hear about containment. Instead of speaking of confidence in our armed forces, it seems as if they shoulder the blame for the world's problems. Instead of declaring that there is evil that exists in the world, we try to justify acts of terrorism by stating that if we just gave them more jobs, then they wouldn't do these heinous acts.  
The military looks completely different than it did in the days of Eisenhower, Patton, and Roosevelt. Where faith was once encouraged and nurtured in our fighting forces, chaplains are now told not even to pray in Jesus name, and Marines are court-martialed for refusing to remove Bible verses from their desk. The last issue is especially perplexing, considering that the military used to issue Bibles as part of their battle gear. 
The military pocket Bible, which was standard issue to our troops, contained the following remarks from the President: 
To the Armed Forces: 
As Commander-in-Chief, I take pleasure in commending the reading of the Bible to all who serve in the armed forces of the United States. Throughout the centuries men of many faiths and diverse origins have found in the Sacred Book words of wisdom, counsel and inspiration. It is a fountain of strength and now, as always, an aid in attaining the highest aspirations of the human soul. 
Very sincerely yours,
Franklin D. Roosevelt. 
Our current President consistently rips on Christian values, where our past presidents have praised the values that are consistent with Christian teachings. Yes, we certainly have come quite a long way from December 7, 1941, and not entirely for the better. 
The events that unfolded on this day in December forever changed the world entirely, not to mention the millions of lives it changed individually. We must never forget these events, as more and more of these veterans depart from us every single year. Let's offer up a solemn prayer on behalf of those who answered the call to defend our freedoms, and thank God that He created these special men and women. 
Jeremy Wiggins is the host of "In the Trenches" heard Saturday mornings from 6-7am CST. Visit the program on Facebook, at https://www.facebook.com/afrinthetrenches/
Please Note: We moderate all reader comments, usually within 24 hours of posting (longer on weekends). Please limit your comment to 300 words or less and ensure it addresses the content. Comments that contain a link (URL), an inordinate number of words in ALL CAPS, rude remarks directed at the author or other readers, or profanity/vulgarity will not be approved.