Tuesday, February 7, 2017 @ 3:12 PM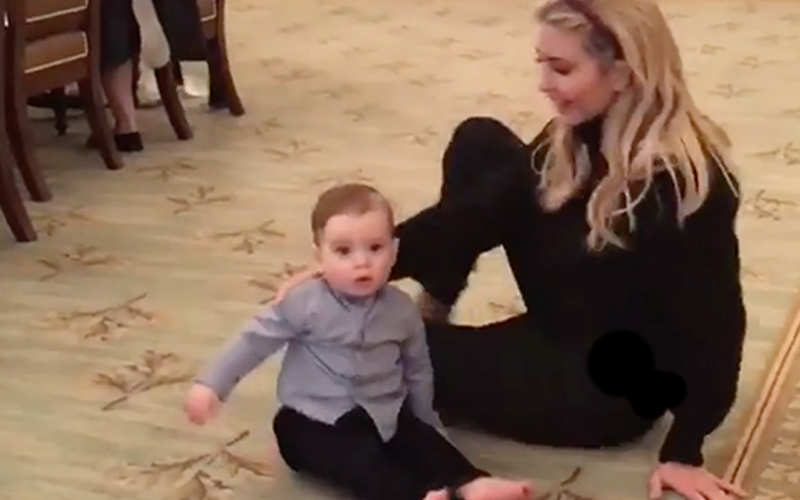 ATTENTION: Major social media outlets are finding ways to block the conservative/evangelical viewpoint. Click here for daily electronic delivery of The Stand's Daily Digest - the day's top blogs from AFA.
Stacy Singh
Writer - AFA Journal
MORE
In the past few weeks, social media has seen a lot of two types of images. One was of the January 21 Women's March on Washington in D.C., where many angry women went to a level of vitriolic vulgarity that, personally, I found depraved and degrading. On the flipside of that, social media has been sponging up the cute images of the little kids in the new presidential family.
For a few years, some on this side of the ocean have admired, perhaps with a little bit of envy, the adorable, picture-perfect family scenes of the British royals William and Kate and their babies. Now, suddenly, we're excited that we have our own iconically cute family to display. Not a day has gone by that I haven't seen my friends' Facebook shares and likes of those images showing up, whether or not I follow them myself. One of the most popular may have been where Ivanka Trump gets down on the White House floor with her baby Theodore to interact with him crawling for the first time.
Now, I don't know much about Ivanka Trump or the other members of the family. And I know nothing about each of the individual women who participated in the march. But there is something about seeing the rich and powerful and successful acting like family – seeing a mom love and nurture her children, a woman absorbed in just being a mom – that fills peoples eyes with stars. There is something of fairytale idealism about it that makes it always popular and admired.
And I believe there is a reason for that. There is something about such a scene that brings a sense of peace, comfort, and rightfulness ­– because it is right. When we see a woman, or a man, or any creature, doing a thing that they are divinely and perfectly engineered to do, fulfilling who they are and what they were born to be, we get a glimpse of paradise that reveals to us all that can be right and good in the world. It reminds us of who we are meant to be. And it calls us to hope by teaching that it is still possible to be that person.
I am currently reading Elisabeth Elliot's Let Me Be a Woman and John Milton's Paradise Lost, both of which point to the way things once were, and urge us to take hold of what, by God's grace and truth and sanctifying work, we yet can be.
Elisabeth Elliot writes:
All creatures, with two exceptions that we know of, have willingly taken the places appointed to them. The Bible speaks of angels who rebelled and therefore were cast down out of heaven, and of the fall of man. … What sort of world might it have been if Eve had refused the Serpent's offer and had said instead, 'Let me not be like God. Let me be what I was meant to be – let me be a woman.'
She goes on to say, "You can't make a proper use of a thing unless you know what it was made for, whether it be a safety pin or a sailboat." To discover what it is that woman was made for, she goes back to the beginning of Scripture in Genesis 1 and 2:
So God created mankind in his own image, in the image of God he created them; male and female he created them. …Then the Lord God made a woman from the rib he had taken out of the man, and he brought her to the man.
In Paradise Lost, John Milton describes his take on that ideal world, before man's fall, where Eve freely adores, respects, and obeys her husband Adam – not for any apparent reason other than that she has been assigned to hold such a relation to him and takes great joy in it, addressing him in terms such as, "O thou for whom and from whom I was form'd flesh of thy flesh, and without whom am to no end, my Guide and Head."
Granted, Milton wrote Paradise Lost in 1667, and he is using poetry and fiction to imagine an utterly happy and untroubled state, but it is hard to wrap the modern mind around even the happiest woman saying to her husband:  "My Author and Disposer, what thou bidd'st unargu'd I obey; so God ordains. God is thy Law, thou mine."
Milton might argue that Adam, in his uncorrupted state, was so perfect and amazing that it was possible for Eve to act that way toward him. At any rate, she doesn't maintain that attitude for long, but goes to an even greater extreme of disobedience and rebellion against God Himself. Ever since, neither man nor woman has been able to be so perfect as to make it easy to react to each other on such terms.
Of course, it is not just what a woman is before man that counts, but what she is before God. Neither is her sole purpose fulfilled only in being a wife or a mother. "Womanhood is a call," Elliot says. "It is a vocation to which we respond under God."
If the meaning of being a woman only had to do with the way others act or what circumstances occur or how life turns out, it would definitely have been lost and mutilated a long time ago. If each person's dignity and destiny depended on the goodness and purity of others, we might as well all be marching in the streets and raising our voices with the desperation of incurable angst.
But the purpose and place that men and women are meant to fill has not changed. We get our being and worth and chance for honor from what happened on our day one, in Genesis 1 and 2. When any person can accomplish a task that he or she was created for and appointed to, it is his or her triumph, his or her strength, his or her exultation. And whenever the two beings, who were set up to be lords and leaders of creation, get into their rightfully ordered places, it imparts a little respite of peace amid all the world's duress.
Please Note: We moderate all reader comments, usually within 24 hours of posting (longer on weekends). Please limit your comment to 300 words or less and ensure it addresses the content. Comments that contain a link (URL), an inordinate number of words in ALL CAPS, rude remarks directed at the author or other readers, or profanity/vulgarity will not be approved.