Monday, April 15, 2019 @ 12:46 PM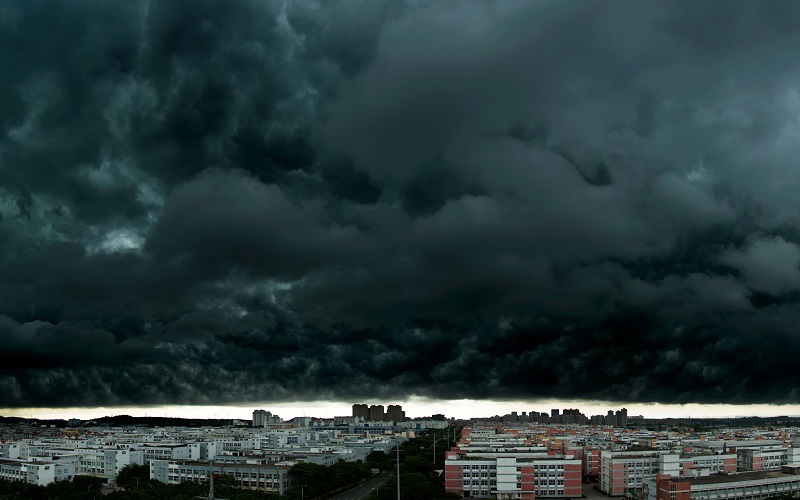 ATTENTION: Major social media outlets are finding ways to block the conservative/evangelical viewpoint. Click here for daily electronic delivery of The Stand's Daily Digest - the day's top blogs from AFA.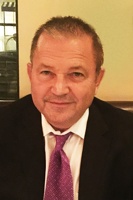 David Lane
Founder of the American Renewal Project bringing biblical values to the public square
MORE
America is besieged by the opposing but cohabiting forces of human secularism, political correctness and multiculturalism. "Western culture that at first drifted and is now rushing headlong into apostasy from the Triune God" is a direct result of the vacuum created as American Christendom relinquished the town square.1 The disengagement from the culture by Christians left a void in America that is now being filled by everything anti-Christ. 
Decisions have consequences. The gathering storm engendered by baby boomers and passed on to the Millennial and Gen Z generations to sort out, will come down hard on the weak-kneed and lily-livered. 
What Christian minister and cultural theologian P. Andrew Sandlin styled "Sunday go-to-meetin' Christianity" has been the prevailing attitude over the last century. Making no demands on the culture, this attitude exposed "the entire West to the risk of a grave cultural and political crisis, and perhaps to a collapse of civilization."2 The last two generations of Americans handed down this disposition to their children and their children's children. 
To illustrate, corporate America became in 2015 the biggest promoters of same-sex intercourse and marriage. More than 350 companies, "including Apple, AT&T, Staples and Target filed amicus curiae briefs urging the Supreme Court to strike down same-sex marriage bans."3 Yet citizens in 30 states had passed amendments opposing same-sex marriage, often by wide margins as the vote outcomes below show.4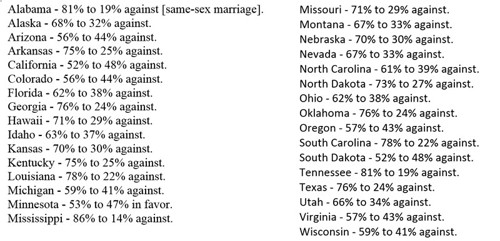 Shortly thereafter, five secularized United States Supreme Court Justices promoted themselves to be 'god and creator', weaponizing the state, and foisting homosexual marriage on all 50 states. 
An even more incongruous distortion occurred last month in San Antonio, where the city council decided to block Chick-fil-A from opening a restaurant in the San Antonio airport. The 'reasons' given were that the corporation's foundation donates to the Salvation Army, Fellowship of Christian Athletes, and a Christian home for troubled youth. A week later, Buffalo, N.Y., moved to block Chick-fil-A from their airport, raising the question whether it is "now contrary to the values of an American city to award contracts to companies owned by tithing Christians?"5 
Has the fastest-growing restaurant chain in America, Chick-fil-A, ever refused service to homosexuals? "The left-wing outfit Think Progress issued a report cited widely in the press and among Chick-fil-A opponents accusing the company's foundation of 'anti-equality' giving."6 
The Founders could not have fathomed what's happening in 21st-century America, let alone wrapped their minds around it. What likely political motivations could there be against Chick-fil-A? Destroying a business simply because the owners hold Biblical moral beliefs is going down a rabbit hole. Where is Hillary Clinton with her pretentious charade from August 2016 of "I've been fighting to defend religious freedom for years."7 
The upcoming battle about freedom of conscience will be with the secular and media luminaries who dominate the spiritual, intellectual, educational, economic, and vocational cultural mountains of influence in America. 'Big Business' has become allied with the secular Left, turning into active combatants attempting to put the final nail in the coffin of America's once biblically-based culture. Public education already did so about 50 years ago, bringing America's schooling down to the lowest common denominator. 
The American political theorist and moralist Russell Kirk took a generation ago the long view of where this track leads; yet he threw out a life-vest. "This is the bent world of Orwell's 1984, and it is the actual state in many lands of what once was a civilized order. Will the wave of the future engulf the remaining islands of refuge? Will the American Republic go down to dusty death? 
"Perhaps you fear that I am embarking upon a long tale of woe. But I mean to spare you that. Rather, my purpose it is to suggest that you and I are not the slaves of some impersonal force called Destiny or History. I come to you not as a gravedigger, but as a diagnostician. Indeed, our whole civilization is sorely afflicted by decadence; yet it need not follow that, already having passed the point of no return, we must submit ourselves to total servitude and infinite boredom. Just as renewal of soul and body often is possible for the individual person, so whole societies may recover from follies and blunders."8 
The contemporary self-effacing church culture, hidden behind the walls of the meeting place, is not up to Christianity's required standards. A different type of Church will be needed for America to be born again. Budgets, buildings, and butts in seats won't be the theological focal point if America is to survive. Christians operating in the public square will be, empowered by wisdom from above. 
Solomon defined how to recognize the wise as they operate: "The tongue of the wise makes knowledge attractive, but the mouth of fools blurts out foolishness." To which Jewish Hebrew scholar Michael V. Fox added: "The wise do not merely speak the truth bluntly, they give it elegant form. Fine speech is an essential ingredient of wisdom." 
One might say that as Gideons and Rahabs enter the public square they will think spiritually and speak in secular terms. 
Jesus paid not only the price for our souls and eternal salvation, but also "to redeem everything that was lost: people, business, education, and government. And there is nothing the devil can do to reverse it."9 That is, if believers will but engage. 
Elijah's servant saw "a little cloud about the size of a man's hand rising from the sea." [1 Kings 18:44] He was hopeful of great things to happen. And so should we! 
Gideons and Rahabs are beginning to stand.  
(Editor's Note: This article was used with permission. Find out more at  http://theamericanrenewalproject.org/)
1. P. Andrew Sandlin, Foreward to The Mission of God.
2. Marcello Pera, Why We Should Call Ourselves Christians: The Religious Roots of Free Societies.
3. www.washingtonpost.com/news/wonk/wp/2015/06/26/companies-celebrate-the-supreme-courts-same-sex-marriage-ruling/?utm_term=.1bd9a30f6282
4. en.wikipedia.org/wiki/U.S._state_constitutional_amendments_banning_same-sex_unions
5. www.nationalreview.com/2019/04/the-renewed-chick-fil-a-controversy-shows-the-culture-war-will-only-get-worse/
6. nypost.com/2019/04/09/the-war-on-chick-fil-a-is-chicken-mccarthyism/
7. www.youtube.com/watch?time_continue=1&v=A1y5cvPddd8
8. Russell Kirk, Redeeming the Time.
9. Ed Silvoso, EKKLESIA.
Please Note: We moderate all reader comments, usually within 24 hours of posting (longer on weekends). Please limit your comment to 300 words or less and ensure it addresses the content. Comments that contain a link (URL), an inordinate number of words in ALL CAPS, rude remarks directed at the author or other readers, or profanity/vulgarity will not be approved.