Tuesday, December 17, 2019 @ 10:17 AM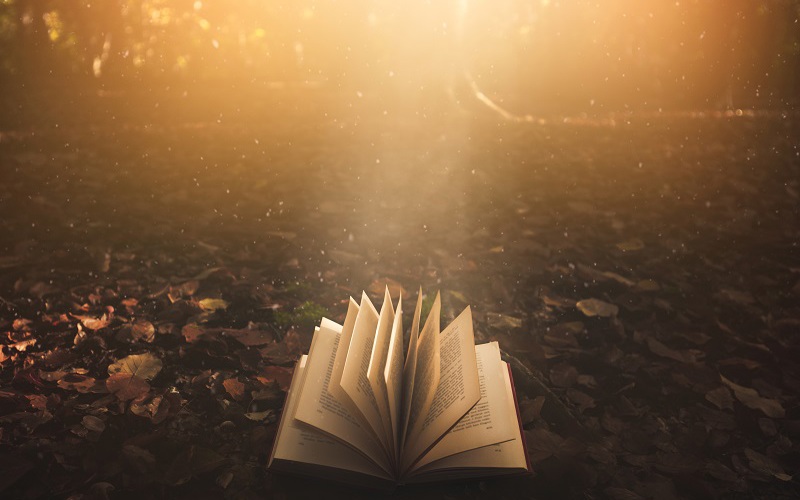 ATTENTION: Major social media outlets are finding ways to block the conservative/evangelical viewpoint. Click here for daily electronic delivery of The Stand's Daily Digest - the day's top blogs from AFA.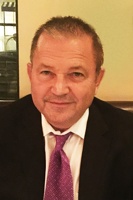 David Lane
Founder of the American Renewal Project bringing biblical values to the public square
MORE
"He who walks in his uprightness [in conduct and character] fears the Lord," Solomon advised, "but he who is perverse in his ways [departing from fixed boundaries of moral order consistent with God's character] despises Him" (Proverbs 14:2). 
On folly [witlessness, irrationality] Solomon observed: "A foolish woman is clamorous [Heb. turbulent; noisily demanding, vociferous, strident]; she is simple [gullible, credulous, ignorant], and knows nothing [refers to moral, not mental, knowledge]. For she sits at the door of her house, on a seat by the highest places of the city [Heb. on a chair, publicly, in the public square], to call to those who pass by, who go straight on their way" (Proverbs 9:13-14). 
Jewish Hebrew scholar Michael V. Fox makes clear that "Like Wisdom, Folly seeks a pubic venue and appears in much the same places as Wisdom. They are often in proximity, proposing alternative choices in many circumstances." 
Today's folly rears its hideous head… 
Afflicted by irate, insolent indignation, the pro-homosexual intercourse and marriage Human Rights Campaign called for action against "Hallmark's shameful action of pulling an amazing ad featuring a loving same-sex couple on their wedding day kissing," leaving "us in the cold," us being "our [LGBTQ] community" and fellow members of the HRC. In sending "a message that we won't be erased," the Campaign plasters its graphic graffiti on the wall of political correctness, rearing its head to "tell Hallmark its anti-LGBTQ actions will not be tolerated." www.hrc.org/blog/tell-hallmark-shame-on-you 
For advocacy cabals such as the HRC, not being overtly included comes down to being openly and discriminatorily excluded, because "our community deserves to be seen, heard and represented just like everyone else." In reality, what they demand is preference, unlike everyone else, their obstreperous clamor impossible to miss, drowning out any voices of reason. 
One of the antecedents for the Supreme Court's decision of 2015 of making homosexual marriage lawful in America, being designated as equal to God's design of marriage, may have been the anemic turnout of evangelical and pro-life Catholic Christians on election days in 2008 and 2012. 
When wondering at what time impeachment of the President of the United States reached critical mass, we should look at Election Day, November 6, 2018, the day when an estimated 80%-85% of Christians stayed home from voting. Thereby they unintentionally helped Congresswoman Nancy Pelosi become Speaker of the House, Congressman Adam Schiff head of the Intelligence Committee and Congressman Jerry Nadler head of the Judiciary Committee.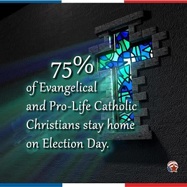 To break this down, half of America's approximately 65 to 80 million evangelicals who read their Bibles, pray, and attend church are not registered to vote, meaning they have never voted. And what's more, just half of that half [25%] vote in a presidential election year. To put it another way: 75% of evangelical and pro-life Catholic Christians stay home on Election Day. 
In off-year elections - 2018, 2014, 2010 - 12%-15% of Christians were voting. In other words, 85%-88% of Christians abstained from their civic responsibility. Incredibly, people are mystified how and why America, after 350 years, lost its Judeo-Christian heritage and biblically based culture. 
America has reached its spiritual kairos, the culmination of the last two or three generations of Christian indolence and disregard to secular onslaught and incursion. Allowing those in rebellion against God not only to be elected to office but to seize the levers of control over America's cultural mountains of influence, such indifference is lethal. Even so, the church remains dormant. 
Over the last century the blatant falsehood of the "separation of church and state" has been advanced by secularists in order to disengage Christians from political participation and so gain the upper hand themselves. 
Looking back through America's history we can be certain that the Founders would neither have retreated from social and political involvement in the public square nor have submitted to any effort to dechristianize America's civil government, law, and public life. Contemporary Christians, as a whole, have withdrawn from the public square, and spiritual wisdom no longer prompts and propels "social action, education, intellectual pursuits, the shaping of culture, and political thought and action" (Archie P. Jones).
"But through knowledge the righteous will be delivered," Proverbs 11:9 declares, to which Michael V. Fox adds: "The proverb does not say that God intervenes to deliver the righteous miraculously but that they are protected by 'knowledge' (da'at), which is to say, their wisdom. The proverb assumes that the wise, being wise, have the mental resources to get themselves out of trouble." 
Which brings us to 21st-century America. 
A corrective must be formulated to counter moral pietism that seems to have overtaken current Christendom; a pietism that reduces the scope of Christian concern "to his or her personal life, family life, and the affairs of the church as an ecclesiastical organization" (Archie P. Jones).
As part of this countermeasure, evangelical and pro-life Catholic Christians will have to take their game to the next level if America is to survive. Religious liberty will solely be reestablished by organizing, and not by periodic Sunday sermons on politics or policy powwows in Washington, DC. 
Neither press conferences nor press releases nor FOX News shoutouts or Sunday sermons are denominations of campaign currency. America needs Christian thermostats, not Christian thermometers. 
Mustering and marshaling parishioners into the public square [ekklesia, Matthew 16:18] are the larger denominations of currency. Here's a cultural climate gauge to assess whether Christians are making headway: when 90% of Bible-believing churchgoers are registered, and vote in every election, there will be an unmistakable turn in the culture, a Third Great Awakening. 
In wistful hindsight, today's predicament could have been avoided if the early/mid-20th-century church had gotten involved where competition is fiercest, that is at the wellspring of culture, the ekklesia. Politics is downstream from this source. 
Still and all, thankfully, Gideons and Rahabs are beginning to stand. 
Please Note: We moderate all reader comments, usually within 24 hours of posting (longer on weekends). Please limit your comment to 300 words or less and ensure it addresses the content. Comments that contain a link (URL), an inordinate number of words in ALL CAPS, rude remarks directed at the author or other readers, or profanity/vulgarity will not be approved.