Thursday, July 16, 2020 @ 11:39 AM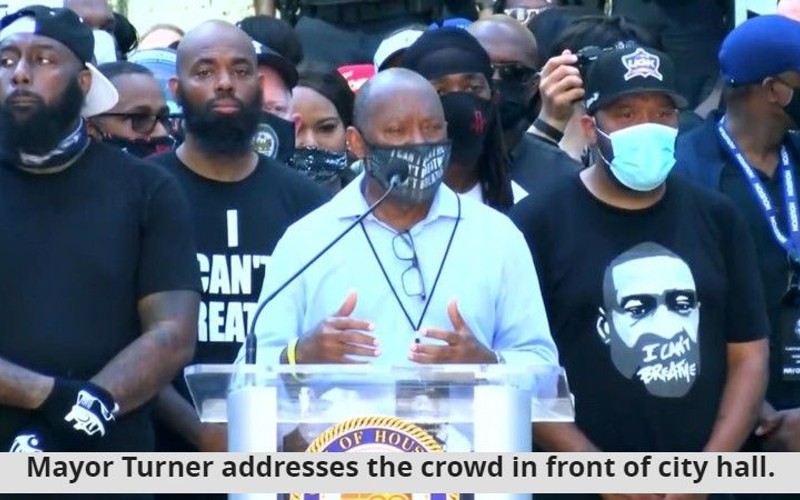 ATTENTION: Major social media outlets are finding ways to block the conservative/evangelical viewpoint. Click here for daily electronic delivery of The Stand's Daily Digest - the day's top blogs from AFA.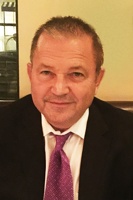 David Lane
Founder of the American Renewal Project bringing biblical values to the public square
MORE
A Texas firestorm erupted last week when Houston Mayor Sylvester Turner canceled the 2020 Texas State Republican Convention, scheduled for July 16-18 in Houston. The cancellation wipes out the plans of 6,000 preregistered TX delegates and will cost many their nonrefundable airline tickets and hotel accommodations.
Even worse off than the delegates will be the hotel courtesy shuttle drivers, valet/parking attendants, bell staff/porters, door staff, concierge, technicians, maître d'hôtel, housekeeping, cooks, delivery service, room service, bartenders, and servers.
In calling the convention a "public health risk," Houston Mayor Turner (D) turned out to be yet another leader fitting seamlessly in Senator Rand Paul's category of "fatal conceit" or in Nobel Prize-winning economist Friedrich Hayek's domain of the "pretense of exact knowledge."
"It is a fatal conceit to believe any one person or small group of people has the knowledge necessary to direct an economy or dictate public health behavior," said Senator Rand Paul before the Senate Health, Education, Labor, and Pensions Committee of June 30, 2020, related to America's reliance on Dr. Anthony Fauci. "We shouldn't presume that a group of experts somehow knows what's best for everyone… It's important to realize that if society meekly submits to an expert and that expert is wrong, a great deal of harm may occur when we allow one man's policy or one group of small men and women to be foisted on an entire nation."  (see Paul's thoughts on children returning to school here.)
When asked for his response to the lawsuit filed against him, Mayor Turner replied, "[The Republican Party of Texas] signed the contract in March with a force majeure clause that included epidemics in Houston. That clause allows either party to cancel the agreement if an occurrence is beyond the reasonable control of the party whose performance is affected."
"It's ironic," crowed the mayor, "that they're going to the courthouse [for reprieve]...to ask them to agree to allow 6,000 people to meet in person when even the judicial community is hearing cases virtually."
Mayor Turner's purported concern for public health drips with dishonesty, duplicity, deceit, and deception given his addressing a crowd of some 60,000 George Floyd protestors just one month ago. Social distancing was neither maintained nor required. Social closeness and political nearness were widely practiced instead.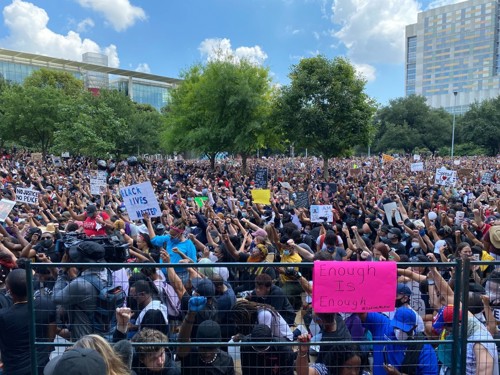 In matters like this, it must be reiterated that what is happening in America has little or nothing to do with Republican vs Democrat. America's war is spiritual, as two distinct religions are vying for control of the public square: transient and mutable secularism versus eternal and immutable Christianity. These two distinct religions cannot coexist, as one will ultimately go down as a consequence of the elevation of the other. 
On the face of it, what is happening locally in Houston appears to be not related to what is happening on a large scale nationwide. Yet, on reconsideration, Mayor Turner's acting in bad faith stands as clear proof of the level of spiritual warfare unto which Christians in America are called.
It is absolutely shocking to see how secular, liberal mayors and governors across America find common ground and join forces with subversive and seditious activists bolstered by Marxist outfits like Antifa and Black Lives Matter, even as they shut down church services, and now seek to stifle the constitutional right to assemble peaceably.
The fact that Democrat Party leaders are reveling in the nationwide looting, anarchy, and burning of America's cities seems to indicate that something much bigger is going on in the nation than Covid-19 and race relations.
Take for instance Phoenix Mayor Kate Gallego (D) alarmist and false claim that Maricopa County's public health agency had ordered refrigerator trucks to store overflow COVID bodies. The reasons for Mayor Gallego's mendacity are easy to find: "Democrats in the state believe they need to discredit Gov Doug Ducey's Covid-19 response if they want to succeed in flipping John McCain's old Senate seat, currently occupied by Republican Senator Martha McSally, on Nov. 3."
In light of the inaccurate, ambiguous and neglectful information that the mainstream media provide on the social and civil unrest in the nation, one wonders where America's free and independent press is, once lauded as the cornerstone of a functioning, healthy republic.
Why do they keep silent about who is funding and organizing widespread, systematic violations of law in America?
In line with the misleading and contradictory messages from the Centers for Disease Control and Prevention [CDC], a federal agency under the Department of Health and Human Services headquartered in Atlanta, and the United Nations World Health Organization [WHO], columnist Bethany Blankley reports on the Texas facts [chart added as link seems to have been moved]. Here are four examples: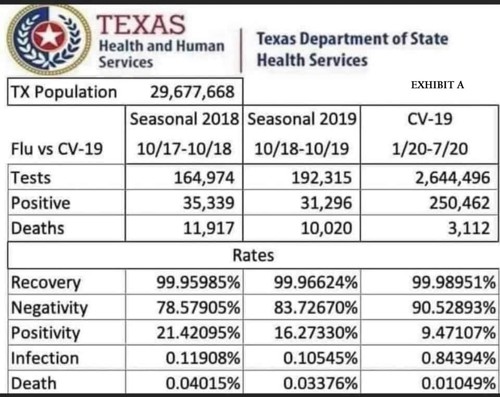 (Editor's Note:  The factors in the above chart seem to indicate this:  COVID-19 has higher infection rates but lower deaths than the seasonal flu for the last two years. COVID-19 is 7-8X more infectious but has about a third of the deaths compared to seasonal flu even though 13X more people were tested for COVID-19.)


"According to the Texas Department of Health and Human Services coronavirus database, as of July 9 data reported out of a population of roughly 29 million [Texans], there have been 2.6 million tests for the coronavirus. Among them, 230,346 positive cases have been reported, or 0.79 percent of the population. Roughly 8.85 percent of those who have been tested have tested positive for the virus. Only those who are presenting symptoms are tested, so the number is not representative of the entire population.
"In Dallas County [Dallas], the number of total coronavirus cases is 29,160, since the state and county began tracking the data. Of them, there have been 16,192 recoveries and 426 deaths. As of July 8, there are 11,529 active cases. Of the county's 2.6 million people, the coronavirus case number/infection rate is 1.1 percent. The death rate as a share of the population is 0.016.
"In Harris County [Houston], the reported number of total coronavirus cases is 40,012. Of them there have been 12,856 recoveries and 411 deaths. As of July 8, there are 26,048 active cases. Of the county's 4 million people, the case number/infection rate is 1.0 percent. The death rate as a share of the population is 0.01 percent.
"In Bexar County [San Antonio], the reported number of total coronavirus cases is 16,725. Of them, there have been 6,191 recoveries and 146 coronavirus-related deaths. As of July 8, there are 9,552 active cases. Of the county's 2 million people, the case number/infection rate is 0.83 percent. The death rate as a share of the population is 0.007 percent."4
All this must lead to the inescapable conclusion that liberal Democrat mayors and governors across America are using the coronavirus as a political weapon.
Although Arthur W. Pink died in 1952, he prophetically hits the nail on the head for Evangelical and Pro-Life Catholic Christians regarding the current state of America's culture: "God grants His people no furloughs in the 'good fight of faith' (1 Timothy 6:12) to which He has called them, and should they take one, then their enemies will inevitably prove too strong, nor will the Captain of their salvation fight their battles for them."
"The soul of the sluggard desires and has nothing; but the soul of the diligent shall be made fat." [Proverbs 13:4]
"Be watchful, stand firm in the faith, act like men, be strong." [1 Corinthians 16:13]
"If we heed not, most unpleasant will be the outcome." [Arthur W. Pink]
Gideons and Rahabs need to stand.
Please Note: We moderate all reader comments, usually within 24 hours of posting (longer on weekends). Please limit your comment to 300 words or less and ensure it addresses the content. Comments that contain a link (URL), an inordinate number of words in ALL CAPS, rude remarks directed at the author or other readers, or profanity/vulgarity will not be approved.