Monday, August 23, 2021 @ 10:11 AM
ATTENTION: Major social media outlets are finding ways to block the conservative/evangelical viewpoint. Click here for daily electronic delivery of The Stand's Daily Digest - the day's top blogs from AFA.
President Joe Biden (D) has failed American citizens and U.S. allies who are stranded in Taliban-controlled areas of Afghanistan. Over 10,000 Americans have been left behind due to President Biden's failed exit strategy to drawdown U.S. military forces from Afghanistan. The only evacuation point is from the airport in Kabul. Although U.S. forces have secured the airport, the surrounding area of Kabul, where the Americans and allies are located, is controlled by the Taliban. Americans are now warned by the U.S. Embassy in Kabul to avoid travel to the airport because of potential security threats. Our people are stranded, and our government must immediately evacuate every single American and Afghan ally who desires to leave. 
President Biden's premature and excessive drawdown of military personnel has created a security void that was filled by Taliban terrorists. Officials from the U.S. Embassy in Kabul reportedly warned the U.S. State Department on July 13 that the Taliban would overtake Kabul. This early warning indicated Taliban forces had already amassed large territorial gains due to little resistance from Afghan forces, and because of this the Embassy recommended the U.S. "speed up the evacuation of Americans and its allies." 
The Biden Administration's early withdrawal and dismissal of the Embassy's advice were unforced errors that have caused Americans and allies to be abandoned outside the U.S. militarized zone around the airport in Kabul. Currently, there is no U.S. military presence beyond the airport zone who can safely evacuate Americans from an increasingly hostile area controlled by the Taliban. To make matters even worse, President Biden ordered the military to abandon air bases at Bagram and Kandahar. This blunder eliminated the possibility of these airbases to be used as rendezvous points for emergency or contingent evacuation if the situation at Kabul airport deteriorated, which it has. 
On July 1, President Biden's order forced the military to withdraw from Bagram Air Base, the largest airbase in Afghanistan. Although control of the airbase shifted from the U.S. to the Afghan National Defense Security Forces, it wasn't long before the Taliban took control. The U.S. military also abandoned Kandahar Airfield in mid-May, and it has also been taken over by the Taliban.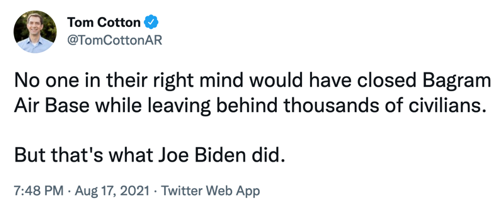 "No one in their right mind would have closed Bagram Air Base while leaving behind thousands of civilians. But that's what Joe Biden did," said Afghanistan war veteran, Sen. Tom Cotton (R-AR) in a recent Tweet.  
Since President Biden ordered the military to abandon Bagram Air Base and Kandahar Airfield, the remaining airport for evacuation is Hamid Karzai International Airport in the capital city of Kabul. This city has also been seized by the Taliban (which the Embassy forewarned would happen), and they also control checkpoints along routes to the airport. Americans and allies must navigate, without military security, through Taliban controlled areas to reach the airport for evacuation. 
Although the U.S. military has established a perimeter around the airport, the Taliban's checkpoints are beyond this zone and are blocking Americans' and allies' entrance into the airport. Deputy Secretary of State Wendy Sherman said the U.S. is aware of these reports, and said that "Our military partners on the ground in Kabul, are engaging directly with the Taliban to make clear that we expect them to allow all American citizens, all third-country nationals and all Afghans who wish to leave, to do so safely and without harassment."
During a press conference on August 20, President Biden responded to reports of the Taliban blocking Americans' entry into the airport. He said Americans were having no issues getting through the Taliban checkpoints. "To the best of our knowledge, the Taliban checkpoints, they are letting through people showing American passports," Biden said. To another reporter, he said, "We have no indication that they haven't been able to get in Kabul through the airport. We've made an agreement with the Taliban thus far. . .We know of no circumstance where American citizens are carrying an American passport are trying to get through to the airport." Defense Secretary Lloyd Austin gave an opposing account about the Taliban's actions against Americans seeking to evacuate.
Minutes after President Biden's press conference, Defense Secretary Austin discussed the Taliban's actions during a call with lawmakers, but Austin had a different account of the situation than did President Biden or Deputy Secretary of State Sherman. Reports about the call state that Austin:
told lawmakers Friday that Americans trying to leave Afghanistan have been beaten by Taliban fighters, according to several people who participated in a briefing call with Austin and other top officials. Austin's remarks to House members appeared to directly contradict President Joe Biden's assessment from minutes earlier, in which Biden said the U.S. was not aware of Americans having trouble getting through Taliban checkpoints and to the airport in Kabul — the only evacuation point in the country that is not controlled by the Taliban (emphasis added). 
Considering comments made by Defense Secretary Austin, President Biden, and Deputy Secretary of State Sherman downplaying attacks against Americans are very troubling. 
Making their comments even more problematic is that on August 19, the day prior to Biden's press conference, the U.S. Embassy in Kabul issued a travel warning (see image below, emphasis added) that "The U.S. government cannot ensure safe passage to the airport" because of "security concerns" and to "Be aware of the potential for violence and security threats." Clearly, U.S. Secretary of State Antony Blinken (also Sherman's boss) already knew security threats against Americans existed prior to President Biden's August 20 press conference.
Less than 24 hours after President Biden's press conference with Secretary of State Antony Blinken, the U.S. Embassy in Kabul raised the security alert for Americans attempting to evacuate from Kabul airport. The security alert (see image below, emphasis added) was heightened from cautioning Americans about potential violence and security threats to "advising U.S. citizens to avoid traveling to the airport;" however, "the Pentagon said the U.S. military does not currently have the ability to reach people beyond the Kabul airport."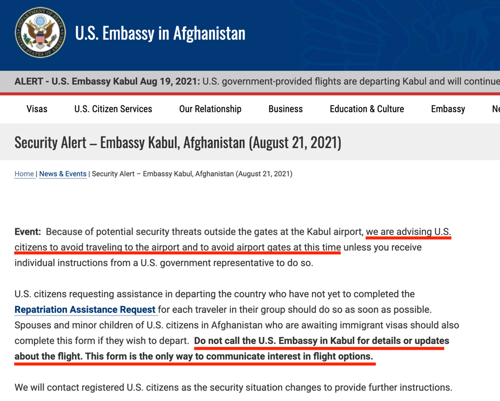 On July 8, President Biden said, "Our military commanders advised me that once I made the decision to end the war, we needed to move swiftly to conduct the main elements of the drawdown. And in this context, speed is safety." 
It's apparent that President Biden exercised an America last strategy by not making Americans and allies a top priority, or as Biden put it, "main elements of the drawdown." 
If President Biden had made the evacuation of our fellow citizens and allies a priority, he would have left more troops in the region which would have provided for a safer and more expedient evacuation. President Biden was not required to close both airbases, but he could have maintained military personnel at Bagram Air Base as a contingent or simultaneous evacuation hub. 
One of the most glaring indications of the abject failure of President Biden's exit strategy is the high level of confidence he placed in a terrorist organization that he admittedly doesn't trust. President Biden recently said, "We have no indication that [Americans] haven't been able to get in Kabul through the airport. We've made an agreement with the Taliban thus far." Yet, a reporter asked President Biden, "Do you trust the Taliban, sir?" and he answered, "No, I do not. . . No, I do not trust the Taliban." 
President Biden, get every one of our fellow American citizens and allies out of Afghanistan, and do it now!
Please Note: We moderate all reader comments, usually within 24 hours of posting (longer on weekends). Please limit your comment to 300 words or less and ensure it addresses the content. Comments that contain a link (URL), an inordinate number of words in ALL CAPS, rude remarks directed at the author or other readers, or profanity/vulgarity will not be approved.