Friday, January 23, 2015 @ 2:25 PM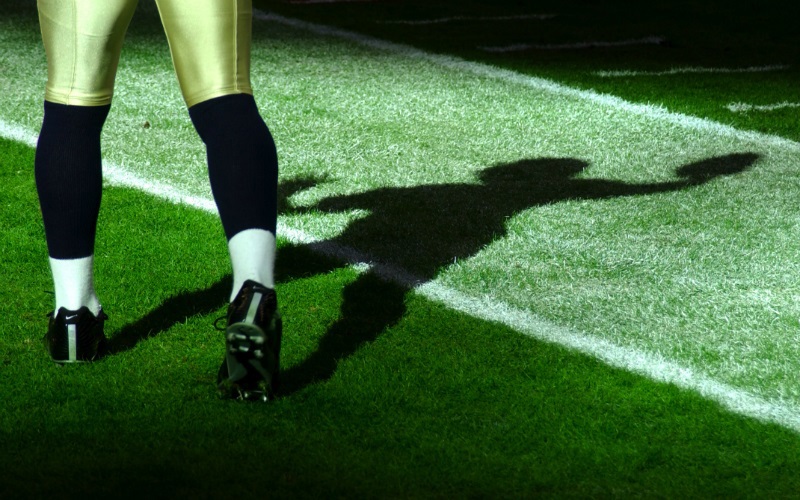 ATTENTION: Major social media outlets are finding ways to block the conservative/evangelical viewpoint. Click here for daily electronic delivery of The Stand's Daily Digest - the day's top blogs from AFA.
Jim Shempert
One Million Dads
MORE
It seems like after every ball game some athlete gets caught on camera saying, "I just want to thank God for the victory." Sometimes I believe they are sincere. Tim Tebow, Russell Wilson, and Marcus Mariota immediately come to mind. But then the question becomes, does God really care about a ball game no matter how seemingly important we think it is?

I'm going to go ahead and admit, that I wrote this one the week before the Super Bowl on purpose. Not to be a hypocrite, let me go ahead and say that at kickoff on Sunday, unless the Lord comes back or someone I love is in the hospital, I will be in front of a television. Football is one of my beloved hobbies. My real love is college football, as I was raised in the SEC, where football is kind of part of who you are. You are defined by which team you root for. The colors of your team become part of your wardrobe, indeed part of your daily life. But truthfully, any football will do. It's not the brutality of the game that draws me, it's the careful planning, scheming, and strategizing that go into winning a game that captivates me. It's the amazing acrobatic catches that are made, the kids who better themselves through football, and the fatherly relationships that a lot of coaches have with their players that make football so intriguing.

I was sitting in a meeting last week, and the leader of the meeting said, "Does God care who wins the Super Bowl?" His question was a rhetorical one. Does God put emphasis on one team or another? The 52 men who lost are no less important to God than the 52 who won. If you are a follower of Jesus, He is always with you. Hear the words from His mouth, "My Father, who has given them to me, is greater than all; no one can snatch them out of my Father's hand" (John 10:29). Checkmate.

Once you have genuinely accepted Christ as your Savior, you can never be snatched from His hand. Similarly, Jesus says, "And surely I am with you always, to the very end of the age" (Matthew 28:20). Once we are His, He will never leave us! Sure, we may leave Him. I'm sure everyone reading this has backslidden at least once.

One of my favorite parables of Christ is in the story of the prodigal son. In Luke 15, Jesus tells of a man who had two sons. The younger of the two goes to his father and says that he wants all his inheritance now (before his father dies). He graciously receives it and then abruptly leaves home going to a foreign land where he surreptitiously spends all his money on wild living and women and ends up broke, starving, and working with pigs. He is so destitute that he envies the slop that the pigs are eating. He determines that he will go back to his father, beg forgiveness, and work as a servant the rest of his days. Now, his father thought him dead. As the boy nears home, he saw him coming from far off. Read these powerful words from Luke 15:20, and may they influence your very being today: "So he got up and went to his father. But while he was still a long way off, his father saw him and was filled with compassion for him; he RAN to his son, threw his arms around him and kissed him." I don't remember a whole lot from English class, but I do remember what an action verb was. It means you DID something. The Father RAN. He didn't stroll, walk, jog, or most importantly scowl at his lost son as he came up the road. HE RAN! He ran to his son who was lost. He ran to a son who he thought was lost forever in his own sin. In that moment, when everyone expected the father to come down on the boy, he responds, "Quick! Bring the best robe and put it on him. Put a ring on his finger and sandals on his feet. Bring the fattened calf and kill it. Let's have a feast and celebrate. For this son of mine was dead and is alive again; he was lost and is found" (Luke 15:22-24).
They celebrated! They sang, danced, ate together, and the father who had every right to be angry decided instead to show love. Why? Because Christ is love. Christ desires that all who are lost come home to him. He knows down to the person who is His. And His gospel is not complete until all who belong to Him come home. This is laid out perfectly earlier in Luke 15:4, "Suppose one of you has a hundred sheep and loses one of them. Doesn't he leave the ninety-nine in the open country and go after the lost sheep until he finds it?" The Shepherd is not satisfied until all who are His are home.

So what does God care about? Well, an easy answer to that question would be that He cares about you and me. That's too simplistic an answer though. A lot of Christians try to wrap up the Gospel in John 3:16. If you only have one verse to give someone to tell them of the majesty of Christ, that's probably one that would be in my top three to give. I think though, a better explanation, especially for men, would be that God cares as much about your Tuesday's as He does your Sunday's. You see, Christ desires a personal relationship with you. A Christian who is only a Christian on Sunday's is not a Christian at all. Not judging, just saying. By all means, come to church every Sunday. Every Wednesday too. Get involved with the small ministries that your church has. What makes a man/woman a follower of Christ is an intentional vibrant relationship with the man who is both Man and God. Christ can't be contained in Sunday morning worship. Christ can't be placed in a box at all. If you are worshipping the true Christ, the One who has been there since the foundation of the Earth, then you realize that the meager attempts of man to establish a "Jesus box" to go alongside their "work box", and their "family box" and their "leisure box" is impossible. Going to church once a week makes you no more a Christian than standing inside a McDonald's makes you a Big Mac.

Pretty strong words, but meant in love. See, I have been one of those "pew warmers" before. I amen'd with the best of them, and then would walk out of church and not think of Christ again. I went through a period of disengagement with the church. I built an idol in my mind of what I thought "Church" was. In my mind, if you didn't fall into line with what I thought was Christianity, then you were out of line. I appointed myself Judge, Jury, and Executioner on everyone's Christian walk. In God's eyes, I placed myself before HIM. I took his place, and Exodus 34:14 is pretty clear on how God sees that. It was after a tornado struck my church that I had a season of renewal in my own life. I no longer begrudged my church because I saw Christ in action in the recovery of both the church and the surrounding area. We truly became the hands and feet of Christ. That's when I fell back in love with my home church and realized that I was the main problem.

So what does God care about? That's easy, Jesus already answered that in Matthew 22:36-40:
"Teacher, which is the greatest commandment in the Law? Jesus replied: 'Love the Lord your God with all your heart and with all your soul and with all your mind. This is the first and greatest commandment. And the second is like it: Love your neighbor as yourself. All the Law and the Prophets hang on these two commandments.'"
So, does God care who wins a football game? I really don't know. But I know what, or rather, who He does care about.
If you enjoyed this article, and would like to read more like it, please join me at www.onemilliondads.com or at www.facebook.com/onemildads.
Please Note: We moderate all reader comments, usually within 24 hours of posting (longer on weekends). Please limit your comment to 300 words or less and ensure it addresses the content. Comments that contain a link (URL), an inordinate number of words in ALL CAPS, rude remarks directed at the author or other readers, or profanity/vulgarity will not be approved.