Tuesday, April 14, 2015 @ 10:43 AM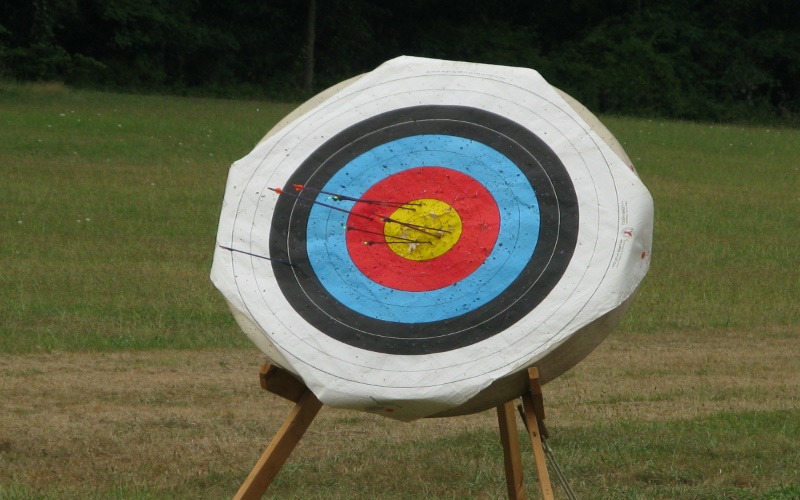 ATTENTION: Major social media outlets are finding ways to block the conservative/evangelical viewpoint. Click here for daily electronic delivery of The Stand's Daily Digest - the day's top blogs from AFA.
Jim Shempert
One Million Dads
MORE
Sin….the toughest three letter word in the English language.  The Greek word for sin revolves around an archery illustration.  It means to miss the mark.  You probably need a simple explanation since archery isn't exactly in our forte anymore.  In archery, you aim for a target, usually the center of the target.  To succeed is to hit the target, to fail is to miss the mark. 
So, what does archery have to do with life in 2015?  Well, in short, everything.  Every talking head, from every spectrum of life, tries to shout what the problems of this city/state/country/world are today.  Unfortunately, the talking heads never seem to address what the real problem boils down to.  In fairness to them, why would they?  No one likes to hear that something is wrong with them.  No one likes to be hedged into the thought that they are in opposition to God by their very nature.  No one wants to be called a "sinner." 
The objection is rampant in society today.  Americans especially, but all mankind has been and is being deceived that there is no such thing as sin.  "Don't judge me, it's my right to do…."
Americans are especially guilty of having a God complex.  We confuse political freedom with eternal freedom.  We lie to ourselves and say that the founding fathers of our nation would have agreed with what America has become.  We hide behind the premise of free will, while not acknowledging that God never intended for us to justify evil by using a free will excuse.  Americans need a newsflash.  Just because you have the freedom to do something, does not mean that you should.  Jesus was very clear about darkness and light: 
This is the verdict: Light has come into the world, but people loved darkness instead of light because their deeds were evil.   Everyone who does evil hates the light, and will not come into the light for fear that their deeds will be exposed.  But whoever lives by the truth comes into the light, so that it may be seen plainly that what they have done has been done in the sight of God.  (John 3:19-21)
Harsh?  Yep.  But the Author of Life spoke those words.  In my view, His words trump anyone else's, no matter how sophisticated or forward thinking they are.  If that makes me backwards, a Neanderthal, a Bible-thumper, redneck, or whatever other word people like to call Christians now, I'll wear that banner proudly.  My King bore much worse for me.
When I spoke to a trusted friend about this article focus, his response was, "I'm glad someone has that worked out."  He said it in jest of course.  Sin is far too complex to understand, even after years at seminary.  While it is easy to look at abortion and say, "That's sinful.  You shouldn't do that" there are many factors that even someone as pro-life as I am has to look at as a Christian.  Pro-choice people will immediately pull the rape card out.  Rape is a terrible terrible thing.  Right there with murder.  In my mind though, one doesn't justify the other.  I have a friend who once told a story about his daughter being raped. He drove to a state that he knew allowed abortion.  He thought at the time, that it was the best thing for his daughter.  He searched in the phone book for a clinic to perform the abortion.  Being from out of town, he didn't know any of the places so he picked the first one he found.  By God's Grace, it ended up being a pregnancy counseling center.  This man has served more than 40 years in the Army.  He is a tough dude.  When he tells this story, he always pulls out a picture of the little girl that he was once going to help his daughter abort.  His voice quivers, a tear comes to his eye, and he says, "I can't imagine my life without her in it."  AND THE PRO-LIFE CROWD GOES WILD!  But before pro-lifers like me have a parade, we need to accept our part in the story.  If you know of a situation like that, rape or not, where someone is struggling raising a child by themselves, for whatever reason, it is your duty to step in and help.   If you do not, you cannot call yourself a follower of Jesus Christ.
The same can be said for drug and alcohol abuse.  Most addicts that I have ever talked to, (and I am an expert on the subject because I was an alcoholic before I came to Christ), all have something missing in their lives.  It's easy for us to stand on the sidelines and shake our heads.  It's more Christ-like to find that brother or sister that is struggling, throw our arms around them, and tell them that you love them,  that Christ loves them, and that He died for them so that they could have new life in Him.  Don't say it if you don't mean it.  Most of the time, an addict is just looking for someone to genuinely believe in.  Most people suffering from addiction have lost faith in everything else.  Christian, you possess a drug that gives an eternal High! Get out of those khakis and pews and reach out to someone! 
Sin is all encompassing.  Not that all our sins are the same.  But they are all equal.  Let me say that again, whether you have sat in a pew since you have had breath, or accepted Christ the night before you were sent to prison, our sins are all equal.  Your sin separates you from God.  He is holy, and we are not.  Any time I feel puffed up about my righteousness, I always call up Isaiah 64:6 for a wakeup call.
But the good news about sin is this:  God made a way for you to be reconciled to Him:
As for you, you were dead in your transgressions and sins, in which you used to live when you followed the ways of this world and of the ruler of the kingdom of the air, the spirit who is now at work in those who are disobedient.   All of us also lived among them at one time, gratifying the cravings of our flesh and following its desires and thoughts. Like the rest, we were by nature deserving of wrath.  But because of His great love for us, God, who is rich in mercy, made us alive with Christ even when we were dead in transgressions—it is by grace you have been saved. (Ephesians 2:1-5)
God sees us in our sin.  We have proved time and again that we are incapable of being obedient to Him.  But because He loves us, He made the way through the sacrifice of His Son, Jesus Christ. 
The problem with sin is, it was defeated on the Cross of Cavalry.  Sin just doesn't know it yet.  That's our job, to tell the darkness, that the Light has come and destroyed it forever.
Please Note: We moderate all reader comments, usually within 24 hours of posting (longer on weekends). Please limit your comment to 300 words or less and ensure it addresses the content. Comments that contain a link (URL), an inordinate number of words in ALL CAPS, rude remarks directed at the author or other readers, or profanity/vulgarity will not be approved.