Monday, April 27, 2015 @ 4:47 PM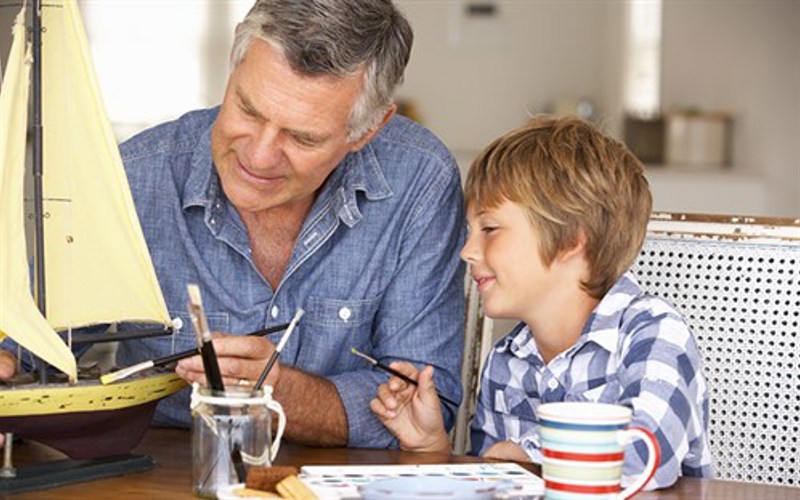 ATTENTION: Major social media outlets are finding ways to block the conservative/evangelical viewpoint. Click here for daily electronic delivery of The Stand's Daily Digest - the day's top blogs from AFA.
Jim Shempert
Chief Information Officer
MORE
There are times in life when we impact those around us without ever knowing that we are doing it.  I had one of those moments this Sunday at church.  If I have not mentioned it before, my grandfather was/is/and will always be my hero.  He was the man that I have modeled my life after.  He taught me how to be a man, how to be a father/husband, and how to be a Christian.  Instead of daycare during the summers, I was with my grandfather.  He did more work before sunup than most do in a whole day now.  It was from him that I learned my work ethic.  It was from him that I learned how to treat and interact with other people.  It is upon him that I have based my foundation as a man. 
One year ago this week, an F3 tornado sat down in the middle of the sanctuary of my church.  It destroyed or severely damaged several houses in the neighborhood as well.  Basically, our lives as a congregation were turned upside down.  We lost all the classrooms and the sanctuary to that storm.  Thankfully, our gymnasium survived, with little damage to it.  The last year or so has been one of rejuvenation.  Truthfully, in situations like this, you have two options:  rally or die.  We have seen attendance grow, despite the lack of facilities.  We have seen the outpouring of support and free run of buildings in the surrounding areas from churches of all faiths, and some businesses.  We have seen the mighty hand of God at work.  We have truly beheld, and become the hands of feet of God. 
This blog revolves around words that strengthen.  This Sunday, we had a kickoff of sorts of the fundraising campaign that will rebuild and improve parts of our church.  We have worked with an outside consultant through all the legal and municipality red tape that accompanies such a rebuild.  The consultant, who also happens to be a very successful business leader, led the message at our church.  At the summation of his message, he told a story of a child that was running a race for his father who had recently passed away.  Though the boy ran with much heart, his body eventually gave way to fatigue.  His mother, standing at the end, waiting for her son to finish the race, saw him pull off to the side.  At that point, she sprinted to her son, picked him up, and carried that young man across the finish line.  The point?  The Holy Spirit is sufficient to carry us across the finish line when we think we have given our all.  And the crowd goes wild! 
Now I have been involved a good deal with the rebuild process, partly because I am willing and want to help, and partly because my wife works at our church.  My wife has to be at all the meetings, so it only makes sense that I am there too!  (Thank God for Mother-In-Laws to keep the babies)  Thus, I have been at meetings with our consultant on a couple of occasions.  He knew me from my previous job.  Apparently, my reputation precedes me…  (Yikes!)  A week earlier, I had been asked to give a perspective on the future of my congregation, and I did my best to be both funny and relevant.
As I was walking out of our temporary sanctuary, the consultant, who was shaking hands with all the congregation, grabbed me by the arm.  He thanked me for speaking the Sunday before.  He said that he had heard good things, and appreciated my service.  He then said to me words that are hard for me to hear, or even type.  He said "I love you, and I am proud of the man you have become."  He didn't know it, but those were the exact same words that my grandfather spoke to me on his deathbed, almost 20 years before. 
Those words seem simple enough, but to me, they had profound meaning.  When I was as far away from God as one person could possibly be, I continually heard those words.  When I was so drunk that I had no idea where I was, those words would come back to me, every time I thought about my grandfather.  No matter how great my sin, I continually heard the words, "I love you, and I am proud of you." 
When God looks at you, He is proud of you.  That doesn't mean that He is proud of everything that you have done.  What He is proud of, is that, after you have accepted Christ as your Savior, then you are a new creation in His eyes.  Second Corinthians 5:17 says,  "Therefore if anyone is in Christ, he is a new creature; the old things passed away; behold, new things have come." Everything that you were before Christ is no more.  All the junk and all the baggage is gone.  'East to  West' is not just a Casting Crowns song, it's found in Psalm 103:12. 
In Christ, you are a NEW creation.  You are set apart to be used by Him.  It should be your honor to be in service to your King.  Any time that you talk to someone who serves, be it at a food bank, a youth function, or wherever their service leads them, they will all tell you that it is far greater a blessing to serve others than to be served. 
As men (and women) of God, our goal is to point others to Christ.  That is all that is worthy in our lives anyway.  My wife sent me a very sweet text Sunday afternoon.  She had no idea how much I was struggling with the compliment that our consultant had given me.  Worried about a school assignment she was under the deadline for, she said, "I am in awe of you."  I responded with something that might sound canned, but it is the absolute truth, "If there is any good in me, it is because of Christ. Not me."  
Men of the Cross, you hold the power over death and life in your hands (Romans 8:11).  I am not telling you to try and replace Billy Graham.  What I am telling you, is that it is time to take the field for your King.  There are little and big eyes and ears that need the words of affirmation that you are holding on to.  The words of life reside in you!