Friday, May 8, 2015 @ 8:26 AM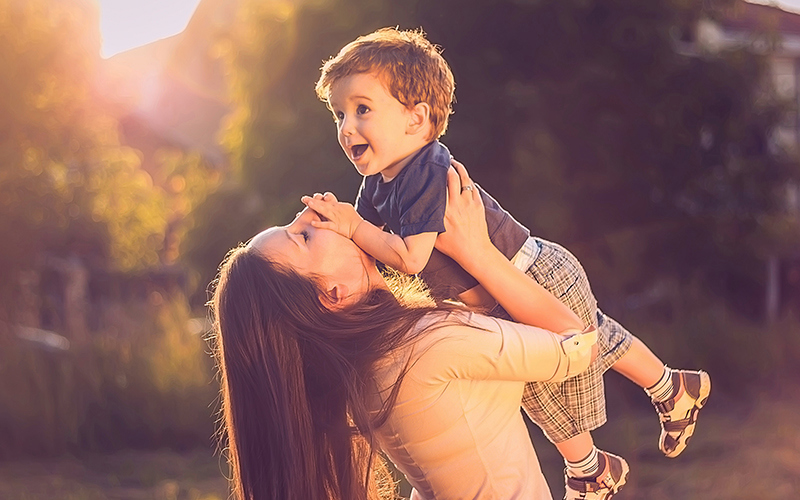 ATTENTION: Major social media outlets are finding ways to block the conservative/evangelical viewpoint. Click here for daily electronic delivery of The Stand's Daily Digest - the day's top blogs from AFA.
Jim Shempert
One Million Dads
MORE
Since its Mother's Day this weekend, I will begin with a confession:  I am a momma's boy.  I remember from the schoolyard growing up where that would have been an insult.  Now that I have a child of my own, I realize what an awesome description of a man that could be.
I learned a lot from my mom growing up.  Through good and bad, my mom taught me how to be the man that I am today.  This is not to leave out my dad.  His blog is coming next month.  The adjective to describe my mom is sacrifice.  My mother, all my life, has sacrificed for the good of her children and her husband.  Many times, when she should have taken time for herself, did something nice for herself, or just been a little selfish, she wasn't.  She always made her kids, her husband, and later her grandchildren her top priority.  She also was not one to put up with foolishness.  She wasn't one to hold her tongue when you were messing up.  I have confessed in past blogs that I struggled with alcohol at a young age.  (Not boasting of my sin, boasting of my Savior)  One morning, after a long night out, I came into the house, and my mother spoke to her drunken son, in a different tone.  She said, "I need you to pick out a suit."  Not completely lucid, I asked in a terse tone, "Why!?"  With an abrupt tone, she said, "Because, the way you are going, you will be dead in six months, and I need to know what you want to be buried in."  Sometimes mothers can be the warm hug and sometimes they can be the stone cold truth.  When Christ cured me of my alcoholism, she simply said, "Glad to have you back."
I have another mother in my life that means the world to me.  That is the mother of my daughter.  My wife and I did not find each other until our late 20's.  Thank God for that, because I had a lot of dumb to live through.  At the very outset of our dating, I told her that I was a kid person and that I wanted to be a father.  If she was not, I understood, and we could be friends. This was on our 2nd date.  Most women would have run away.  Since I was close to 30, I wanted no misconceptions.  She didn't run.  She married me two years later and gave me a daughter two years after that.  She left a very good job to move closer to home.  Then, after all, that, she started seminary this last spring.  I hope my daughter takes more after her mother than her father.  Her mother has a heart for Christ, a love for people that I don't have, and the will of a redheaded woman.  (Love you, honey.)
If you are a Bible literalist like me, then you know that when Moses received the 10 commandments from God at Sinai, that the 5th commandment reads, "Honor your father and mother."  Apparently, it was God's original intent for the family unit to be based around a mother and a father, and for the child to honor both the father and the mother.  Some of you will think I am talking about homosexuals, but actually I'm talking about the men who get women pregnant and then run off.  If you are man enough to create a child, you need to be man enough to take care of that child.  But that is another blog for another day….
What some of you may not know, is that Ephesians 5 and 6 are geared toward teaching you to be a better husband and father. 
On being a Husband:
Husbands, love your wives, just as Christ loved the church and gave himself up for her  to make her holy, cleansing her by the washing with water through the word,  and to present her to himself as a radiant church, without stain or wrinkle or any other blemish, but holy and blameless.  In this same way, husbands ought to love their wives as their own bodies. He who loves his wife loves himself. After all, no one ever hated their own body, but they feed and care for their body, just as Christ does the church—  for we are members of his body. "For this reason a man will leave his father and mother and be united to his wife, and the two will become one flesh."This is a profound mystery—but I am talking about Christ and the church. However, each one of you also must love his wife as he loves himself, and the wife must respect her husband.  (Ephesians 5:25-33)
On Fatherhood:
Children, obey your parents in the Lord, for this is right.  "Honor your father and mother"—which is the first commandment with a promise— "so that it may go well with you and that you may enjoy long life on the earth."   Fathers, do not exasperate your children; instead, bring them up in the training and instruction of the Lord.  (Ephesians 6:1-4)
Men, the command is pretty simple.  God is not unclear on what the role of a father/husband is supposed to be.  Matter of fact, God is quite clear.  As with all things, we can choose to follow God's commands, or we can choose to follow our own will.  His way is life, ours is death. 
Earlier in the article, I wrote that I was a momma's boy.  I am proud of that title.  I am proud that I love my mother and am not ashamed of it.  I am proud that I love the mother of my child, and that I am not ashamed of that either. 
My hope is that one day, when my daughter becomes a mother, that she will have picked a man that honors her the way Ephesians talks about it.  That she will raise her children in the Lord, and that they will love and respect her for it.
Men, if your Mom is still alive, go see her and take more than cheap chocolates and cheap flowers.  Husbands, if your wife has borne you a child, you really need to do better than cheap chocolates and flowers too!  You need to love them both as Christ loved you.  
Please Note: We moderate all reader comments, usually within 24 hours of posting (longer on weekends). Please limit your comment to 300 words or less and ensure it addresses the content. Comments that contain a link (URL), an inordinate number of words in ALL CAPS, rude remarks directed at the author or other readers, or profanity/vulgarity will not be approved.