Friday, June 19, 2015 @ 1:41 PM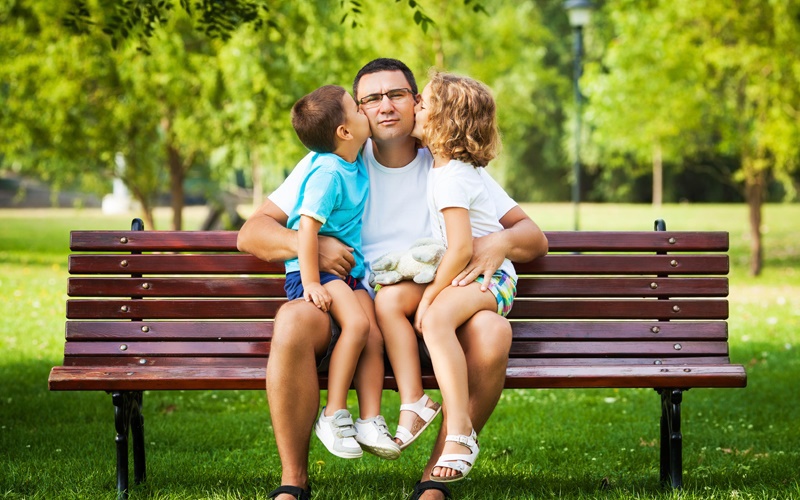 ATTENTION: Major social media outlets are finding ways to block the conservative/evangelical viewpoint. Click here for daily electronic delivery of The Stand's Daily Digest - the day's top blogs from AFA.
Jim Shempert
One Million Dads
MORE
Do you remember the best thing that your dad ever said to you?  Was it after winning a big game?  When you first got your driver's license?  When you got married?  What made it the best thing?  Did he say something that he normally wouldn't say?  Give a side of himself that he normally didn't show? 
My father said the best thing he ever said to me, the night I graduated high school.  To most people, it wouldn't be that big a deal.  To me though, it showed me the true heart of my father. 
I never doubted for one second that my dad loved me.  My dad is old school.  He was raised to be a man, by his father who was raised to be a man, by his father who was raised to be a man.  My dad was not, and still is not a touchy feely type person.  In a world of weak men, he is a strong example to me of what a real man is.  Nothing irritates me more than a weak man. 
It's the day of my high school graduation and I am glad to be done with high school.  I mean, really glad.   I wasn't (and still am not) a particularly popular person.  I never ran with the "in" crowd.  I had a very small group of friends, and I was just ready to be done.  I also had started drinking at that point.  Not exactly rare for a seventeen-year-old boy, but none the less, I was starting down a path that would lead me to the darkest places of my life.  My dad had no idea or didn't say if he did, that I was planning to go party all night that night after I walked across the stage. 
As I am getting ready to head out for the day, my dad came up to me as I was walking to my truck.  I can remember it as clearly now fifteen years later as I did then.  He said, "You be careful tonight.  I can get another truck, but I can't get another you."  That meant the world to me.  I had never doubted that my dad loved me, but he took the time to say it. 
This being father's day weekend, I want to tell you another story about a Father and His Son.  One who created us, and though we didn't love Him, hoped that we would come back to Him.  He tried to let us do it on our own.  He gave us rules to live by, but we couldn't do it.  We could never fulfill our end of the obligation.  Why?  Because we are a lowly sinful race; the human race that is.  We are incapable of holiness.  We are incapable of being righteous in the eyes of Almighty God.  So what does any good Father do?  Throw us to the wolves?  Nope.  He makes a way, of His own creation.   He provides His own Son as a sacrifice.  Was it just?  Absolutely not.  Was it necessary?  Without a doubt.  It was the only way that a loving God could bring us back to Him.  To sacrifice something Holy, for a race that was so unholy. 
So what does that mean for you?  It means something very simple.  Every good work you have ever done will never be enough.  You can go to church every time the doors are open, tithe until you are in poverty yourself, sing Amazing Grace until you can't breathe, but it would not be enough.  Isaiah 64:6 is my reality check anytime I am feeling puffed up about my faith.  All of us have become like one who is unclean, and all our righteous acts are like filthy rags; we all shrivel up like a leaf, and like the wind our sins sweep us away. (Isaiah 64:6) In short, everything that I could ever do to please God is not enough.  That sounds like a catch 22.  A no win situation.  But, God provides the way. 
As for you, you were dead in your transgressions and sins, in which you used to live when you followed the ways of this world and of the ruler of the kingdom of the air, the spirit who is now at work in those who are disobedient. All of us also lived among them at one time, gratifying the cravings of our flesh and following its desires and thoughts. Like the rest, we were by nature deserving of wrath.  But because of his great love for us, God, who is rich in mercy, made us alive with Christ even when we were dead in transgressions—it is by grace you have been saved. And God raised us up with Christ and seated us with him in the heavenly realms in Christ Jesus, in order that in the coming ages he might show the incomparable riches of his grace, expressed in his kindness to us in Christ Jesus.  For it is by grace you have been saved, through faith—and this is not from yourselves, it is the gift of God—  not by works, so that no one can boast. (Ephesians 2:1-9)
He has "seated me in the heavenly realms in Christ Jesus?"  What?  Don't you know who I was?  Don't you know what I have done?
God's answer is simply this: Yes.  I know everything about you.  Jeremiah 1:5 tells me that before God formed me in the womb that He knew me.  He saw where I would fall, and where I would succeed.  He also loved me, before I could ever love Him.  (Romans 8:5)
When He looks at me, He sees someone who His Son died to save.  He sees someone who He gave His most loved possession over to death to save. 
Father, son, brother, Christian or not, the love of the Father is this, He gave His best to save you.  The kicker is, He would do it all over again just for you. 
God looks at you and says, I could create a whole other world, but I couldn't replace you.  
Happy Father's Day.  
Please Note: We moderate all reader comments, usually within 24 hours of posting (longer on weekends). Please limit your comment to 300 words or less and ensure it addresses the content. Comments that contain a link (URL), an inordinate number of words in ALL CAPS, rude remarks directed at the author or other readers, or profanity/vulgarity will not be approved.