Thursday, August 6, 2015 @ 9:39 AM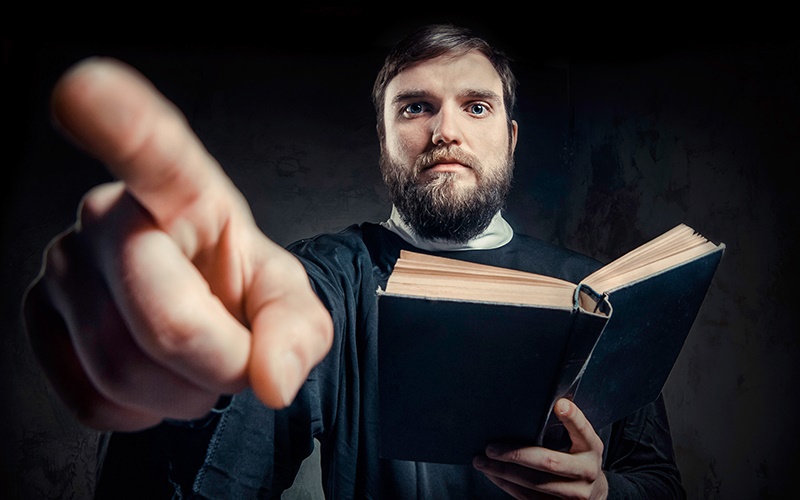 ATTENTION: Major social media outlets are finding ways to block the conservative/evangelical viewpoint. Click here for daily electronic delivery of The Stand's Daily Digest - the day's top blogs from AFA.
Jim Shempert
Chief Information Officer
MORE
Everyone has an inner circle.  There are those whose call we answer no matter the time of day or night.  There are those who we go to for advice on certain issues.  There are those who we hold in high esteem, just because of who they are.  There are those who we let see the "real" us, good and bad. Their words hold great weight with us.  When they say something that hurts, it usually sticks with us for a while. 
I have a small inner circle myself. I am notorious for keeping most people at arm's length. It is not my position to sit in judgment, but if I were to offer my opinion, I would say that two of those in that circle are not saved. That is something that grieves me. I ask God to reveal Himself to them almost daily. Recently I had a conversation with one of them and the topic of her grandson came up. He has blocked me on Facebook and I haven't heard a lot from him over the last few years. I told her that I added her grandson to my church's prayer list every Sunday. At that point, she said, "You know why he doesn't talk to you anymore? Because all you do is talk about Jesus and preach to him all the time."
Admittedly, that was tough on me because of who it was coming from and the subject matter.  First Corinthians 11:1 says, "Follow my example, as I follow the example of Christ." 
Increasingly in this world, to preach Christ is to be met with resentment, ostracization, or even the threat of violence simply for sharing what you believe.  "It's because you are so judgmental.  You think everyone is going to hell!  Jesus was all about love, right?" 
Sometimes it helps to take the rhetoric out of the conversation.  Let's back away from the issues for a second and let me talk to you about my faith.  I am a sinner.  Worse than you can imagine.  For me to even be viewed as a "preacher" by anyone is almost laughable to me.  I tell people all the time that what Paul said in 1 Timothy 1:15 was true until 1983.  "Here is a trustworthy saying that deserves full acceptance: Christ Jesus came into the world to save sinners--of whom I am the worst."  That is until I was born. 
I am the epitome of the reason why Christ came to die.  I was a sinner, and I liked it.  I bragged about it.  I dragged others down with me.  I won't glorify my sins any further than that.  I will say that I was as far away from Christ as anyone could possibly be.  I thought all these "Christians" were a bunch of nuts, and I was too smart to fall for all that stuff.  I was a modern man, I didn't need some ancient book to teach me anything. 
I needed a "Damascus Road" type experience to introduce me to Christ.  It was unlike anything that I have experienced, both before and since.  I asked Jesus Christ to become my Savior that night.  That was my conversion experience.  I could have called myself "saved" then, I guess. 
What I learned and what I am still learning, is that becoming a Christian is not the end game.  If anything, it is nothing more than opening the door of a lifelong journey.  Many walk into the Christian life still living under the Law.  The mindset of, "Oh, now I am a Christian, I have to be good and not do X."  To some extent, that is true.  Romans 6 speaks of this:
"What shall we say, then? Shall we go on sinning so that grace may increase?  By no means! We are those who have died to sin; how can we live in it any longer?   Or don't you know that all of us who were baptized into Christ Jesus were baptized into his death?  We were therefore buried with him through baptism into death in order that, just as Christ was raised from the dead through the glory of the Father, we too may live a new life (Romans 6:1-4)"
Are you saying that you can't ever sin again as a Christian?  Nope.  If that were true, there would be no Christians.  What separates the Christian in the eyes of God is not their acts, but the act of His Son.  If you have accepted Jesus Christ as your Savior, you are sealed by the Holy Spirit and set apart, forever. 
"And you also were included in Christ when you heard the message of truth, the gospel of your salvation. When you believed, you were marked in Him with a seal, the promised Holy Spirit, who is a deposit guaranteeing our inheritance until the redemption of those who are God's possession—to the praise of His glory (Ephesians 1:13-14.)"
"Guaranteeing our inheritance."  That's better than the FDIC in my book any day.  While the federal government will pass away, the Word of God never will. 
So am I one of those crazy Jesus people?  Yep.  I am a follower of Jesus Christ.  That doesn't make me perfect.  What it makes me is forgiven because of the sacrifice of Jesus Christ for all the sins of mankind.  It makes me redeemed in the eyes of God, not because of what I did, but because what Jesus did. I have accepted the free gift of the grace of God.  Despite all my warts and flaws, I will one day be called righteous due to the sacrifice of my Savior. 
If that is my belief, how can I not tell that to someone else?  I'm not called to be Billy Graham, but I am called to tell everyone what I know.  That salvation is free and plentiful.  That there is no sin that can separate you from God through the sacrifice of His Son.  That there is more grace in God than there is sin in the world but that it is your choice to accept or reject it.  The choice is yours. 
It's not my job to count numbers and successes.  It's my job to present this dying world with the one thing that can save it, the Gospel of Jesus Christ.  If that makes me crazy, then I leave you with the words of King David, "I will become even more undignified than this, and I will be humiliated in my own eyes. (2nd Samuel 6:22)
Please Note: We moderate all reader comments, usually within 24 hours of posting (longer on weekends). Please limit your comment to 300 words or less and ensure it addresses the content. Comments that contain a link (URL), an inordinate number of words in ALL CAPS, rude remarks directed at the author or other readers, or profanity/vulgarity will not be approved.