Thursday, August 13, 2015 @ 8:46 AM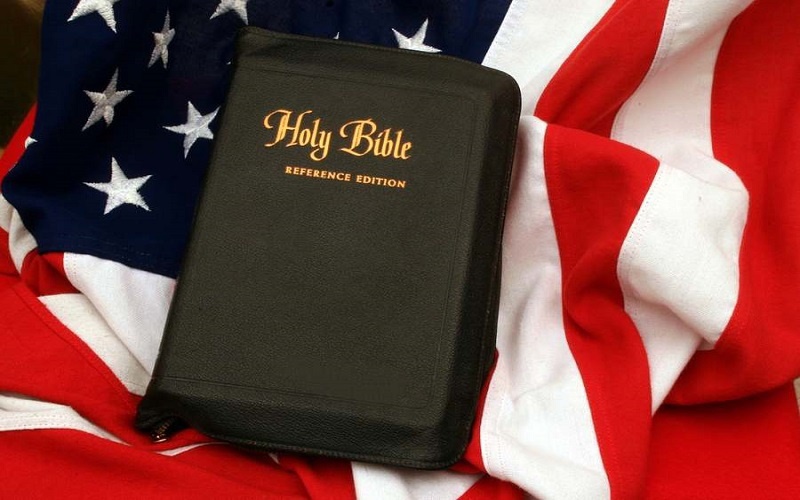 ATTENTION: Major social media outlets are finding ways to block the conservative/evangelical viewpoint. Click here for daily electronic delivery of The Stand's Daily Digest - the day's top blogs from AFA.
Jim Shempert
One Million Dads
MORE
"In America, WE HAVE SEPARATION OF CHURCH AND STATE!"  "If you want to talk politics, your church can pay taxes like everyone else!"  "If you Christians want a theocracy, then you should move to Iran!" 
As I have said in the past, I am a big lover of history.  These shrill people are actually referencing Thomas Jefferson, our nation's 3rd president.  Jefferson famously wrote:
Believing with you that religion is a matter which lies solely between Man & his God, that he owes account to none other for his faith or his worship, that the legitimate powers of government reach actions only, & not opinions, I contemplate with sovereign reverence that act of the whole American people which declared that their legislature should "make no law respecting an establishment of religion, or prohibiting the free exercise thereof," thus building a wall of separation between Church & State. (Letter to Danbury Baptist Association, 1802)
The liberals and atheists go wild!  Hold tight, though, before we break out the streamers. 
While Jefferson was by all accounts a deist, a majority of the other founding fathers were devout Christians.  From a governmental standpoint, they decided not to enforce a national religion to allow for all to practice their religion freely, but their dependence on God was evident in all of their writings.  So the age old question is asked:  Should the church and politics meet? 
To answer, let me point you to Ephesians 6:
Put on the full armor of God, so that you can take your stand against the devil's schemes. For our struggle is not against flesh and blood, but against the rulers, against the authorities, against the powers of this dark world and against the spiritual forces of evil in the heavenly realms. Therefore put on the full armor of God, so that when the day of evil comes, you may be able to stand your ground, and after you have done everything, to stand.
The Church, can and should preach righteousness. Jesus was pretty clear on the fact that the Church was different from the world.  "You are the salt of the earth. But if the salt loses its saltiness, how can it be made salty again? It is no longer good for anything, except to be thrown out and trampled underfoot.  "You are the light of the world. A town built on a hill cannot be hidden. Neither do people light a lamp and put it under a bowl. Instead, they put it on its stand, and it gives light to everyone in the house. In the same way, let your light shine before others, that they may see your good deeds and glorify your Father in heaven. (Matthew 5:13-16)" 
Should the church speak up on every issue? I think the situation dictates the response.  There are some clear-cut issues where the Church should weigh in on the political arena.  If you "turn off" your Christianity, when you hit the doors of the Church, then you are not a Christian, you are a member of a social club. 
My banner social issue is abortion.  How every church in America is not incensed about the issue of abortion, the videos from Planned Parenthood, and the cowardly response of our elected officials baffles me.  How can we claim to be a follower of the Author of Life, when under the flag of our nation, we allow the genocide of the unborn every single day?  How can the church even think that we have the appearance of righteousness while we sit silently and sing louder as the cries of the unborn get louder around us? 
How about truth?  How about we demand the truth from the government?  Washington D.C. was built on a swamp and for good reason.  Rats inhabit swamps, and for sure, there are some big rats in D.C.  Why doesn't the church demand that our politicians not lie to our faces?  It's one thing to say something that doesn't end up happening, it is quite another to tell a flat out lie and smile while doing it.  That goes for both parties. 
How about freedom of religion?  How about the Church stand up en masse and demand that our elected officials stop persecuting those who hold to biblical beliefs on a variety of topics.  Seems like, for the first 232 years of her existence, America believed that Christians should have the right to live and worship according to their faith, in public and private.  The last few years, America has suddenly developed the attitude that the only place you can be a Christian is inside the walls of your church.  Unfortunate for America, because Christianity cannot be contained inside walls built by man.  A relationship with Jesus Christ trumps all things of this world, and if it does not, then it is not based on the words of Jesus Christ. 
So should the church be involved in politics?  Let me ask it another way, do Christians have convictions?  Do you believe that Jesus Christ would approve of executing a child, harvesting its parts, and selling them to the highest bidder?  If you say yes, then the Jesus of the Bible, is not the one you are following.   If you say no, then I would say you are pro-life and you should vote that way.  Do you believe that Jesus would approve of the constant stream of lies that comes from Washington D.C.?  Do you believe that Jesus Christ would approve of a country that approves of persecuting his followers?  If so, I have a few chapters in the Old Testament to point you to for further consideration. 
In the end, it comes down to, do you serve the Author of Life?  Are you waiting for death to attain heaven or are you striving for the Kingdom in this world?   Do you believe in what you say you do, or are you paying it lip service?  Does your walk, match your talk?
Please Note: We moderate all reader comments, usually within 24 hours of posting (longer on weekends). Please limit your comment to 300 words or less and ensure it addresses the content. Comments that contain a link (URL), an inordinate number of words in ALL CAPS, rude remarks directed at the author or other readers, or profanity/vulgarity will not be approved.